DIY Wine Cork Napkin Ring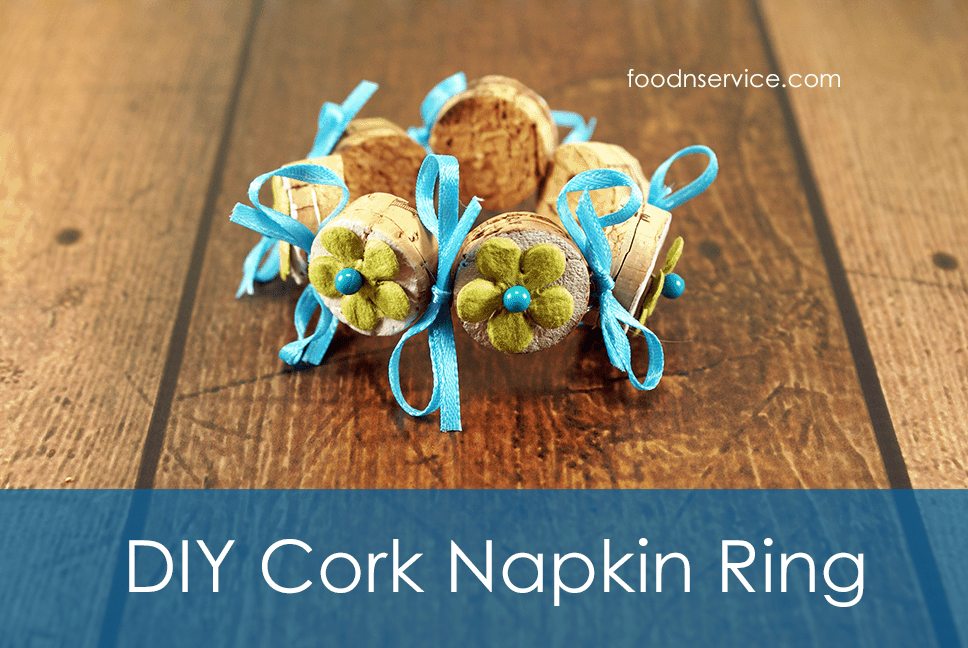 If you know anything about, then you know how much I LOVE drinking wine! In my house, when ask for a glass of water…you get a glass of wine. However, due to my passion for wine…I have a lot of wine corks. Yes…I do mean a lot! With having a lot ofwine corks…and being a crafty person that I am, I decided to come up with something super creative. After mulling things over and doing image searches all over the place, I finally came up with something that hasn't been done before in this manner!
If you're not a big wine drinker and need corks, you can always go to a restaurant and ask the bartenders and managers if they wouldn't mind saving the corks for you. They are used to this request, and will be happy to put them in any container that you can provide for them.
What's great is that this is a super easy project to do, and you can change up the colors to fit the season or your mood! Now, let's go make our wine cork napkin ring!
DIY Wine Cork Napkin Ring Tutorial
Materials:
7 Real wine corks (non-syntethic)
Floral Embellishments
7 Bead topped straight pins
1 straight edge blade (I used a box cutter)
14" of 26 Gauge wire (I used silver color)
1 pair of small wire cutters
White multi-surface paint (found at any craft store)
Small Paint brush
Thin Blue Ribbon
Directions:
1. With a straight razor, cut off the tip of the wine cork. This is approximately 1/7th of the cork (or 1/5").

2. With the piece of cork you cut off, guide the cork around the edge of the blade by rotating it around the blade. You want at least a 1 millimeter cut into the cork.

Bend your wire in half, and make a loop at the end of it.

3. In keeping everything centered, place the first piece of wine cork that you've cut into the base of the loop, and then guide and embed the wire into your cut around the cork. Where the 2 wires meet at the end of the middle of the bottom of the cork, pull tight and give it 2 small twists to help keep it in place. (insert step 4 photo). Keep process going until all 7 cork tops are linked together.
4. Grab your white pain and paint brush, and then add light layer of paint on top and allow to dry. This will take approximately 20 minutes.

5. While corks are drying, we are going to cut the tops of the beaded straight pins off with our wire cutters. You want to leave at least 4 to 5 Millimeter length of pin left attached to the bead.
6. Wrap the end pieces around the wire loop and then cut the ends of the wires off and push press the wire ends together to create a smooth surface.
7. Once your wine cork napkin ring is completed, you're going to take a single floral embellishment and center into the middle of a wine cork. Then take one of your cut beaded straight pins and push into the center of the flower and attach to wine cork. Don't be afraid to push the pin in. You want to make sure that it is attached.
8. If you wish to, you're more than welcome to use super glue or a hot glue gun to tack everything into place on the cork.
9. With the blue ribbon, tie little bows between each cork.
And you're all done! How easy was that? You can now make as many wine cork napkin rings that you like!