25 DIY Wine Cork Craft Project Ideas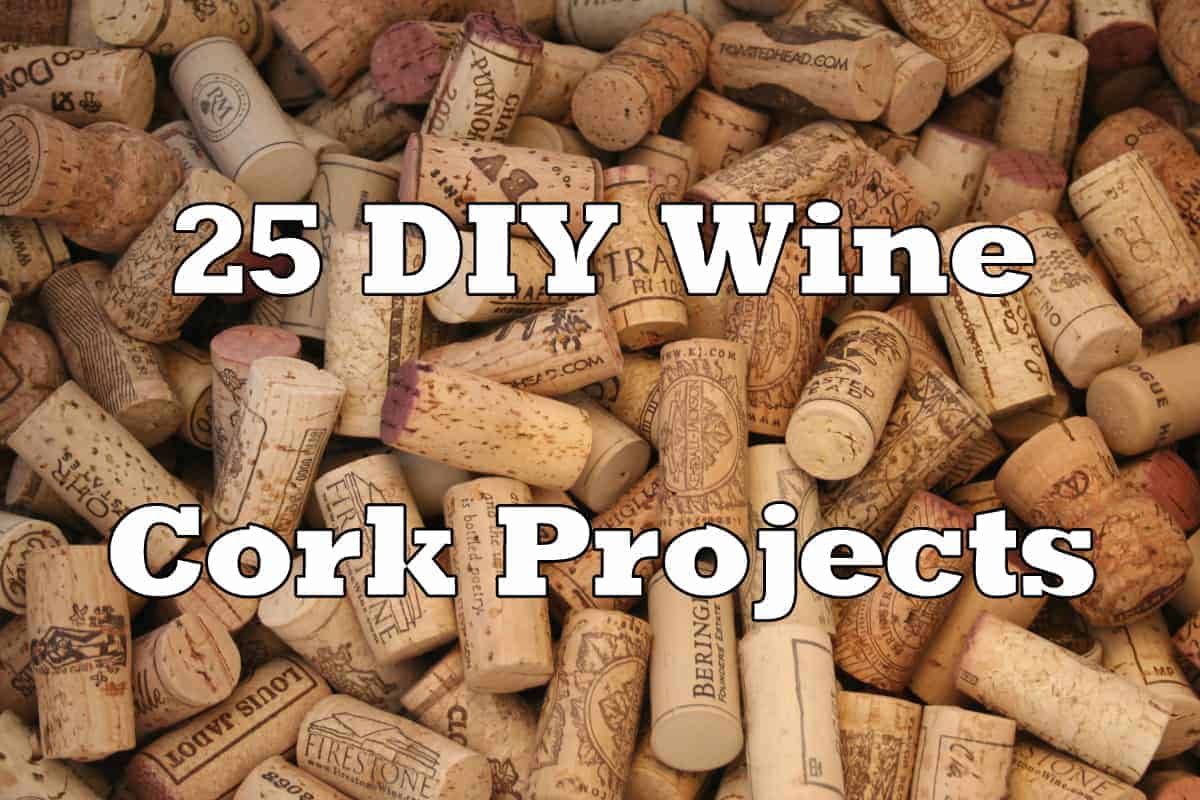 If you're one of my faithful readers, then you know that I work at BYOB Fine Dining Restaurant in Princeton, NJ (It's okay to stalk me! I don't mind visitors lol). As a crafter, I have been collecting all of the wine corks that I can.
There a few different types of wine corks. Most are made FROM corks, while others are synthetic plastic…ew. I don't like them, but I'm SURE I will find something to do with them lol. For Christmas, the boyfriend and I made some homemade Christmas ornaments out of corks. They turned out SUPER cute, and then I said to myself, "Self. What else can be made out of wine corks?" I was so happy that I answered myself with Google and other amazing bloggers!
I am so happy to report that I was able to get permission from lots of my other amazing bloggers in utilizing their pictures to show you some examples, and then give you some links with the instructions and pictures to follow along
. I didn't hear back from a lot of the different bloggers for photo approval, but I still wanted you to enjot these amazing and easy projects. I hope you enjoy them as much as I enjoyed finding these gems! Of course, with Valentine's Day approaching, I'm going to start off with my Faaaaaavorite one! It's my favorite because the time and meaning behind it, and the love the went into it and comes out of it. Great technique on color usage and everything.
So, without further avail…here they are and have fun crafting!
BONUS: DIY Wine Cork Heart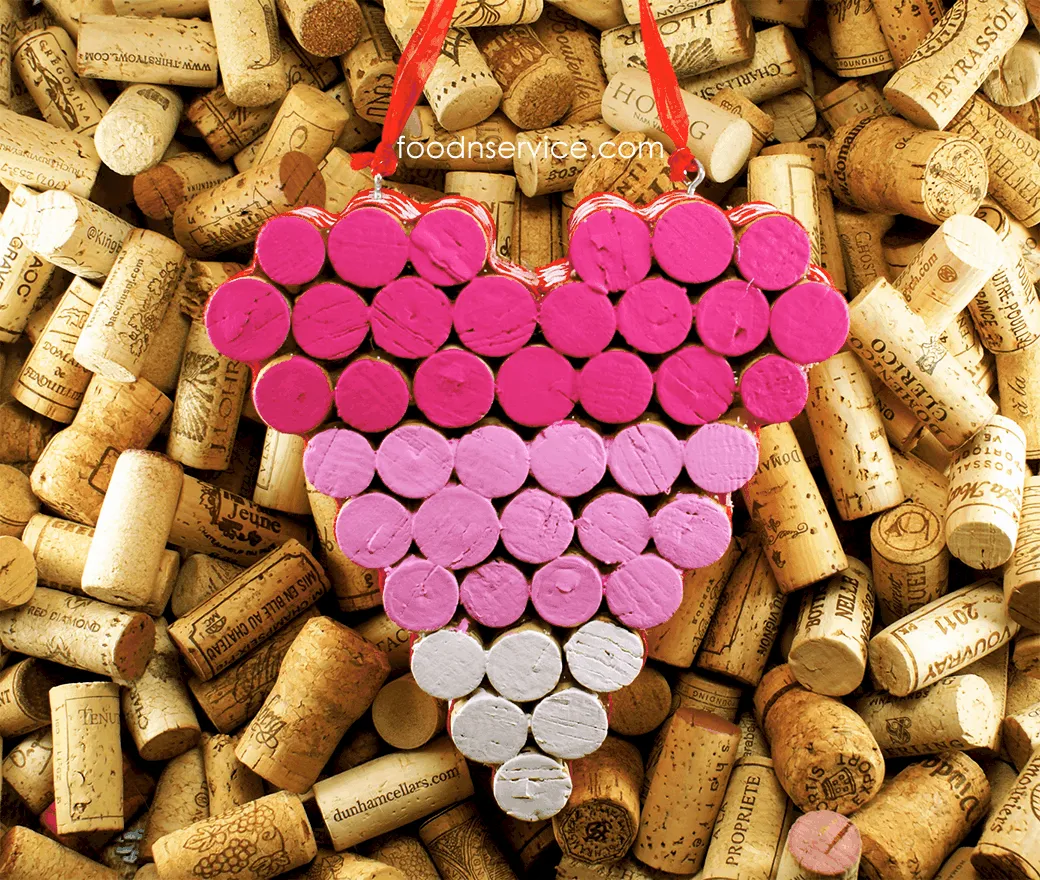 1. DIY Wine Cork Heart Project
You can easily see why this is my favorite! It's just beautiful to me. The best part is that she DIDN'T dye the corks, those are just the different shades of red from red wines. So, they are naturally stained (so to speak). CLICK HERE to get directions.

2. DIY Wine Cork Key Chain Project
This great project is so simple to do, and easy enough for anyone to do! This is a great kids craft project for when you need to keep their little hands busy! CLICK HERE to get the instructions.
3. DIY Wine Cork Pen Project
This is just such a cool and easy idea in refurbishing! Even better for when your pen runs out of ink, you can just replace it with a new pen! CLICK HERE for the instructions.
4. DIY Wine Cork Baseboard Wall Trim Project
This adds a bit of the old world flare to your home, and actually makes great accents! Take a look and follow instructions. Super cool and super easy to do. CLICK HERE to learn more. See, This Old House never gets old! lol!
5. DIY Wine Cork Trivet Projects
There's actually TWO different trivet projects here. So, if you only see 24 items listed is because there's 2 here!! They both use 2 different techniques in make one. One I happen to like over the other because of the heat resistance method used. The biggest problem with making trivets is the usage of hot glue, and how sometimes it will fall apart due to the heat interaction. The first is just adorable, with a hint of beautiful blue ribbon used to wrap it around for an amazing accent. It's not just a square, it's an octagon! CLICK HERE for those instructions. The other cork trivet, which I feel is a bit more resistant to heat is pretty cool in a circle formation. For those instructions, CLICK HERE!
6. DIY Wine Cork Coaster Project
This used the same idea as a trivet, but I think these are super cute to be used around the house. CLICK HERE for the instructions.
7. DIY Wine Cork Board Project
I don't know about you, but I'm always thinking of ways to try to stay a little bit more organized around the house. This a great way to refurbish those wine corks. This is ONE project that I can't wait to get my hands on to make! CLICK HERE for the instructions.

8. DIY Wine Cork Wall Backslash Project
This uses the same concept as the wall trim one, except that you do the whole wall! Super fun idea if you a little area that can be set up as a bar or wine area. CLICK HERE for the tutorial!
9. DIY Wine Cork Serving Tray Project
You can make this a super fun project! To add an extra flare, try dyeing your corks (or paint) them different colors. CLICK HERE for instructions.
10. DIY Wine Cork Jewelry Display Project
I know you ladies have a TON of jewelry, and this is one cute way to keep organized!! CLICK HERE for instructions.
11. DIY Wine Cork Jewelry Peg Display Project
This uses somewhat of the same idea as the Jewelry display, but much more effect for necklaces! So super cool and easy to do. CLICK HERE for instructions.
12. DIY Wine Cork Tray Project
This is another great idea on a twist of using corks to make a tray. Now, this one is a little bit different and cool. You could even use these as a plant holder if you wanted to! CLICK HERE for instructions.
13. DIY Wine Cork Garland Project
Garlands aren't just for Christmas, you can make them for all the different season and holidays! They always add a little touch of flare and color. Let your imagination run wild! CLICK HERE for instructions.

14. DIY Wine Cork Place Card Holder
How cool is this? There are many types of cork place card holder projects out there, I just happen to be fond of this one. CLICK HERE for the easy instructions.
15. DIY Wine Cork Garden Name Tags Project
This is just a great idea AND it's way too easy to do! But how often do we plants seedlings into the ground that we forget what we planted? Most people use the content holders of the seeds to mark the spots. This way is more weather resistant! CLICK HERE for the instructions.
16. DIY Wine Cork USB Flash Drive Project
This is ADORE because I'm a techie person! Very easy to conceal, and no one would EVER know that you have a flash drive hidden in there! It can "protect" your data from your everyday snoopy people around the house lol! CLICK HERE for instructions.
17. DIY Wine Cork Stamps Project
Yes! Stamps! If you love making your own stamp collections to personalize things or to make scrap books, then you're going to love making these! CLICKHERE for instructions.
18. DIY Wine Cork Heart For Kids Project
This is another cute heart project, and it's a great one to do with the kiddos! Let them change up the paint colors and designs on the cork ends, and it's just so cool how it all comes together! Again, these heart projects aren't just for Valentine's Day! CLICK HERE for instructions.

19. DIY Wine Cork Monogram Project
Not only is this a cool wall art project, and also adds a great level of personalizing any room! I know that people are always looking for cool ways to add a little flare to their children's room or to the kitchen. Super great idea! CLICK HERE for instructions.
20. DIY Wine Cork Lamp Shade Project
Did I say lamp shade? I sure as heck did! I giggled a bit when I thought of the idea, and am now in love with it. Super neat and function! Take a look and try it for yourself and let me know what you think! CLICK HERE for instructions.

21. DIY Wine Cork Napkin Rings Project
I was looking for a cool project like this, but I wasn't sure if I liked the numerous ones that I saw. I came across this idea and was like, "Yeah! I like this!" You can change up the different colors for the season or to match your home decor color scheme! You can EVEN monogram it! How awesome is this! CLICK HERE for the instructions.
22. DIY Wine Cork Magnets Project
As soon as I saw these, I was in love…and my creative juices started flowing! Sometimes, we have to get our heads and try to think OUT of the box. This project taught me to think in dimensions. CLICK HERE for instructions. Check it out, and you will see what I mean. These are just too darn cute and so easy to make. The kids will DEFINITELY love helping to make these!

23. DIY Wine Cork Buddies Project
I saved one of the BESTS for last! Though, this one requires a little bit of knitting knowledge. I'm a knitting, so I completely fell in love with them!! I can't wait to start making these for my nieces and nephews! They're great for both sexes and also adds a quirky cool flare for any season and decoration usage. You DEFINITELY have to read and try these. If you' know how to crochet, this gives you a great idea of what to do. CLICK HERE for instructions.
24. DIY Wine Cork Random Project Ideas And Pictures
This is just all about the pictures! They don't have instructions for them listed anywhere, but I sure did love them enough that I had to post! Some are definitely super easy to figure out on what to do, but these pictures inspired me to push my creative limits with wine corks. I hope you enjoy them as much as I do, and have fun pinning them on Pinterest! You can follow me on Pinterest by CLICKING HERE!
25. A Few Inspirational Photos To Enjoy!
Many special thanks to all of these Arts & Crafters, bloggers, and people who had all of these creative juices going! Simple Crafter, One Domesticated Diva, Daily Danny, and Crafty Nest