DIY Halloween Deviled Eggs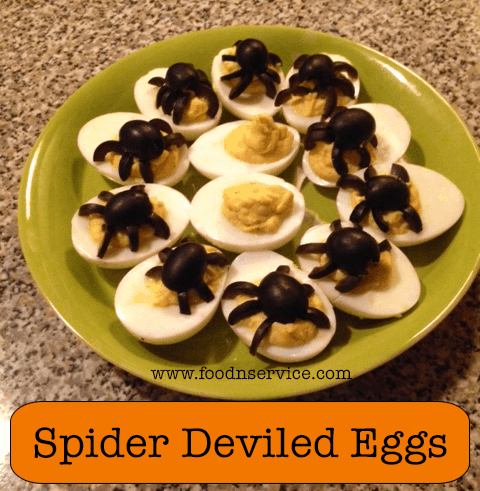 DIY Halloween Appetizer: Deviled Eggs
Who knew you could a little bit of flare to plain ol' ordinary deviled eggs. Well, let me just say…I LOVE deviled eggs. They don't love me, but I sure love them. If you're planning a Halloween party, then you definitely need to make these little babies up to add the extra spooktacular flair to your event. Now, I can't take all the credit for coming up with this idea. I actually saw this in some sort of shopping catalog, and they were using at as a form of decoration. So I said to myself, "Self…you need to make these and share the recipe!" So here I am…with myself…and sharing this ghoulish treat!
Yield: 4-6
DIY Halloween Deviled Eggs
Ingredients
6 Large eggs
3 tbspns Mayonnaise
1 tbspn Yellow Mustard
Pinch of Kosher Salt (regular is fine)
Pinch of Black Pepper
1/2 tsp Onion Powder
1/2 tsp Garlic Powder
1 Small Can of Black Olives (For Decorations)
Instructions
Hard boil the eggs, and cool them off under running cold water when eggs are cooked.
Slice Eggs in half length-wise and place cooked yolks in a side bowl.
To the egg yolks in the side bowl, add in all ingredients (except black olives). You may add in extra salt & pepper to taste. If you're like my grandmother, then please...use a little relish. I won't mind 🙂
To fill in your deviled eggs, I like using a Ziploc bag or a small pastry bag. If you are using a Ziploc bag, just be sure to clip a corner with scissors and push out excess air from bag.
When eggs are filled, it's time to pull out the black olives! For the black olives, you want to slice them length-wise. One half of the olive is for the spider body and the other half is to slice and use as scary spider legs!
Place your deviled eggs into the fridge to chill and serve when your Ghoulish guests arrive!
I hope you enjoy these as much as I enjoyed making them! Take a look at all of my other amazing Halloween DIY crafts and recipes!