Weight Watchers Freestyle Snacks
Trying to find great Weight Watchers Freestyle Snacks to enjoy isn't as hard to find as you think it might be. There are literally tons of snack foods all over the place that you can enjoy, as long as you're tracking everything you eat.
You don't always have to say no when you're having a craving for something a little salty or a little sweet.
When you get to the nitty gritty, it all comes back to the main concept of portion control. Even though I might call these Weight Watchers Freestyle Snacks, they're really just a mixture of fabulous ideas and products that are out there in your home and on the market.
For me, I know that portion controls is what got me to where I am right now. At my heaviest; however, I've slowly been retraining my brain to measure and track everything I eat. If I portion things out, my eyes and stomach are actually happier. I don't need to eat a whole box of Multigrain Wheat thins to curb my cravings. I now know that I can happily eat 13 of these delicious little cracker treats for only 4 WW Smartpoints. This is the perfect amount to help get me what I "want".
Please note: All of these Weight Watchers Freestyle Snacks Smartpoints come directly from the WW app and website. If you eat anything a little bit more than what's mentioned below, then your points are going to be a bit different. Remember, you can change the quantity of whatever product you want to try to enjoy in the app or on the site.
To help you out a little bit, I've created a printable for you to download and use on your next shopping trip or when you're out and about and want to know what you can snack on right now. Just scroll to the bottom fo the post, and click on the button for the printable.
Guess what? I actually came up with more than 50! How about 90 something? You're gonna love how some of these are super fabulous ideas and snacks.
Snacks Worth Zero SmartPoints
1 cup sugar free Jello
1 sugar free popsicle
Dole mandarin orange fruit bowls, no sugar added, 4 ounce size
Dole pineapple tidbits fruit bowls, no sugar added, 4 ounce size
dill pickles
Mott's Natural Applesauce, 1 – 4 ounce container
a hard boiled egg
baked apple sprinkled with cinnamon
Of course, all the veggies and fruits you want. You can find the full zero point food list here that you will love snacking on.
1 SmartPoint WW Snacks
7 Almonds
Saltine Crackers, 4 crackers
2 Teaspoons of prepared PB2 on celery sticks
Rold Gold Pretzel sticks, 20 pieces
Canadian Bacon, 3 slices
WASA whole grain bread, 1 slice
One-half cup nonfat cottage cheese with a sliced banana
Ginger snap cookie, 1/4 ounce
Frigo Cheese Heads light string cheese, 1 string
Sargento Light mozzarella string cheese, 1 stick (goes great with a pear!)
Mini Baybel Light semisoft cheese
Progresso Light Soups, 1 cup **For Most Flavors!**
5 Mini Tootsie Rolls
Homemade guacamole, 2 tablespoons
One Laughing Cow Light Garlic & Herb wedge
3 slices white meat turkey lunch meat rolled in 3 lettuce leaves
Butter flavored popcorn, 1 cup
Chocolate graham cracker, 1 square
1 /4 cup light vanilla yogurt and blueberries
Nabisco Good Thins The Corn One, Sea Salt Corn and Rice Snacks, 17 crackers
Photo by Louis Zhang on Unsplash
2 SmartPoint WW Snacks
Three ounces turkey, sliced tomato, lettuce, onion, 3 pickle chips, on 2 slices reduced calorie whole-wheat bread and 1 teaspoon spicy brown mustard
WW Cherry almond trail mix bar, 1 bar
Keebler waffle cone, 1 cone (This is just the cone and not with ice cream)
Dairy Queen fudge bar, 1 bar
Nutella, 1 teaspoon with strawberries
Pop Secret Kettle corn popcorn, 1 cup
WW Sea Salt Hummus chips, 1 pouch
Wheat thins whole grain crackers, 8 crackers
Lay's Poppables, 15 chips
Chocolate graham cracker, 2 squares
Sensible portions garden veggie straws with sea salt, 22 straws
Pistachios, in shells – 22 pieces
Chocolate Pocky sticks, 4 sticks
Baby carrots with 2 tablespoons reduced fat ranch dressing
Special K Cracker Chips, 17 pieces
Quaker Popped Ranch Flavored mini rice cakes, 9 rice cakes
Sargento Light Mozzarella Cheese stick wrapped in 2 ounces sliced turkey
3 cups light microwave popcorn
Popped Mini Rice Snacks, Caramel Corn, 7 rice cakes
Jell-o Sugar Free Creme Brulee Rice Pudding, 1 portion cup
Goldfish snack crackers, baked cheddar, 32 crackers
Tribe Dark Chocolate hummus, 2 Tablespoons
Fit & Active rice cakes, 8 mini cakes
Crispix cereal, dry, 1/2 cup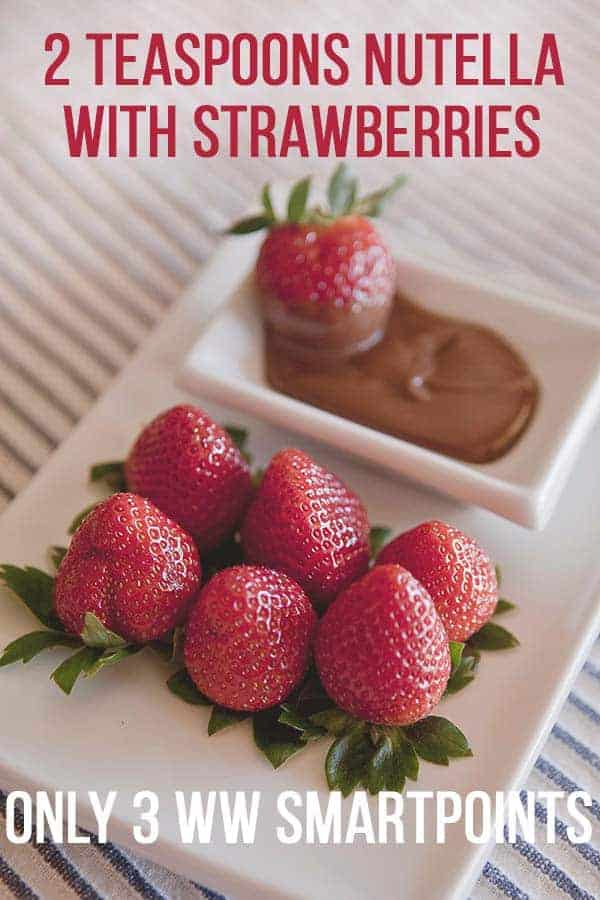 Photo by Natalia Fogarty on Unsplash
3 SmartPoint WW Snacks
Slim Jim Original Snack sticks, 2 sticks
Quaker Popped Chocolate mini rice cakes, 10 rice cakes
Keebler pretzel thins, 8 pieces
Nutella, 2 teaspoons with strawberries
Emerald Sriracha cashews 100 calorie pack, 1 pack
Keebler Club crackers, minis, multigrain, 24 crackers
Fat-Free Cottage Cheese, 1 cup
Apple slices with 1 tablespoon peanut butter
Mini Wheats Frosted cereal, bite size, dry, 1/2 cup
Whisps Parmesan Cheese crisps, 15 crisps
Cauliflower Crackers, 44 crackers (available at Aldi's)
Two stalks of celery with 1 tablespoon peanut butter
Barbecue PopChips, 18 chips
Skinny Pop 100 Calorie Bag
Eight baked low-fat tortilla chips and 2 Tbsp. fat free black bean dip
Emerald Cocoa roast dark chocolate almonds, 100 calorie pack, 1 pack
Emerald Natural walnuts and almonds, 100 calorie pack , 1 pack
1 rice cake with 2 teaspoons peanut butter
Sun-Maid Mini-snacks natural California raisins, 1 box
Kashi TLC snack crackers, Original 7 grain, 12 crackers
Built Bars, lots of different flavors, per bar
Boar's Head Dark Chocolate Hummus, 2 Tablespoons
4 SmartPoint WW Snacks
Chex Mix, traditional, 1/2 cup
Planter's cocktail peanuts, 30 peanuts **Anymore will take you to 5 SmartPoints
Trader Joe's Inner Peas, 22 pieces
Planter's dry roasted peanuts, 35 peanuts
Ritz Crisp & Thins, 24 pieces
Annie's Homegrown Cheddar Squares Baked cheese crackers, 27 crackers
Oreo Thin Crisps 100 calorie pack, 1 pack
Skinny Pop Popcorn puffs, 1 1/2 cups
Tostitos Scoops Tortilla Chips, 13 chips
Quaker Chewy Chocolate chip granola bar
Sun chips Multigrain snacks, original flavor, 15 chips
Post Honey Bunches of Oats with almonds cereal, 3/4 cup
Mini Larabar, apple pie fruit and nut bar
Healthy Choice Greek Dark Fudge Swirl Frozen Yogurt
Kellogg's Special K Protein Greek yogurt and fruit granola snack bar
Teddy graham snacks, 10 pieces
Cheerios Multigrain cereal, dry, 1 cup
Wheat thins toasted chips, Great Plains Multigrain, 13 chips
Cheez-It Reduced Fat White Cheddar Crackers, 25 crackers
Sensible portions garden veggie straws with sea salt, 38 straws
Enjoy Life Lentil Chips, 31 chips
To help you out, I've created a free printable for you to print up and remind of the different Weight Watchers Freestyle snacks that you can choose from and build upon!
There's literally 1,000's of different snacks out there on the market, including your very favorite ones, that you can enjoy…as long as you portion it out.
What are some of your favorite snacks to enjoy? What points do they have? I'll happy to add them to the list!
WW Resources You'll Love: