Tofu chips are so easy to make, vegan, delicious, and are zero points on the Weight Watchers FreeStyle program! YES! This is why I am loving the new Weight Watchers FreeStyle…all of their zero point foods!
Since I've been on my Weight Watchers Diet, I miss eating potato chips and crackers SO much. They were my best friends, and my daily intake of empty calories that caused me to gain all of this weight.
Click to Join my Instant Pot/Air Fryer Weight Watchers Group!
It dawned me while sitting down and thinking about what to eat to help curb my appetite, "OH! Stephen and I used to make these tofu chips all of the time! I wonder what their points are worth?" Zero points. That's how much these tofu chips are worth!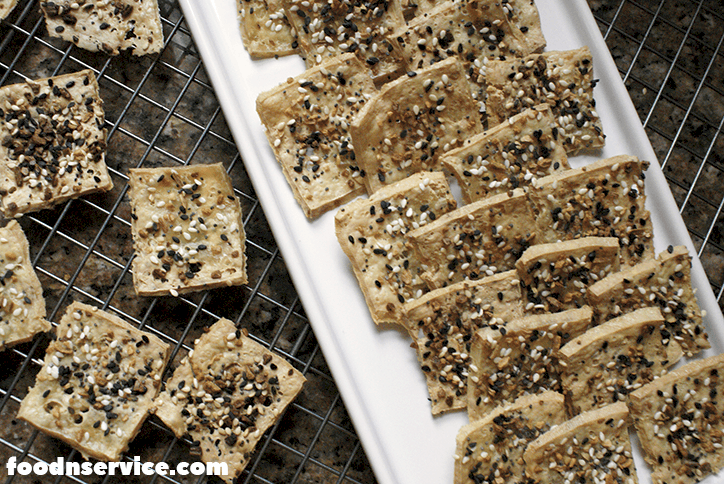 Tofu Chips For the Win!
As we all know, tofu has absolutely no flavor or taste at all. The stuff is just bland and nasty to eat by itself. However, the best part is that tofu tends to absorb the flavor that it's prepared with. That's why I used Trader Joe's Everything but the Bagel seasoning mix.
[su_button url="http://eepurl.com/dpyDIv" target="blank" style="flat" background="#6bb3bf" size="6″]Click To Join WW Email List[/su_button]
I thought it would be a much better flavor assistant than just normal sea salt. You can do that any time. I wanted stuff with flavor on it! Like, when I bite into it…I want my palate to be happy, and not just somewhat happy.
CLICK Save This to save on Pinterest!

There are so many different seasonings that you can put on top of these little zero point snacks without eating bland food:
taco seasonings
chili lime seasonings
salt & pepper
salt & vinegar seasonings
BBQ rub seasonings
Or you don't have to use any seasonings at all, and use them as a tofu chip to dip in fat free yogurt, or add diced some fruit on top of them! The ideas you can come up with are limitless, and I totally love it.
Now it has to be said that the Trader Joe's Everything But The Bagel seasoning actually DOES have points, but that's if you eat over a tablespoon of it. 1/4 teaspoon has zero SmartPoints! 1 Tablespoon of has 2 SmartPoints. So here are the serving sizes: Approximately 7 chips should equal to zero points. If you eat all of the tofu chips with Everything but the Bagel seasoning, then you are looking at points, so be sure to track them!
[su_box title="RELATED NEWS:" box_color="#26a7d2″][su_permalink id="9613″]This Weight Watchers Starbucks Freestyle Points is what you need to help keep you on track.[/su_permalink][/su_box]
Tofu Chips Recipe
For the tofu chips, I used an extra firm tofu block. The reason is that it's much easier to cut without it falling apart and crumbling. We've used other forms, and they just didn't work out too well. They also didn't have the same type of crunch we were looking for. I hope you enjoy my tofu chips, and I'm sending you best wishes on your Weight Watchers journey!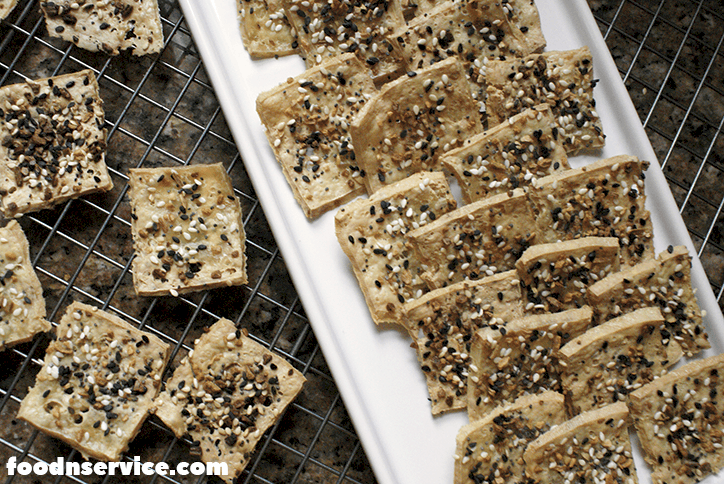 This is such an easy WW zero point snack to make! I can eat these Tofu Chips by the handful!
Ingredients
15oz package of Trader Joe's Organic Extra Firm Tofu
Everything But The Bagel Sesame Seed seasoning
Instructions
Preheat the oven to 350 degrees F.
Slice the tofu into thin slices. Try to make them as thin as you can without them falling apart or becoming too sheer. You want them thin enough to crisp up. (Look at the photo provided so you can see the thickness).
Then cut the rectangular slices of tofu across width wise.
On a silpat lined cookie sheet, place your tofu pieces. They can be close to each other, so don't worry about that.
Spring the Everything seasoning on top of the tofu pieces. As I sprinkled them, I lightly patted them onto the tofu pieces so it can stay locked in place when baking.
Bake in the oven for 35-45 minutes or until a nice brownish color (depending upon your elevation, it might take longer...and if you're using a gas stove or electric range). To test if it's ready, press one of them in the center. If it is a little spongy, then leave in the oven for an addition 5-10 minutes.
Once done, remove from cookie sheet and place them on a cooling rack. As they cool, they will also harden. You can now enjoy!
Here's a photo of the tofu and how thick I sliced mine.
As you can see, as I sprinkled them on each tofu piece to create the chip, I just light patted the seasonings down. You don't have to press too firmly. Just enough a little bit of pressure to make sure they adhere to the tofu pieces.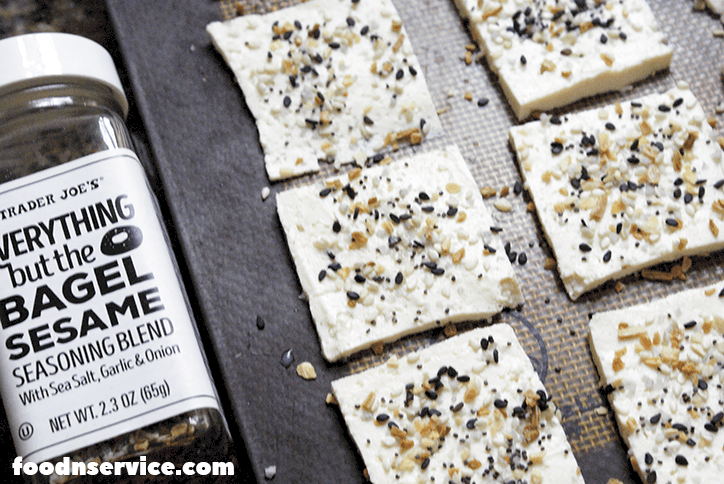 Cooling rack time! Almost time to eat those tofu chips!
More Weight Watchers Recipes: