Homemade Lemon Lime Sugar Scrub
My lemon lime sugar scrub recipe is all natural and completely chemical free. I love being able to use Essential oils to make a sugar scrub for me to use. There's nothing better than the feeling that soft clean feeling that your skin gets when you've used one. It exfoliates dead skin cells, moisturizes your skin, and makes you smell simply fabulous! There are lots of great benefits from using scrubs, but those are definitely my favorite.
If you love making your own beauty products, then making your own sugar scrub to use is right up your alley. Why spend so much money on all of those expensive sugar scrubs, when you can make your own for a mere fraction of the cost, and make them in less time than what you may think.

Know What's Inside Your Sugar Scrub
I read labels for ingredients that are inside of sugar scrubs, and any type of product that I use. I have to be careful because I have very sensitive skin, and I'm also allergic to certain types of red and yellow food colors. So I have to be very careful of everything I put on my skin.
The first thing I'm on the lookout for are the types of perfumes that might be used in the sugar scrub product. That's why I always stick to therapeutic grade essential oils. I don't have to worry about the oils being chemically processed with an introduction of an alcohol of any sorts that might irritate my skin.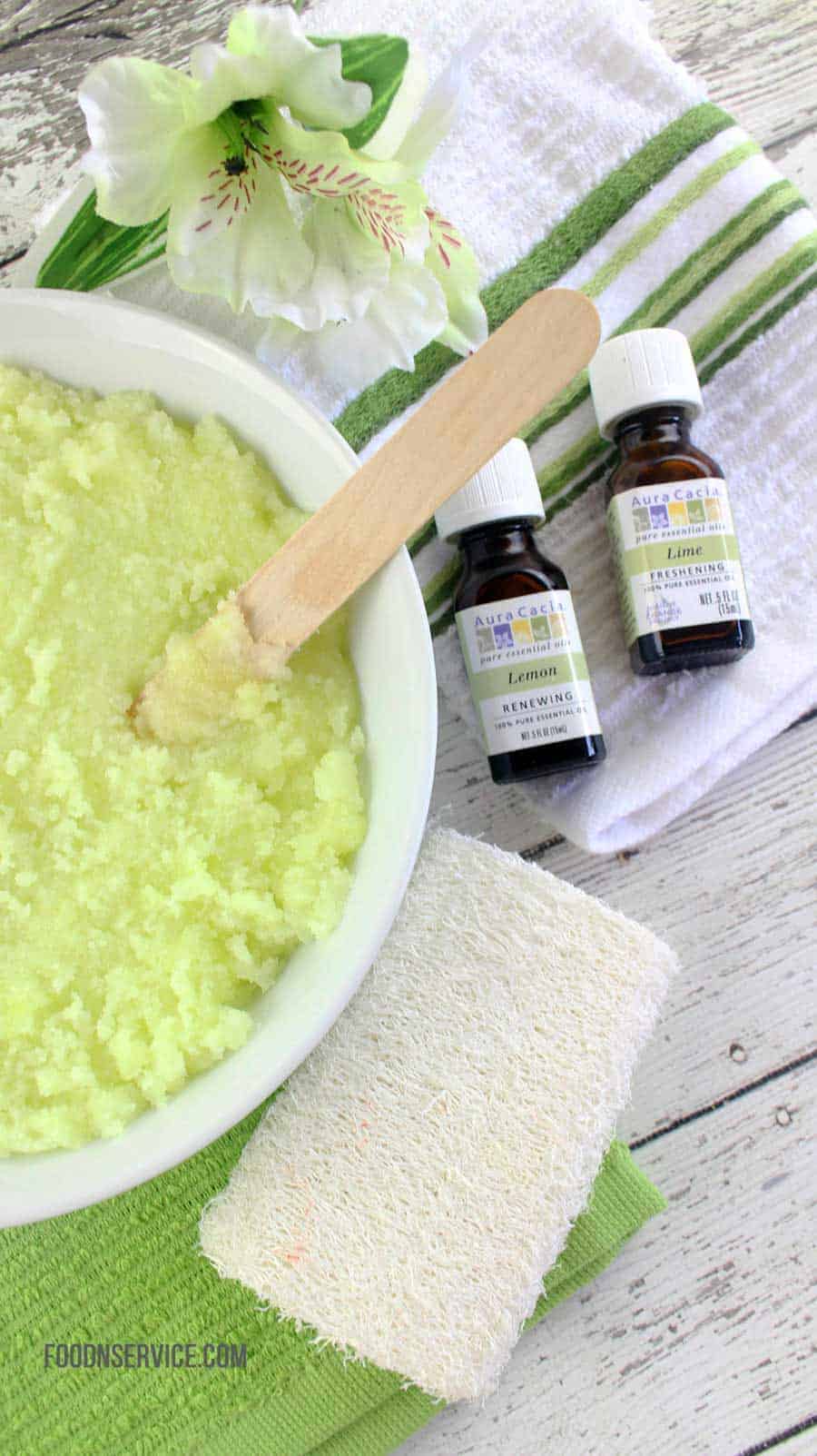 Now, you might notice that there's a slight green hue to my lemon-lime sugar scrub, and that's because there is. I used a natural green food coloring to it. I did because it's just a lot of fun to see a little bit of color, and knowing that it's not going to stain my skin.
The sugar scrub recipe is super easy, so let's get start with the things you are going to need for this:
Ingredients for sugar scrub:
Directions for sugar scrub:
Add all of the ingredients into a small mixing bowl. Mix well to incorporate the sugar and oils. Adjust the consistency to your personal liking – add more oil if it's too dry and add more sugar if it's too wet.
Transfer to an airtight container and store up to 3 months.
How to use sugar scrub:
1. Wet skin and apply the lemon lime sugar body scrub generously in the shower.
2. Massage the scrub in a circular motion gently into your skin. Enjoy the energizing scents of lemon and lime as the sugar exfoliates and the coconut oil & vitamin e moisturizes.
(This is a great morning scrub, as the lemon and lime essential oils are great for awakening and rejuvenating the senses).
3. Rinse with warm water and pat dry with a towel.
4. Apply your favorite body lotion or cream to seal the moisture in your skin.
If you want to try a different variety, you can try making my Lemon Lavender Sugar Scrub recipe. Sugar Scrubs are so versatile, and that's why I love making a lot of different aromatic ones (depending on the time of the year, holidays, and different seasons). You can take a look at other sugar scrubs that I have by simply clicking here. A new page will open up, and show you a full list of fabulous ones that will inspire you!
These are also great to make to give to friends and family members as a gift! Nothing is better than receiving a homemade gift that someone will actually use, and completely fall in love with.
What are some of our favorite sugar scrubs to make? Let me know in the comments. I would LOVE to make them to add to my growing collection!