Strawberry Shortcake Whoopie Pies
Strawberry Shortcake Whoopie Pies are a scrumptious dessert with crumbly shortcake dough, freshly chopped strawberries, and sweet strawberry buttercream! This fun twist on strawberry shortcake can be enjoyed with ice cream as a dessert or served at parties as a sweet treat.
The chunks of fresh strawberries in the shortcake dough and strawberry buttercream filling turn these whoopie pies into eye-catching baked treats. Get creative and roll the freshly assembled whoopie pies with buttercream frosting in pink sprinkles or sanding sugar.
WHAT YOU SHOULD KNOW ABOUT STRAWBERRY SHORTCAKE WHOOPIE PIES
This recipe combines my love of two classic treats – strawberry shortcake and whoopie pies with strawberry buttercream frosting filling!
Strawberry shortcake is naturally soft and crumbly, which is why it's perfect for making this recipe since traditional whoopie pies are soft with a cake-like texture.
WHAT IS A WHOOPIE PIE?
A classic whoopie pie comprises two cake-like layers sandwiched with a soft and sweet filling, typically some frosting. Whoopie pies are essentially a cakey version of cookie sandwiches.
WHAT IS SHORTCAKE?
Shortcake is a classic dessert with a crumbly, scone-like texture that's combined with whipped cream and fresh fruit. The most popular shortcake is strawberry shortcake, incorporating freshly chopped strawberries in the dough and topped with whipped cream.
HOW SHOULD I STORE THESE STRAWBERRY SHORTCAKE WHOOPIE PIES?
These treats are best eaten immediately due to their soft buttercream filling. That said, these strawberry shortcake whoopie pies can also be wrapped with plastic wrap or aluminum foil and stored in an airtight container or Ziploc bag in the fridge for a few days or in the freezer for 2-3 months.
WHAT VARIATIONS CAN I MAKE TO THESE WHOOPIE PIES?
Flavor the cookies with almond extract instead of vanilla extract. Other extracts could also be used to suit specific holidays or events.
Instead of strawberry shortcake whoopie pies, make raspberry shortcake whoopie pies or blueberry shortcake whoopie pies.
Change the flavor or color of the buttercream frosting by experimenting with different extracts and food colors.
Add chopped nuts or white chocolate chips to the whoopie pies.
Roll the assembled whoopie pies in finely chopped nuts, pink sprinkles, or sanding sugar.
Freeze-dried strawberries can be used instead of fresh strawberries in the whoopie pie dough.
TIPS FOR MAKING STRAWBERRY SHORTCAKE WHOOPIE PIES
Apply the buttercream frosting gently when assembling these whoopie pies, as the cakey sandwiches can be soft and crumble if too much pressure is added. You can pipe the buttercream frosting onto the sides of the whoopie pies or spread the filling gently with a knife.
Making these strawberry shortcake whoopie pies in advance is possible, although I recommend that you only make them a few hours ahead to prevent them from becoming overly soft by the time they are served.
While I've made my own frosting from scratch, you can also purchase different kinds of frosting for convenience.
Sifting the powdered sugar when making the frosting will help prevent lumps or a grainy texture.
Add more milk to the frosting if it's too thick, or more powdered sugar if it's too thin.
You can easily double this recipe to serve a larger crowd.
Don't overcrowd the baking sheet. The cookie balls need enough space to spread slightly and get a delicious, crispy outer crust.
If the buttercream isn't getting fluffy, add a little water or cream until the desired consistency is achieved.
Allow the dough to soften at room temperature if it's too hard to scoop.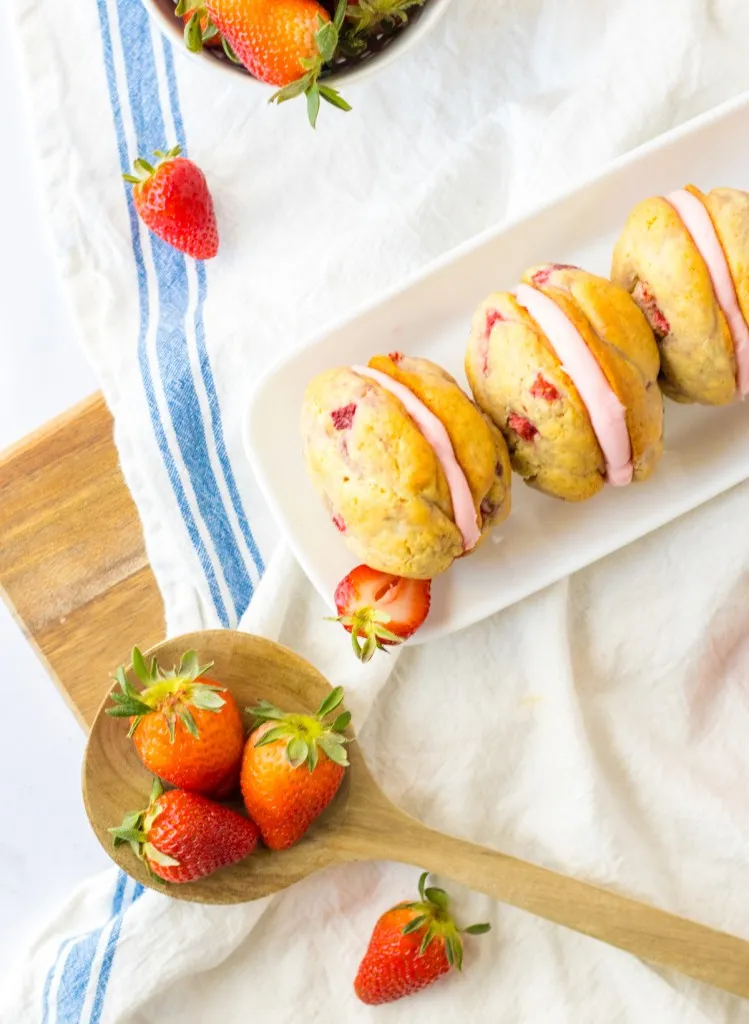 Similar Recipes You'll Love
Yield: 7 Whoopie Pies
Strawberry Shortcake Whoopie Pies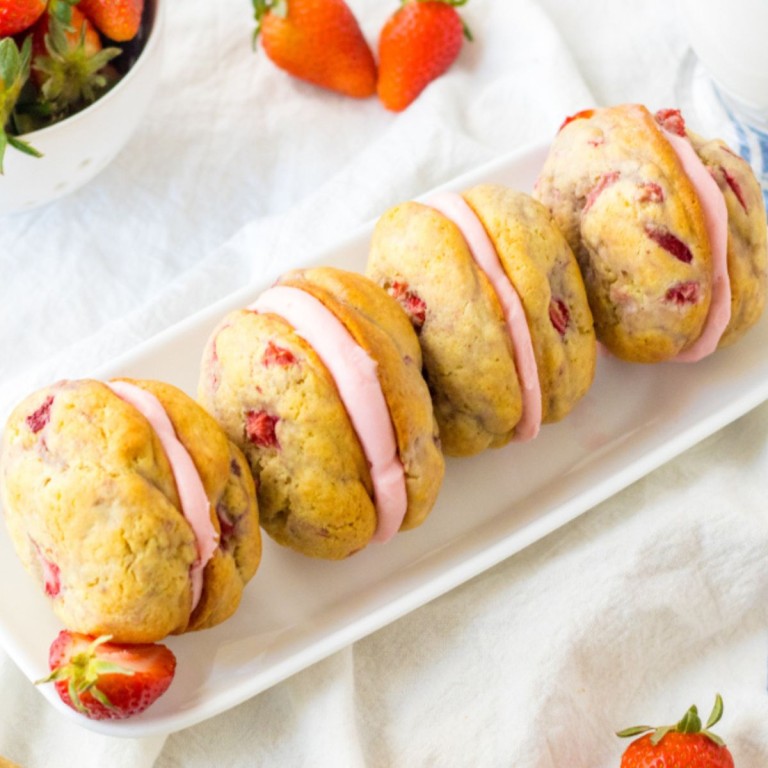 These Strawberry Shortcake Sandwich Cookies are just so cute and tasty! It's the perfect spring time cookies! So nice and fluffy too. Easy to eat them all!
Additional Time
30 minutes
Total Time
1 hour
5 minutes
Ingredients
WHOOPIE PIES
3 cups all purpose flour
1 tsp baking powder
1/2 tsp baking soda
1 cup of unsalted butter (softened)
2/3 cup sugar
1/3 cup light brown sugar
1 1/2 tsp vanilla extract
1 egg and 1 egg white
1 cup of fresh strawberries (finely chopped)
1 tbsp flour
BUTTERCREAM
1 stick of unsalted butter (softened)
5 cups of powdered sugar
3-4 drops of pink food coloring
1/2 cup of strawberry jam
Instructions
Add flour, baking powder and baking soda into a medium bowl and whisk together and set aside.
In a large bowl add butter, sugar and brown sugar and beat with a hand mixer until fluffy. Add vanilla extract and mix again.
Add the eggs one at a time and mix in between. Then add the flour mixture 1 cup at a time into the bowl. Mixing well in between.
In a small bowl add the chopped strawberries and tbsp of flour and mix together to make sure the strawberries are coated well (add one more tbsp if the strawberries aren't covered enough)
Put strawberries into the dough and fold together with a wooden spoon.
Cover the bowl tightly and place in the fridge for 30 minutes.
Preheat the oven to 350 degrees.
On a large baking sheet covered in parchment paper, scoop the dough with a cookie scooper or an ice cream scooper, about 2 inches of dough and roll together in your hands and place on the paper, with about 3 inches apart. Place in oven and cook for 15 minutes or until golden.
While that's cooking make the buttercream. In a large bowl combine the butter and powdered sugar, mix with a hand mixer until everything is mixed (it'll look crumbly) add the food coloring and add the jam and mix again. (this will make the cream fluffy now) scoop and place into a zip lock bag and cut the tip off the bottom corner to make a piping bag.
Let the cookies cool completely. Once cooled place half the cookies upside down, pipe the butter cream onto the bottom of the cookie and then place another cookie on top to make a sandwich.
Notes
●If the dough is too hard to scoop let it get to room temp before scooping.
●If the butter cream doesn't get fluffy add a little water or cream until desired consistency.
●Add white chocolate chips into the dough for a hint of chocolate!