Strawberry Crunch Cake Balls
What are strawberry crunch cake balls? Well, imagine a world where strawberries, cream cheese, and Oreos come together in a perfect harmony of flavors. Luscious golden Oreo crumbs and freeze-dried strawberry bits mixed with creamy, smooth cream cheese. It's like a strawberry party in your mouth!
Not only do these cake balls taste divine, but they also look absolutely adorable with their pink coating and golden crumb toppings. Trust me, these little treats will make you the star of any gathering or dessert table.
Now, here's the exciting part—making these Strawberry Crunch Cake Balls is a breeze! You don't need to be a master chef or have fancy equipment. All you need is a food processor or blender to crush the Oreos, a mixing bowl and spoon for stirring, and a little bit of patience. The steps are easy to follow, and before you know it, you'll have a batch of these delectable cake balls ready to impress your family and friends.
What are strawberry crunch cake balls?
Strawberry Crunch Cake Balls are a delightful dessert made with golden Oreos, freeze-dried strawberries, and cream cheese. These bite-sized treats are rolled into balls, coated with candy melts, and topped with a sprinkle of golden Oreo and strawberry crumbs. They are the perfect combination of creamy, crunchy, and fruity flavors. Whether you need a sweet treat for a party or you just want a quick and delicious snack,, these Strawberry Crunch Cake Balls are sure to satisfy.
Why You'll Love This Recipe
Quick and Easy – It takes very little time to make this recipe. With just a few simple steps, you can have a batch of these delightful cake balls ready to enjoy.
No-Bake Recipe – These cake balls require no baking. All you need is a food processor, a mixing bowl, and a fridge to chill the dough. No need to turn on the oven!
Kid-Friendly Fun – Rolling the dough into balls and dipping them into the candy melts is a fun activity for kids to get involved in. They'll love the process, not to mention the delicious results.
Tips for Making Perfect Strawberry Crunch Cake Balls:
Let the cream cheese soften: Softened cream cheese blends more easily with the other ingredients, and this is how you end up with a smooth, creamy, lump-free dough.
Use a cookie scoop: Using a cookie scoop will help make evenly-sized cake balls, ensuring they all look the same on a platter.
Chill the dough: Chilling it before rolling it into balls makes it easier to handle and stops the cake balls from losing shape when dipped in the candy melts.
Recommended:
Lemon Pound Cake Bites
No-Bake Mini Pumpkin Cheesecakes
Mini Pecan Tarts
Recipe Variations:
You can quickly change up this recipe to make new flavor combinations. Here are a few ideas:
Chocolate Lover's Dream: Swap the pink candy melts for melted dark or milk chocolate for a more intense chocolate flavor, and use regular Oreos instead of golden Oreos.
Lemon Berry Twist: Add a touch of zest to the cream cheese mixture by incorporating lemon zest and substitute the freeze-dried strawberries with freeze-dried raspberries for a tangy twist.
How to Store
In the fridge: Store the Strawberry Crunch Cake Balls in an airtight container in the refrigerator for up to 5 days.
In the freezer: If you want to store these for longer, you can freeze the cake balls. Place them in a freezer-safe container or Ziploc bag, separating the layers with parchment paper. They can be stored in the freezer for up to 3 months.
Can I make this ahead?
Yes, you can make these Strawberry Crunch Cake Balls ahead of time. Prepare the cake balls as instructed, then store them in the refrigerator or freezer until you're ready to serve. They make a great make-ahead dessert for parties or special occasions.
FAQs
How do I soften cream cheese?
The easiest way to soften cream cheese is to leave it out on the counter for about 30-45 minutes before you make your recipe. If you forgot, you may just have to beat it with a hand mixer for a few extra minutes. Try to beat it until all the tiny lumps are gone.
Can I use fresh strawberries instead of freeze-dried strawberries?
Unfortunately not. Regular dried strawberries won't really work, either. This recipe needs real freeze-dried strawberries.
How long do the cake balls need to chill in the refrigerator?
The cake balls need to chill in the refrigerator for about an hour after they're done to taste the very best. I like my cake balls when they're cold from the fridge.
Can I use a hand mixer instead of a food processor?
Yes, you can use a hand mixer to combine the cream cheese, Golden Oreo crumbs, and freeze-dried strawberries.
Yield: 20 Cake Balls
Strawberry Crunch Cake Balls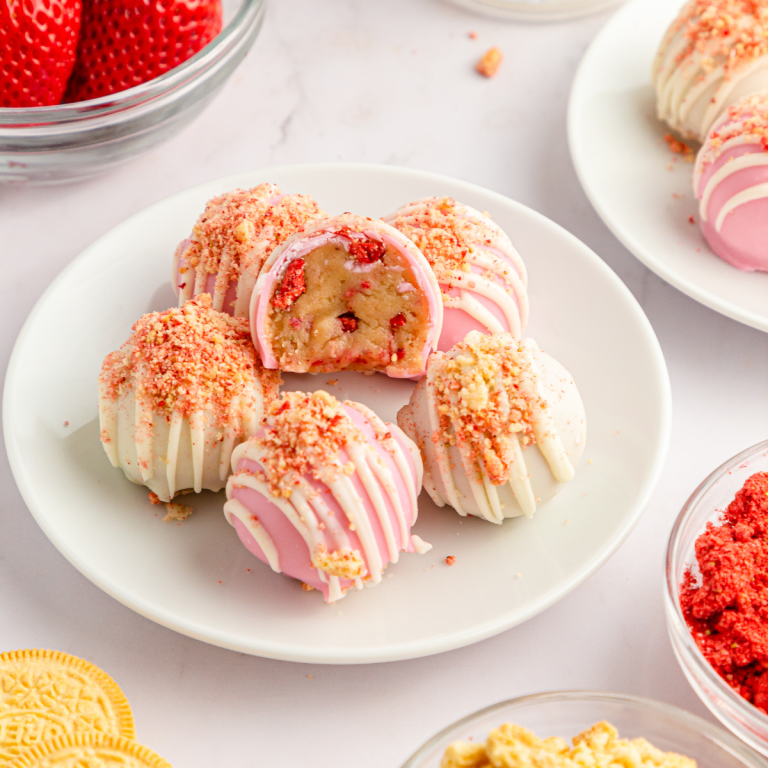 These strawberry crunch oreo balls are easy to make with just a handful of ingredients - golden oreos, freeze dried strawberries, cream cheese, and melting wafers.
Total Time
1 hour
45 minutes
Ingredients
19.1 ounce family size package Golden Oreos, divided
1 ½ cup freeze dried strawberries, divided
8 ounce block cream cheese, softened at room temperature
12 ounce bag Wilton pink candy melts
10 ounce bag Ghirardelli vanilla melting wafers, divided
Instructions
Line two baking sheets with parchment paper and set aside.
Using a food processor or blender, pulse the golden oreo cookies until you have fine crumbs. Separate ½ cup of crumbs and set it aside for later to use as a topping.
In a large mixing bowl, beat the softened cream cheese until smooth.
Add the golden oreo crumbs and just 1 cup of freeze dried strawberries to the bowl and mix on a low speed until evenly combined and you get a dough consistency.
Place into the refrigerator to chill for 30 minutes. This will help firm up the batter, making it easier to roll into balls.
Once chilled, use a 1 ½ tablespoon cookie scoop to scoop the batter into even sizes and roll them into balls with your hands. Place each ball onto the lined baking sheet. Chill in the refrigerator for another 30 minutes to an hour. This will help the balls keep its shape when dipping into the heated melting wafers.
Set aside ½ cup of the white melting wafers for drizzle.
Using a double boiler, heat the remaining white melting wafers over low heat, stirring often, until fully melted.
Remove half of the cookie balls from the refrigerator. Let the remaining balls chill in the fridge so they do not soften.
Place one cookie ball onto a fork and dip it into the melts. Tap the fork against the edge to remove the excess and thin out the coating. Place back onto the lined baking sheet and repeat with the remaining cookie balls. Set aside.
Clean the double boiler before melting the pink candy melts. Repeat the process with the remaining balls in the refrigerator and dip the cookie balls one by one into the melted pink melts, placing them back onto the lined baking sheet.
Once all of the cookie balls are coated, place the extra vanilla melting wafers that were set aside into a heat safe piping bag and microwave on a low or defrost setting in 30 second increments until fully melted. Massage the bag between each time.
Snip a small piece of the piping bag and drizzle over just a few of the cookie balls and then immediately top with Golden Oreo and freeze dried strawberry crumbs. You'll want to work in small batches so that you are able to top the cookie balls with crumbs before the drizzle sets.
Allow the coating to set completely before serving. You can place it back in the refrigerator to speed things up.
Notes
Because of the cream filling from the cookies and the added cream cheese, the dough starts off soft and does not hold its shape very well. It's important not to skip any of the chilling steps. Chilling will make it easier to roll into balls without it sticking to your hands and will also help it keep its shape when dipping. Firm cookie balls are also less likely to experience cracking.
Remember to heat the melting wafers over low heat and stir often. Overheating can cause the melts to seize and become thicker, making it harder to get a nice thin and even coating.