Strawberry Cheesecake Cookies
Biting into strawberry cheesecake cookies is like sinking your teeth into a soft, chewy cookie, only to discover a luscious surprise hidden inside. It's a medley of flavors where the sweetness of strawberries meets the creamy goodness of cheesecake, all wrapped up in a cookie coating that adds a delightful crunch. It's like having your own little handheld dessert party! These strawberry cheesecake cookies are not only delicious but also a feast for the eyes with their beautiful presentation. Trust me, once you taste one, you'll be hooked!
The best part about this recipe is that it's super easy to make, even for budding chefs. You don't need fancy equipment or complicated techniques. Even though these are stuffed cookies, they're easy!
The strawberry cheesecake filling is a breeze to whip up, the cookie dough recipe is straightforward, and assembling them is not at all difficult. Bake, and you're biting into these ooey gooey cookies in no time.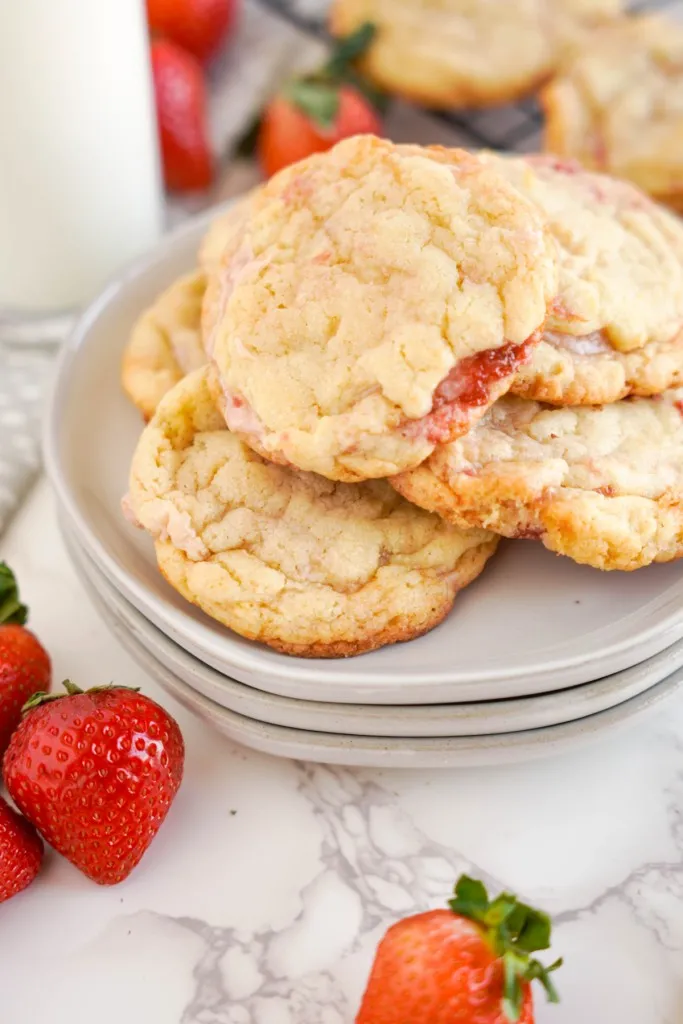 How to Serve these Strawberry Cheesecake Cookies
These strawberry cheesecake cookies are a good choice for just about any occasion.
Birthday parties (even instead of cake!)
Family gatherings and holidays
An after-school treat
Pack in lunchboxes
Take on picnics
Sell at a bake sale
Place on a cookie tray
And you can frost these with a cream cheese frosting, or a simply drizzle some glaze overtop for a really pretty presentation.
Why You'll Love These Strawberry Cheesecake Cookies:
Here's why this stuffed cookie recipe is so great:
Quick and Easy: It takes very little time to prepare this recipe. You'll be enjoying these delectable strawberry cheesecake cookies in no time!
Irresistible Flavor: The combination of strawberry sauce, cream cheese, and a cookie crust creates a combination of flavors that will leave you wanting more.
Perfect for Sharing: These goodies are great for holidays, parties, or just for whipping up for your family. They're meant to be shared and savored together.
What is strawberry sauce?
This recipe calls for a few tablespoons of strawberry sauce. The strawberry sauce adds a burst of fruity sweetness and enhances the overall strawberry flavor in the recipe. If you don't have strawberry sauce on hand, you can substitute it with mashed fresh strawberries or strawberry jam for a similar taste.
Ingredient Substitutions:
Sugar – You can use brown sugar or turbinado sugar as substitutes for regular granulated sugar in this recipe. They will add a hint of caramel-like flavor and a slightly different texture to the final result.
Unbleached Flour – If you don't have unbleached flour, you can use regular all-purpose flour.
Strawberry Sauce – You can substitute with mashed strawberries or strawberry jam.
Butter – Substitute with margarine if you need to, but your cookies may be slightly crispier than they would be with butter.
Vanilla Extract: Vanilla extract can be replaced with other flavor extracts, such as almond, lemon, or coconut, with slightly different flavor.
Baking Powder: If you're out of baking powder, you can make a homemade substitute by combining 1/2 teaspoon of cream of tartar with 1/4 teaspoon of baking soda.
Tips for Making the Recipe Perfectly:
Chill the filling: Make sure to refrigerate the strawberry cheesecake filling for at least 45 minutes before using it. This will help it firm up and be easier to work with when you're assembling the cookies.
Don't overmix the dough: When adding the strawberry sauce to the cookie dough, gently fold it in without fully mixing it. This will create a marbled effect and distribute the strawberry flavor throughout the cookies.
Properly seal the cookies: Ensure that the edges of the cookie dough balls are firmly pressed together to seal the cheesecake filling inside. This will hopefully stop any leakage from happening during baking.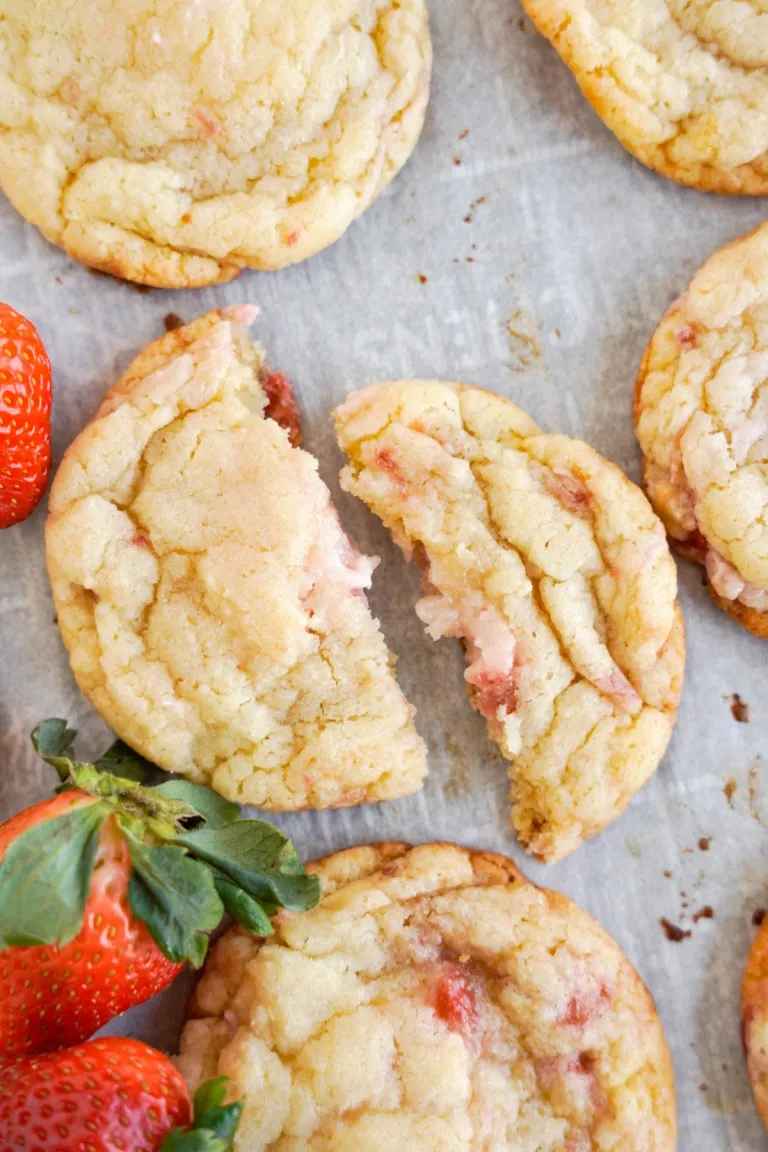 Recommended
Easy Double Chocolate Cookies
Snickerdoodle Cookies
Coffee House Cookies
Recipe Variations:
Want to change up the recipe a bit? Here are a few idea.
Chocolate Strawberry Stuffed Cheesecake Cookies: Add a chocolate twist by incorporating cocoa powder into the cookie dough and using a chocolate ganache filling instead of strawberry cheesecake.
Lemon Strawberry Crunch Cookies: Infuse a zesty flavor by adding lemon zest to the cookie dough and substituting the strawberry sauce with lemon curd for the filling.
How to Store Leftovers:
In the fridge: Store the leftover Strawberry Cheesecake Cookies in an airtight container in the refrigerator for up to 3-4 days. Make sure to separate the layers with parchment paper to prevent sticking.
In the freezer: If you want to make them ahead or have leftovers you'd like to save for later, you can freeze the cheesecake. Place them in a freezer-safe container or zip-top bag with layers separated by parchment paper. They can be stored in the freezer for up to 1 month.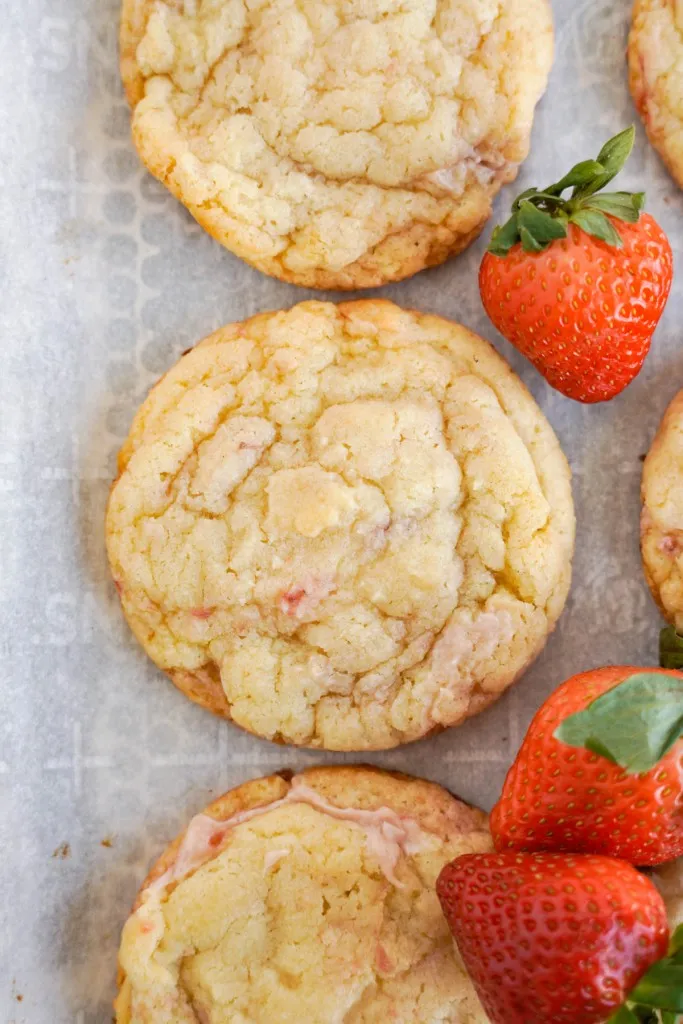 Can I Make This Ahead?
Absolutely! You can make the cookies ahead of time. Follow the recipe until the step of freezing the cookie dough balls. Once frozen, transfer them to an airtight container or zip-top bag and keep them in the freezer. When you're ready to enjoy them, simply bake as instructed, allowing a couple of extra minutes of baking time
Can I use frozen strawberries instead of strawberry sauce?
Yes, you can use thawed frozen strawberries and mash them to create a sauce-like consistency for the filling.
Can I use reduced-fat cream cheese for the filling?
Yes, you can use reduced-fat cream cheese, but keep in mind that it may slightly alter the texture and flavor of the filling.
Yield: 16
Strawberry Cheesecake Cookies
These strawberry cheesecake cookies are the perfectly delicious cookie to make for those strawberry lovers!
Additional Time
10 minutes
Total Time
1 hour
23 minutes
Ingredients
Strawberry Cheesecake Filling Ingredients:
4 ounces cream cheese, softened
1 cup powdered sugar
1 teaspoon vanilla
2 tablespoon strawberry sauce
Strawberry Cheesecake Cookie Ingredients:
Ingredients:
1/2 cup of unsalted butter, softened
1 cup of sugar
1 egg
1 teaspoon vanilla
1 1/2 cups unbleached flour
1/2 teaspoon baking powder
1/4 teaspoon salt
1/8 teaspoon baking soda
2 tablespoons strawberry sauce
Instructions
Strawberry Cheesecake Filling Directions:

Make the strawberry filling combining the cream cheese, powdered sugar, strawberry sauce, and vanilla together.
Mix well until smooth.
Place the filling in the refrigerator for at least 45 minutes while you make the cookies.

Strawberry Cheesecake Cookies Directions:
In a medium sized mixing bowl, cream the butter and sugar together.
Add the egg and vanilla and mix well.
Stir in the flour, baking powder, baking soda, and salt. Add two tablespoons of strawberry sauce and gently fold into the batter (don't fully mix it in).
Refrigerate dough for 30 minutes.
Once the dough is chilled, line a baking sheet with parchment paper and create 1 tablespoon cookie dough balls (you will need two for each cookie).
Press down the middle of one of the cookie dough balls in the set. Grab the cheesecake filling from the refrigerator and place about ½ teaspoon of cheesecake filling in the prepared hole and then top it with the other cookie dough ball and press the edges together to seal the cheesecake filling inside.
Freeze the cookie dough balls for 10 minutes & preheat the oven to 350 degrees. Bake for 13-14 minutes.
Remove the cookies from the oven and let them cool on the cookie sheet completely.
Notes
Here's a recipe for a quick & easy Strawberry Sauce
Yields: 1/3 cup strawberry sauce
Preparation time: 2 minutes
Cooking time: 10 minutes
Additional time: 2 minutes

Strawberry Sauce Ingredients
1/2 cup fresh strawberries, chopped
2 tablespoons water
2 tablespoons white granulated sugar
1/2 teaspoon vanilla

Strawberry Sauce Directions:
Make the sauce first by combining the strawberries, sugar, and water together in a saucepan.
Heat on the stove over medium heat until boiling.
Reduce heat to a simmer and mash strawberries occasionally.
After 10 minutes remove the sauce from the stove and add the vanilla.
Let the sauce cool.