Starbucks Cinnamon Coffee Cake
This copycat Starbucks Cinnamon Coffee Cake recipe is just like the original: a perfectly sweet coffee cake with a crumbly, crunchy streusel topping. A match made in heaven, if you ask me.
There really is nothing like making a Starbucks run and grabbing a slice of their mouthwatering cinnamon coffee cake with your cup of coffee. But now, you can replicate the experience in your kitchen.
We all love a trip to the coffee shop. But making this cake at home is so much more economical, plus you can't beat the freshness of homemade. This Starbucks coffee cake recipe will be one you'll make over and over again.
What is Starbucks Cinnamon Coffee Cake?
Starbucks Cinnamon Coffee Cake is a delicious coffee cake recipe made famous at the coffeehouse Starbucks. It's known for its 2 layers of streusel — one baked inside of the cake and the other sprinkled over the top. The cake layers are delicious, but really they're just a vehicle for the cinnamon streusel. It's perfect with a latte or an iced coffee.
Does coffee cake use real coffee?
Coffee cake doesn't actually contain any coffee! Coffee cake gets its name because this scrumptious snack is traditionally served with a cup of coffee. Coffee cake is also similar to crumb cake, but usually, crumb cake has more crumbs and less cake.
What makes a coffee cake dry?
A coffee cake can become dry for a couple of different reasons! you might have overbaked it, or the recipe didn't have enough oil or butter. And, if you leave the cake out for too long, it can dry out over time. To keep the cake moist, store it in an airtight container.
Recommended
Starbucks Copycat Blueberry Muffins
Baked Carrot Cake Donuts
Lemon Cheesecake Bars
Tips & Recipe Notes
Be careful not to overmix the batter, or you might end up with a dry and tough cake.
Be sure to start with softened, room-temperature butter for the cake and cold butter directly from the fridge for the streusel topping.
If you are worried the cake might get stuck in the pan, you can lay a piece of parchment paper into the pan with some overhand on the sides. That way, you can use the parchment paper like a sling to airlift the cake out of the pan once it's baked.
Ingredient Substitutions
Greek yogurt: Greek yogurt makes this cake incredibly moist and tender. You can substitute it with plain yogurt or sour cream.
Butter: For best results, use a butter substitute made for baking. You can substitute the butter with vegetable oil, which may affect the final cake's flavor and texture. For the streusel, you can use coconut oil as a dairy-free option.
Cinnamon: You can use other spices in addition to or in place of the cinnamon. Allspice, nutmeg, ginger, clove, or mace are all delicious warm spices that would taste great in this coffee cake recipe.
Can I double the recipe to make a larger cake?
For the best result, you can double the streusel and cake batter and bake two cakes in separate loaf pans. I wouldn't recommend using a larger pan and baking two batches at once.
How Do I Store Starbucks Cinnamon Coffee Cake?
You can cover the cake tightly with plastic wrap or put it in an airtight container at room temperature. It will stay good at room temperature for up to two days.
In the refrigerator, the cake will keep for up to four days.
Can I Freeze Starbucks Cinnamon Coffee Cake?
When freezing this coffee cake, there are two options. You can place the entire loaf into a large zip-top freezer bag and press out as much air as possible. Or, you can wrap slices of cake tightly in plastic so you can thaw one at a time and enjoy some coffee cake whenever the mood strikes.
Stored as a full loaf, the coffee cake will stay good for up to three months. The individual slices should be enjoyed within six weeks.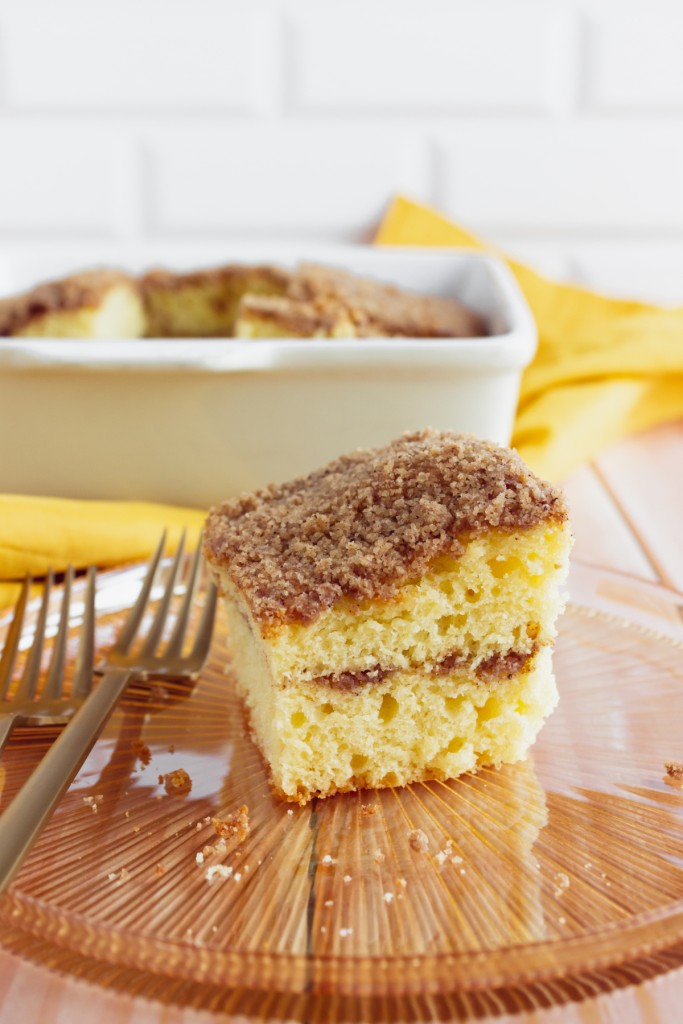 How to Reheat Starbucks Cinnamon Coffee Cake
Coffee cake should be thawed completely on the counter before enjoying.
If you like warm coffee cake, you can heat up a slice by placing it on a piece of parchment paper and popping it into the oven or toaster oven at 350 for about 5 minutes.
Another great idea is to pan-fry your coffee cake! simply melt a little butter in a small nonstick skillet over medium heat. Place a slice of coffee cake in the butter and cook until it is golden brown and a little crispy. Perfect for breakfast or a snack!
FAQs
Why is it called cinnamon coffee cake?
Coffee cakes don't typically include coffee. Instead, they're get their name from being so darn delicious with a cup of coffee! They're generally a white or yellow vanilla cake with a crumb or streusel topping, and often involved cinnamon or other spices.
Does cinnamon coffee cake have caffeine?
Generally, coffee cakes don't actually contain coffee. So, unless the ingredients in your coffee cake happen to contain caffeine, no, a cinnamon coffee cake does not contain caffeine.
How do I ensure my coffee cake isn't dry?
The best way to make sure your coffee cake isn't dry is to follow the instructions carefully. Measure well, preheat the oven before placing your cake inside, and don't let it get overbaked!
More Delightful Cinnamon Treats to Try
Instant Pot Apple Cinnamon Oatmeal
Crock Pot Cinnamon Roll Casserole
Golden Grahams Cinnamon Rolls
Yield: 9 Servings
Starbucks Cinnamon Coffee Cake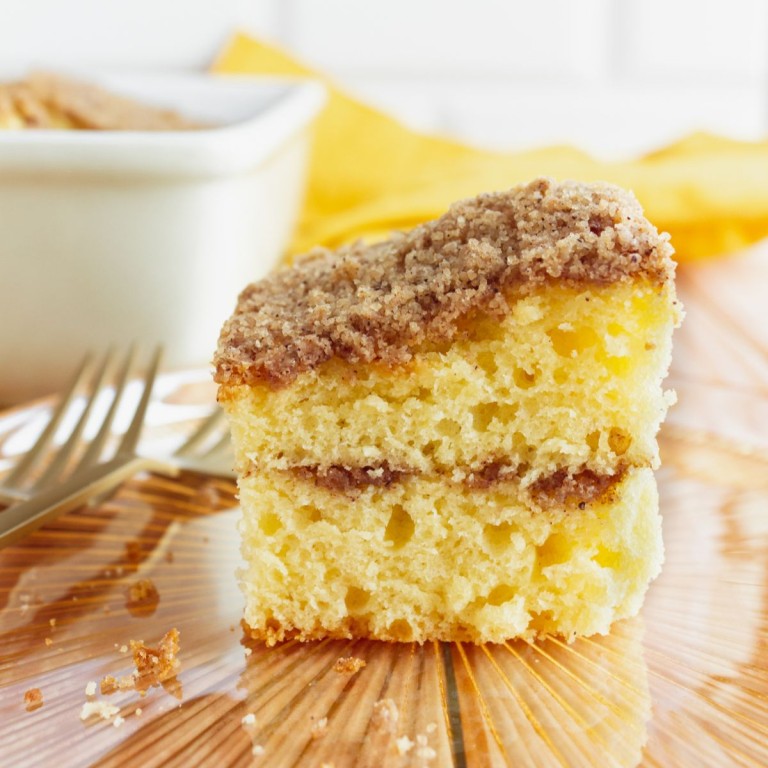 You'll love my copycat Starbucks Cinnamon coffee cake, and so will everyone else when they smell your kitchen!
Ingredients
For Cake:
3⁄4 cups unsalted butter
1/3 cup vegetable oil
3 eggs
1 cup greek yogurt
2 teaspoons baking powder
1 1⁄2 cups white sugar
21⁄2 cups flour
For Streusel Topping
1/3 cup brown sugar
1/2 cup flour
1 tbsp ground cinnamon
4 tbsp cold butter
pinch of salt
Instructions
Preheat oven to 350°F. In a large bowl, mix together room temperature butter and sugar until it's light and fluffy; do not over whip.
Add eggs gradually and mix well., and then add in the Greek yogurt and mix to combine.
Mix in the baking powder and flour, using a rubber spatula make sure all of the ingredients are well combined.
Combine all cinnamon streusel ingredients with a fork until they reach a crumbly consistency, do not over mix.
Fill 1⁄3 of a greased cake pan with batter, sprinkle thin layer of cinnamon streusel mixture on top of batter.
Repeat the process one more time.
Bake for 30-35 minutes or until a toothpick inserted in the center of the coffee cake comes out clean.