Spinach and Ricotta Stuffed Shells
If you're in the mood for Italian comfort food, Spinach and Ricolla Stuffed Shells are sure to satisfy your appetite. The cheesy goodness and Italian seasoning will have you singing, "That's Amore!"
You know we love pasta around here. And cheese. And even spinach! So this one really checks all the boxes for us! Plus it looks fancy, even though it's pretty easy to make.
I think people get a bit scared of making stuffed shells, but don't be! Just dive in and give this recipe a try. You'll be glad you did when you're in heaven, tasting all that cheesy goodness.
What is Spinach and Ricotta Stuffed Shells?
Jumbo pasta shells, loaded with three cheeses and spinach, topped with marinara sauce, and baked to bubbling perfection make this meal perfection. This dish is vegetarian, since it's made without meat, but even your most dedicated meat-eater won't go hungry.
How Many Stuffed Shells Per Person Do You Need?
An average serving size is 2-3 shells per person, assuming you're serving garlic bread, salad, or other food alongside your pasta. Heartier appetites might eat more. This recipe calls for 16 shells, so will serve 5-6 people, but plan for more if you want this to be the only item you serve.
What Can I Serve with Spinach and Ricotta Stuffed Shells?
Caesar salad
Garlic bread
Vegetables
Grilled chicken
Recommended:
Italian Parmesan Bread
Spinach Cheese Tortellini With Italian Sausage
Slow Cooker Ravioli Lasagna
Tips and Recipe Notes
To keep shells from sticking together and breaking, add a small amount of olive oil to the boiling water and use plenty of water to cook the shells. Carefully remove the shells using a slotted spoon and be sure all the water drips from inside the shell. Allow shells to drain and cool on paper towels or in a colander.
This recipe can be put together the night before and baked fresh the next day. Cover tightly and store in the refrigerator until ready to bake.
To avoid your dish from becoming watery, make sure you don't have too much water in your ricotta or your spinach. Spread your ricotta and spinach on paper towels and allow it to soak up any excess water before making your filling.
Ingredient Substitutions and Variations
If you prefer a meaty version, add cooked ground beef or Italian sausage to the marinara sauce.
You may use frozen spinach in place of fresh spinach. Completely thaw the frozen spinach before adding it to your cheese mixture. If it's wet, dry it with paper towels.
If you can't find jumbo shell pasta, try using manicotti. Fill the manicotti tubes with the cheesy mix.
Parmesan cheese can be replaced by pecorino.
Add some feta for a salty kick to your filling.
How Do I Store Leftover Stuffed Shells with Cheese and Spinach?
Left-over shells can be stored in the refrigerator for 3-5 days in an air-tight container.
Can Stuffed Shells Be Left Out Overnight?
I wouldn't recommend eating these (or any) stuffed shells if they've been left out overnight. Bacteria grows rapidly at room temperature, and eating these after they've been out for more than two hours can make you sick.
Can I Freeze Spinach and Ricotta Stuffed Shells?
This recipe can be baked, then frozen to be served later. Allow the casserole to cool to room temperature. To freeze, tightly cover the pan with plastic wrap, then with foil and fully seal the edges. Place in the freezer for up to 3 months.
How to Reheat Spinach and Ricotta Stuffed Shells
To reheat from frozen, cover the casserole pan with foil and bake for 45 – 60 minutes at 350F. If you just have leftovers in the fridge, you can microwave them in 30-second bursts until hot through.
More Recipes You'll Enjoy With Your Stuffed Shells
Avocado Caprese Salad
Air Fryer Brussels Sprouts
Chocolate Mousse Cups
Yield: 4-6 servings
Spinach and Ricotta Stuffed Shells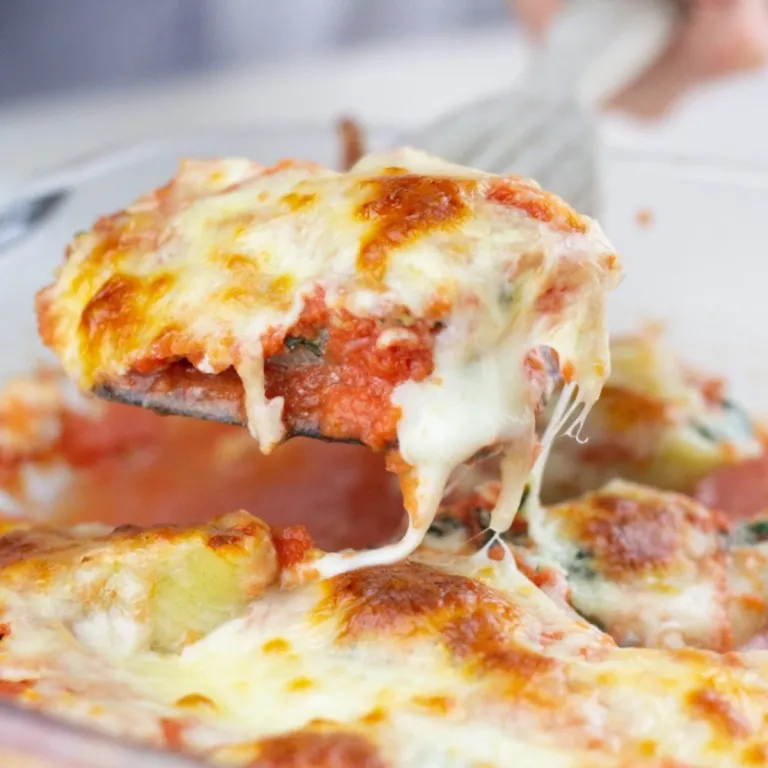 If you're in the mood for Italian comfort food, Spinach and Ricolla Stuffed Shells are sure to satisfy your appetite. The cheesy goodness and Italian seasoning will have you singing, "That's Amore!"
Additional Time
5 minutes
Ingredients
16 jumbo pasta shells, Cook extra incase of pasta breakage
8 ounces Baby spinach
12 ounces Whole Milk Ricotta
5 ounces Shredded mozzarella cheese, divided
1/4 cup grated Parmesan cheese
1 teaspoon Italian seasoning
1 teaspoon Onion powder
1 teaspoon Garlic powder
1 teaspoon Salt
½ teaspoon Black pepper
1 large Egg
24 ounces Marinara sauce
Instructions
Preheat oven to 375°F.
Cook jumbo shells according to the instructions on the back of the box. Once cooked drain and run under cold water to stop the cooking. Let the pasta sit in strainer to cool while you ready the rest of the ingredients.
Place the baby spinach in a microwave safe bowl with 3 tablespoons of water. Wet a paper towel and place the wet paper towel on top of the spinach. Microwave for 2-3 minutes, until fully cooked.
Pour the cooked spinach into a strainer and let the water drain out until it cool completely. Then give it a few good squeezes to get as much excess water out as possible.
Finely chop the spinach up and set aside.
In a large bowl combine the ricotta, 2 ounces of shredded mozzarella, Parmesan cheese, Italian seasoning, onion powder, garlic powder, salt, pepper, cooked spinach, and egg. Stir together until well mixed.
Fill shells with approximately 2 tablespoons of filling each.
Pour 1 cup of sauce in the bottom of a 9×13 inch casserole dish. Add stuffed shells to the dish and then top with remaining sauce.
Sprinkle with remaining 3 ounces of mozzarella on top. Feel free to add more if you like!
Bake for 25 – 35 minutes