I made a delicious and easy dinner using Johnsonville® as part of a sponsored post for Socialstars. #SausageFamily
My family can eat pasta all day long and every single day, if I allow them! However, I'm always look for a way to up the anté on my pasta dishes and going to try something new and amazing with Johnsonville® Italian Mild Sausage. I'm replacing chicken with sausage! Yes! I know…I'm totally crazy. However, hear me out! I do love chicken alfredo, as does my family…but we needed a little spice in life. So, I made the swap!
It's not easy trying to feed a family of 7 on a daily basis, so I'm super thankful that Johnsoville® helps to make my meal time decisions a little bit easier. Breakfast, lunch, or dinner…Johnsonville® has me covered! I know what you're probably thinking, "Did Angela and the boys enjoy it?" Well, let's just say that I'm thankful that I cook a lot of food because they all went back for seconds and thirds! I paired our meal with some crusty sourdough bread, as I know that it was going to be great together…and it was.
Yes, I was a little uncertain at first. Mostly because I've not ever used sausage in an alfredo base sauce before. So, I was really hoping that with me using Johnsonville's® line of Mild sausage that it would incorporate a little more depth in flavor…and it totally did! I also added a little bit of cajun seasonings into it for a tiny bit of heat. We all went into a food coma for a few hours!
The sausage itself was delicious and super tender. I don't have time to allow the big links to cook, so I cut them into 1/4″ sausage coins. Also, it helps to make the protein go a little bit further when feeding a big family like mine!
Johnsonville® makes two varieties of Italian sausage: Sweet and Mild. The standards that any great sausage making company should make, and let me tell you…they make them both right! You completely can't go wrong with either flavor!
Okay, I'm totally going to go heat up some leftovers real fast when I'm done with this! Yes…there's actually a little leftovers that I hid for myself. With a big family, you learn to hide food really well in the fridge. Can I recommend that you hide your hidden food behind vegetables? Works every time!
Now, I know you must be dying for this super simple and delicious recipe, so here it goes!
Yield: 6
Spicy Sausage Alfredo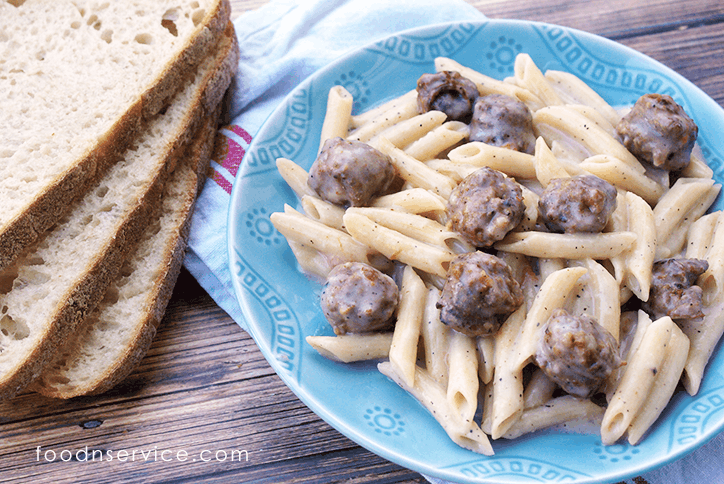 Ingredients
1 Package of Johnsonville® Mild Sausage (Cut into coins)
1 Box of Penne Pasta (But you can choose your own favorite pasta)
1 medium sized container of shaved parmesan (Approximately 1 1/4 cup)
2 tablespoons of butter
1/2 tablespoon of minced garlic
1/2 teaspoon of seal salt
1 teaspoon of cracked pepper
1 pint of heavy cream
1/4 teaspoon of cajun seasonings
Instructions
Cook pasta according to directions.
In a separate heated pan on medium-low flame, add a little extra virgin olive oil and minced garlic. Cook until garlic has turned a slight golden color. Then add in your sausage coins.
Cook sausage for approximately 16-20 minutes, or until thoroughly cooked. Remove from heat.
In a medium sized pot, add in heavy cream, butter, salt, pepper, and cajun seasoning.
With a whisk, light turn until heavy cream has heated. This should take about 3 minutes, Do NOT scorch or wait until boiling. We don't want it to boil. Once heated, add in parmesan cheese and stir gently. Continue to stir until cheese has melted throughout. Once melted throughout, remove from heat.
Add in the cooked pasta and sausage. Mix well so that all of the pasta is evenly coated. Let stand for a minute before serving.
Don't forget to take a look at my other recipe posts for Johnsonville®!
Savory Breakfast Bread Pudding