Slow Cooker Salisbury Steaks
This Slow Cooker Salisbury Steaks has plenty of Southern comfort and is one of the most tempting and easiest recipes around. This juicy and flavorful dish is the perfect blend of seasoned ground beef and brown gravy for a meal you won't be able to resist.
What is Salisbury Steak?
Traditional Salisbury Steak is not actually steak at all, but a seasoned ground beef patty formed into the shape of steak topped with mushrooms and brown gravy.
How Do I Store Salisbury Steak?
You can store the leftover Salisbury Steak in an airtight container in the fridge for up to 3-4 days. Place contents into a skillet on the stove until hot. You can reheat in the slow cooker on the "keep warm" setting or microwave on half power for 30 seconds at a time until it reaches the desired temperature.
Can I Freeze Salisbury Steak?
You can freeze Salisbury Steak. It will store best if wrapped tightly to remove as much air as possible. Keep frozen for up to 3 months. To reheat this recipe, simply take it out of the freezer and place it in the fridge the day before.
What goes well with Salisbury Steak?
Here are some serving ideas for Salisbury Steak: Serve with rice, noodles, or even these Roasted Potatoes, Brussels Sprouts, and Carrots.
Tips for Making Recipe Name
Salt the ground beef ahead of time (up to a day in advance) to make sure the meat is evenly flavored. Pecorino-Romano cheese is extra salty, so don't over-salt your other ingredients.
If you are in a pinch for time, you can use jarred gravy, and your Slow Cooker Salisbury Steak will taste just as wonderful.
Try adding fresh parsley to garnish your Salisbury Steak.
Recommended
Instant Pot Chili Lime Steak Bowl
Instant Pot Butter Potatoes
Instant Pot Easy Cheeseburger Pie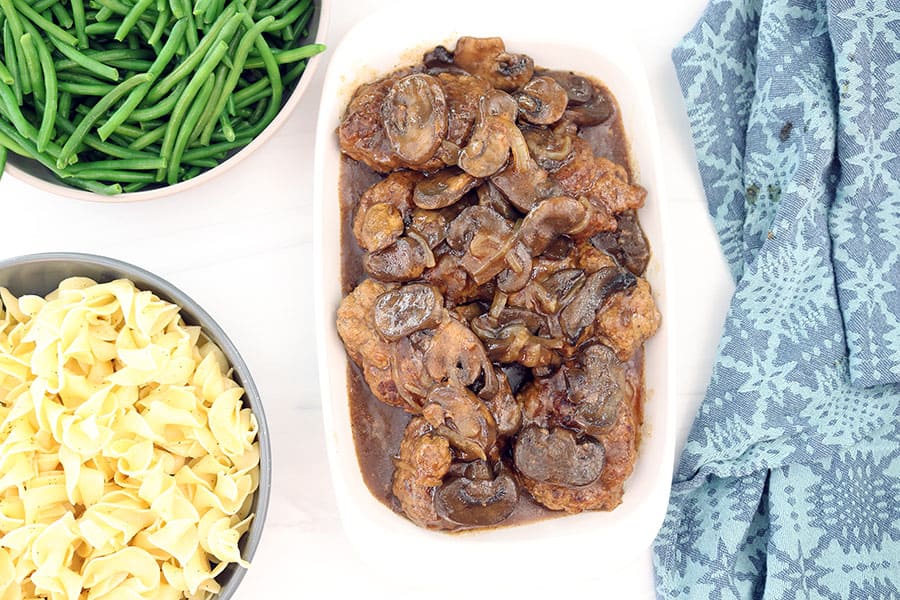 Notes
Before you enjoy this tasty Salisbury Steak recipe, here are a few helpful tips…
Refrigerate raw Salisbury Steak patties up to a day in advance for even easier prep.
I recommend using 80/20 beef in Salisbury Steak to ensure the beef stays tender and juicy during the cooking process.
Store leftover Salisbury Steak gravy to serve over mashed potatoes at another meal.
Substitutions
Brown Gravy Mix– If you are wondering how to make your own brown gravy, try combining equal parts red wine and beef broth. Be sure to reduce it on the stovetop before adding it to the slow cooker. You can always substitute brown gravy mix with French onion soup mix in Salisbury Steak.
Pecorino-Romano Cheese: Substitute Pecorino-Romano cheese with parmesan cheese or aged asiago in this Salisbury steak recipe.
Worcestershire sauce: You can use bottled steak sauce instead of Worcestershire sauce in Salisbury Steak.
More Yummy Southern-Style Recipes You'll Enjoy
If you like this Slow Cooker Salisbury Steak recipe, you'll want to try some of our other easy Southern comfort foods! Try any from the list below.
Southern Squash Casserole Recipe
Cheddar Buttermilk Biscuits Recipe
Mini Pecan Tarts Recipe
Deviled Egg Potato Salad
Broccoli & Mushroom Casserole
Yield: 8
Slow Cooker Salisbury Steaks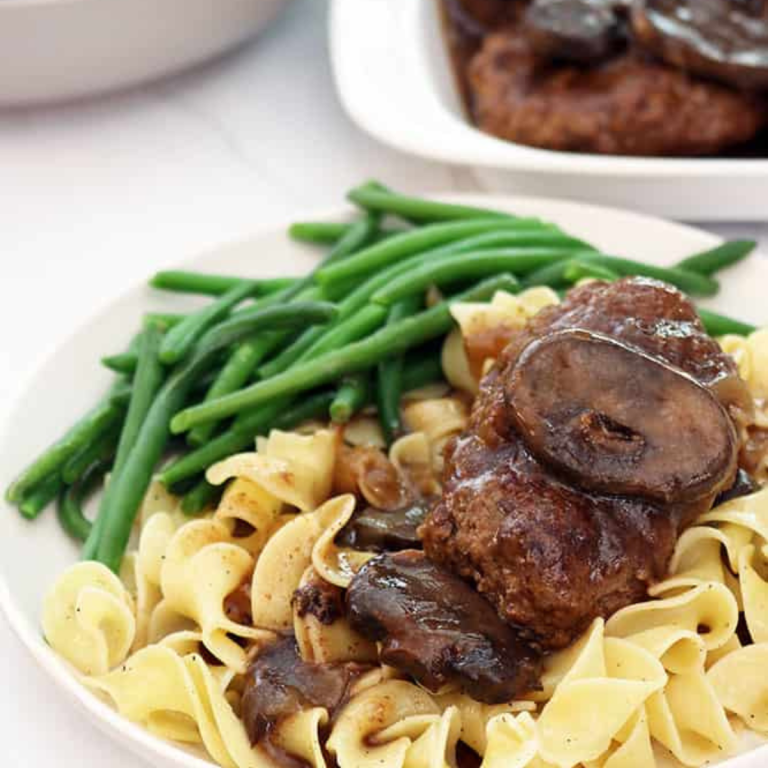 This juicy and flavorful dish is the perfect blend of seasoned ground beef and brown gravy for a meal you won't be able to resist. 
Total Time
5 hours
15 minutes
Ingredients
1 pint sliced mushrooms
1/2 onion, sliced
1 1/2 cups beef broth
1 oz package brown gravy mix, dry
2 tablespoons corn starch
4 tablespoons water
BEEF PATTIES
1 1/2 pounds lean ground beef
1 egg
1/2 cup 4c bread crumbs seasoned with pecorino romano cheese
2 teaspoons dry mustard
1 teaspoon garlic powder
1 1/2 tablespoons Worcestershire sauce
sea salt & pepper to taste
Instructions
Combine all ingredients for the beef patties into a medium sized bowl. Mix well with your hands, and then form patties. Sear patties in pan over medium-high heat to sear. Approximately 2 minutes on each side.
Place mushrooms & onions in the bottom of your slow cooker, and then layer the beef patties on top of onions and mushrooms.
Combine beef broth and brown gravy mix, and pour over beef patties. Cook on low 5 1/2 to 6 hours.
Once done, turn slow cooker onto high setting. Combine water and cornstarch. Stir into the broth and let cook approximately 15-20 minutes, or until sauce thickens.
Notes
•I layer the onions in the slow cooker first, as it helps to build a base of better flavor from the cooking process. Also, the onions will cook soft and tender.
•If you don't have 4c bread crumbs seasoned with pecorino romano cheese, then you can use normal bread crumbs. Mix 1/4 cup bread crumbs with 1/4 cup grated parmesan cheese.