This authentic Italian Slow Cooker Meatballs Recipe is a delicious and filling dish when you are looking for a crowd-pleasing dinner option. With tender ground beef and pork, plenty of herb seasoning, and marinara sauce, this versatile recipe perfectly accompanies any Italian feast.
What are Meatballs?
Meatballs are traditionally served as an entrée and consist of ground meat mixed with bread crumbs, spices, and a raw egg. Then they are usually seared and baked to a beautiful brown color and a mouth-watering texture. They can be eaten alone or in rich gravy or barbeque sauce, or enjoyed over pasta.
How Do I Store Meatballs?
In the fridge, you can store these Meatballs in an airtight container for up to 3-4 days. To reheat, warm in the oven at 300°F for about 15 minutes.
Can I Freeze Meatballs?
You can freeze cooked Meatballs. They will store best if wrapped tightly to remove as much air from the freezer-safe container as possible. Keep frozen for up to 2-3 months. Then, allow the Meatballs to thaw in the fridge before reheating.
What Goes Well with these Slow Cooker Meatballs? 
If you're wondering what goes well with meatballs besides the obvious (spaghetti), there are many options you can choose from. For some meatball-friendly inspiration, check out this Italian Parmesan Bread Recipe or this Instant Pot Brussels Sprouts Gratin Recipe as a side dish.
Tips for Making Meatballs
Salt the ground beef ahead of time (up to a day in advance) to make sure the meat is evenly flavored.
For added flavor, add ¼ cup of chopped fresh parsley to the meatball mixture before browning the meat.
Add ¼ cup of milk or cream to the egg and breadcrumb mixture for a softer, creamier texture.
Recommended
Keto Mashed Cauliflower
Roasted Potatoes And Zucchini
Oven Roasted Potatoes and Peppers
Notes
Before you enjoy this tasty Slow Cooker Meatball Recipe, here are a few helpful tips:
If you do not have a slow cooker, you can brown Meatballs in a lightly-oiled pan on the stove before placing them in a glass baking dish or cookie sheet and baking at 400 degrees for 15 min or until meatballs reach an internal temperature of 160 degrees.
If you decide to prepare Meatballs in advance, you can store them in the refrigerator for up to a day before you want to cook them.
Once the Meatballs are fully cooked, transfer them to a serving dish and let them rest in their own juices for at least 10 minutes before serving.
Substitutions
Parmesan Cheese – You can substitute Pecorino-Romano cheese for parmesan cheese in this Meatball recipe. However, remember that Pecorino Romano is very salty. If you do replace the Parmesan cheese, be sure to adjust the rest of the salt accordingly.
Ground Pork – If you want something other than ground pork to blend with ground beef in this Meatball Recipe, consider substituting ground turkey or mild Italian sausage.
Italian Bread Crumbs – If you don't have Italian bread crumbs, you can use regular bread crumbs seasoned with parmesan cheese and dried Italian seasoning. If you're really in a pinch for bread crumbs, crush a sleeve of Ritz crackers and combine the crumbs with Italian herbs. The butter in the crackers will give the meatballs a nice smooth flavor.
More Yummy Meatball Recipes You'll Enjoy
If you like this Slow Cooker Meatball Recipe, you'll want to try some of our other easy dinners! Try any from the list below.
Baked Keto Meatballs
Instant Pot Pulled Pork
Air Fryer Honey Garlic Chicken
Instant Pot Easy Cheeseburger Pie
Easy Pizza Bites Recipe
Mississippi Chicken Sliders
Yield: 4-6 servings
Slow Cooker Meatballs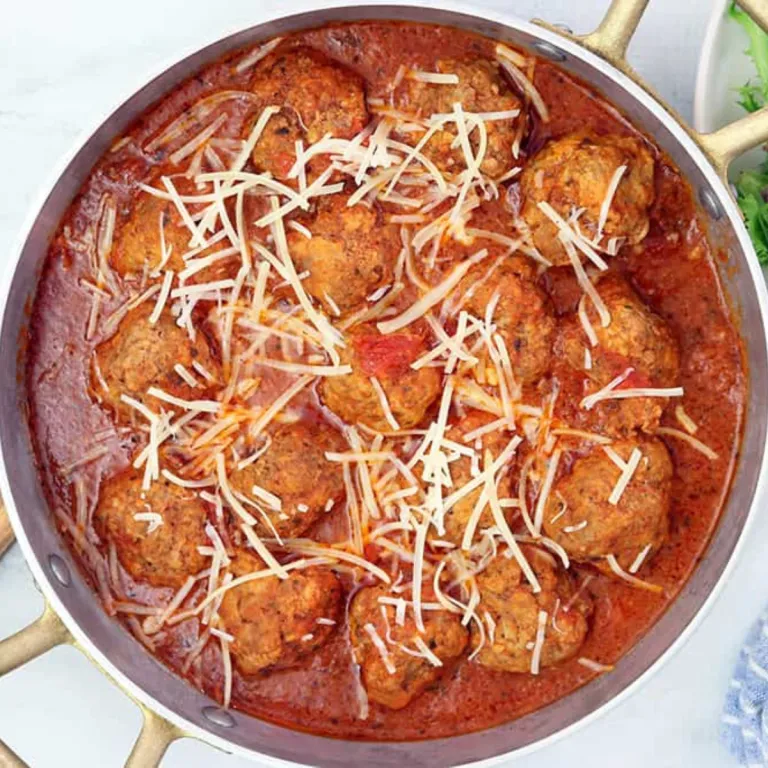 With tender ground beef and pork, plenty of herb seasoning, and marinara sauce, this versatile recipe perfectly accompanies any Italian feast.
Total Time
3 hours
15 minutes
Ingredients
1 pound ground beef (80/20 mixture)
1 pound ground pork
1/3 cup Italian breadcrumbs
1/3 cup grated parmesan cheese
1 egg
1 teaspoon thyme
1 teaspoon oregano
1/2 teaspoon pepper flakes
1/2 teaspoon salt
1/2 teaspoon pepper
1 can diced tomatoes, low sodium, 14.5 oz
1 jar of marinara sauce, 24-26oz (I used Trader Joe's Tomato Basil marinara
Instructions
In a medium sized bowl, add: beef, pork, breadcrumbs, parmesan cheese, egg, thyme, oregano, pepper flakes, salt, and pepper. Combine until ingredients are well incorporated.
Once done, create golf ball sized portions of meatballs and place into your 6-quart slow cooker. If you have a smaller slow cooker, you can layer the meatballs on top of each other.
Layer diced tomatoes and marinara sauce on top of the meatballs. Cover and cook on high for 3-4 hours, or on low for 7-8 hours.
Once done, garnish with shaved parmesan cheese.