Slow Cooker Creamy Mushroom Pot Roast
There's nothing better than coming home at the end of the day to a warm, comforting meal that's ready to eat. This slow cooker creamy mushroom pot roast is incredibly tender, flavorful, and simple! I love that it comes together in a slow cooker so I can put my ingredients in that morning, go about my day, and come home to a fantastic meal with minimal cleanup.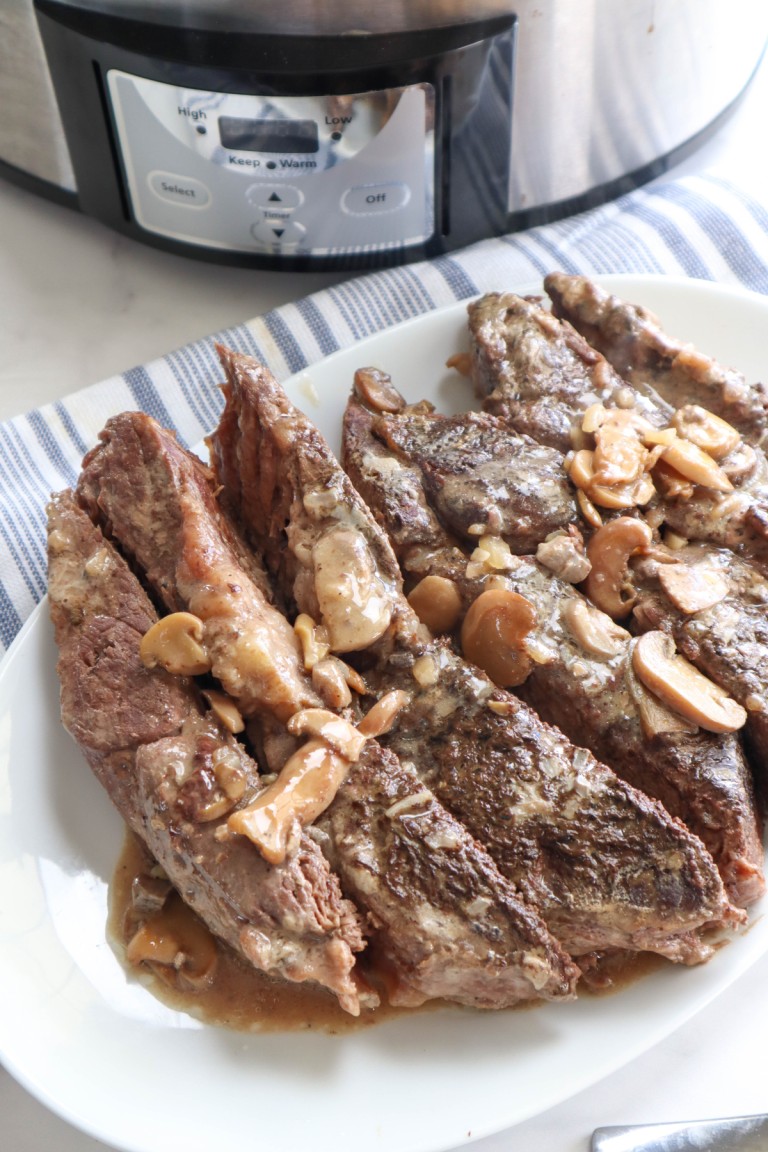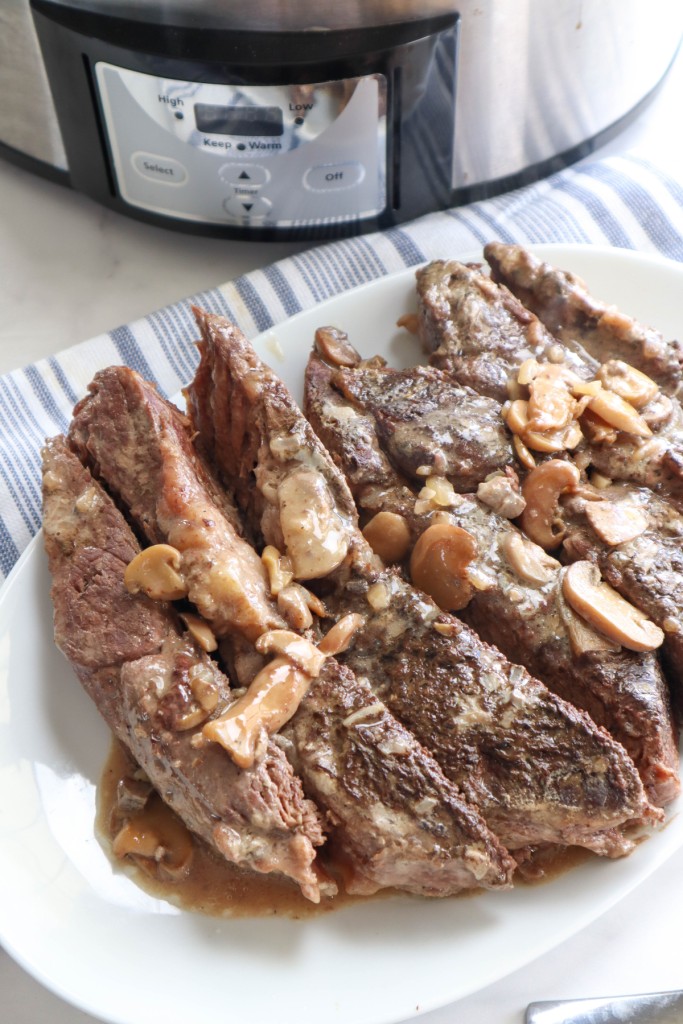 This perfectly cooked pot roast is covered in a creamy mushroom sauce for a dish that will not only satisfy but also impress everyone at the table. Serve this up for a crowd, or anytime you need a deliciously hearty comfort meal.
What is Slow Cooker Creamy Mushroom Pot Roast?
Slow cooker creamy mushroom pot roast is an easy meal that requires little time in the kitchen. Cooked in a slow cooker, the recipe allows you to add the ingredients to a Crockpot, set the timer, and walk away. After cooking, you'll be left with a delightfully tender pot roast in a creamy mushroom sauce, waiting to be enjoyed.
This recipe involves sauteeing mushrooms in a pan before transferring them to a slow cooker with the rest of the ingredients. Set it for 8 hours, and you'll have the perfect roast complete with a creamy sauce and tender mushrooms.
How Do I Store Slow Cooker Creamy Mushroom Pot Roast?
This pot roast makes for great leftovers! The flavors of the sauce blend together more overnight making for a delicious meal the next day. To store this leftover pot roast, place fully cooled leftovers in an airtight container and keep them in the fridge for up to 3 days.
Can I Freeze Slow Cooker Creamy Mushroom Pot Roast?
This recipe can easily be frozen and saved for a future meal. Once fully cool, place the pot roast in a freezer bag or freezer-safe container and keep it in the freezer for up to 3 months. To thaw, place it in the fridge overnight. When defrosting things, I like to put the bags or containers on a plate in the fridge so the condensation doesn't make my fridge messy.
How Do I Make Tender Pot Roast?
The easiest way to get a wonderfully tender pot roast is to cook it for long periods of time. The longer it cooks the more tender it gets. As this recipe is made in a slow cooker, this is a fool-proof way to achieve that perfect pot roast tenderness that will have you coming back for seconds… and thirds!
How Do I Reheat Pot Roast?
To reheat this pot roast:
Place pieces of meat on a microwaveable plate and reheat them in the microwave on power 6 or 7 until hot.
Cutting off smaller pieces will allow it to reheat faster and cooking on a lower power ensures the meat reheats without drying out.
When microwaving leftovers, I like to cover them with a damp paper towel so they don't dry out. This also keeps my microwave from getting dirty, which means less time cleaning (yay!).
Tips for Making Slow Cooker Creamy Mushroom Pot Roast
Be sure to pat the roast dry before searing it on medium to high heat in a heavy-bottomed skillet. Searing dry meat will ensure a perfect sear and lots of amazing flavors.
If you're not sure if the pot roast is done or not, grab a fork and stick it in the meat. If you can easily twist off pieces of pot roast, it's ready to be enjoyed.
Don't rush cooking the pot roast in the slow cooker. The longer it cooks, the more tender it will be so if you can cook it low and slow for 8 to 9 hours, I recommend doing so.
Recommended
Slow Cooker Pot Roast
Crockpot BBQ Roast
Instant Pot Pot Roast
Substitutions
Cream of Mushroom Soup: If you want to have more control over the salt content in this recipe, try using a low-sodium condensed cream of mushroom soup, and add salt later if you feel it's necessary.
Onions: For extra yumminess, saute mushrooms and onions together before adding them to the slow cooker.
Chicken Stock: Just like the soup, you can have more control of the salt content in this recipe by using low-sodium or sodium-free chicken stock.
Chuck Roast: While this recipe calls for chuck roast, there are other cuts of meat you can use as a substitution that will give you an equally delicious pot roast. If you can't find chuck roast, you can also use briskets or round roasts in this recipe.
More Flavorful Recipes You'll Enjoy
If you like this slow cooker recipe, you'll want to try some of our other easy Crockpot recipes! Try any from the list below.

Crockpot Teriyaki Pork Tenderloin
Crockpot Pizza Recipe
Crockpot Pulled BBQ Pork
Crockpot Sweet Chili Chicken
Crockpot Chicken and Dumplings Recipe
Yield: 1 Roast
Slow Cooker Creamy Mushroom Pot Roast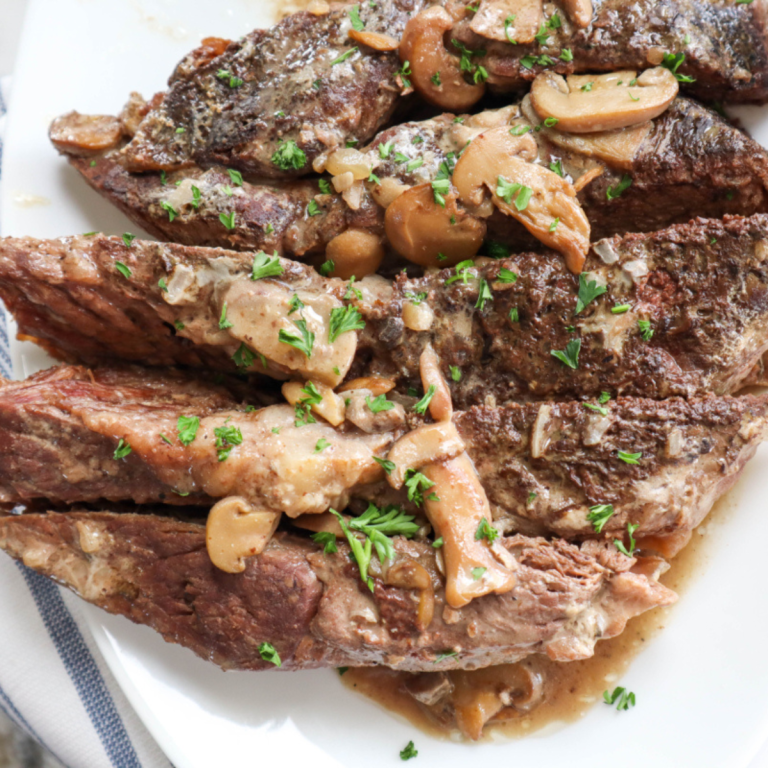 This slow cooker creamy mushroom pot roast is the perfect comfort dish any night of the week!
Total Time
8 hours
15 minutes
Ingredients
4 tablespoons vegetable oil
1 pound sliced button mushrooms
2 (10.75 ounce) cans condensed cream of mushroom soup
1 (1 ounce) package dry onion soup mix
1 1/4 cups chicken stock
5 1/2 pounds chuck roast
fresh chopped parsley for garnish
Instructions
In a cast iron skillet over high heat, add 2 tablespoons of oil. Sauté mushrooms until browned, then transfer to the Crockpot.
Meanwhile, season the chuck roast with salt and pepper to taste. After transferring the mushrooms, add the remaining oil to the skillet and sear the roast on both sides until browned. Then transfer to the Crockpot.
In a bowl, whisk together the cream of mushroom soup, dry onion soup mix, and chicken stock. Pour over the roast in the slow cooker.
Cover and cook on low for 8-9 hours or on high for 3-4 hours. Once cooked, remove the roast from the Crockpot and stir the remaining sauce.
Serve the roast sliced topped with sauce from the Crockpot and garnish with fresh parsley.