Slow Cooker Buffalo Chicken Subs
My easy to make Slow Cooker Buffalo Chicken Subs are a delicious dinner option that will satisfy your taste buds. Because the chicken is made in the slow cooker, it's perfect for busy weeknights.
You can set up your crock pot in the morning and come back to a fully cooked meal at dinnertime. That's always a WIN, right?
Trust me, this combination of tender shredded chicken smothered in spicy homemade buffalo sauce, topped with creamy blue cheese crumbles is irresistible. You need to try this!
What is Buffalo Chicken?
Buffalo chicken is a popular American dish. It's made by coating chicken in hot sauce. The result is a spicy, tangy, and slightly sweet flavor that is addictive! Buffalo sauce can be made with different levels of heat, depending on the type of hot sauce used you add to it.
What goes good with Slow Cooker Buffalo Chicken Subs?
Buffalo Chicken Subs are delicious and filling on their own, but they can also be served with sides and condiments. Here are a few ideas we love:
French fries
Sweet potato fries
Coleslaw
Salad
Pickles
Raw veggies
Here are some toppings and condiment ideas:
Ranch dressing
Cheese
Crispy onion straws
Chipotle Mayo
Deep fried pickles
Shredded lettuce
Guacamole
Frank's Red Hot sauce for extra spice
What Cheese goes with Buffalo Chicken?
I really love blue cheese on my buffalo chicken. There's something about the tangy coolness of it that pairs just perfectly. But if blue cheese isn't your thing, you can use other cheeses, like mozzarella, cheddar, or even feta. Swiss and provolone are also delicious!
Recommended
Instant Pot Manna Subs
Chicken Flatbread
Cheeseburger Pie
Tips and Recipe Notes
Use boneless, skinless chicken breasts for the best texture and flavor.
If you prefer less heat, reduce the amount of buffalo sauce used or use a milder hot sauce.
Shred the chicken with a hand mixer before serving. It makes it so easy to shred the chicken!
Make sure all the chicken is evenly coated in the buffalo sauce.
Ingredient Substitutions
You can use chicken thighs instead of chicken breasts if you need to.
Make a homemade buffalo sauce instead of store-bought.
Add garlic powder and onion powder instead of dry ranch seasoning if needed.
What Can I Do With The Slow Cooker Buffalo Chicken Leftovers?
Of course, you can make more subs! But buffalo chicken is actually pretty versatile.
Make buffalo chicken dip. Mix the shredded buffalo chicken with cream cheese, sour cream, shredded cheddar cheese, and some ranch seasoning. Heat it up in the oven until it's hot and bubbly. Serve with tortilla chips, celery sticks, or crackers.
Make buffalo chicken pizza. Use the buffalo chicken as a pizza topping, along with some shredded mozzarella cheese and diced red onions. Use buffalo sauce instead of pizza sauce. Bake in the oven until the cheese is melted and the crust is crispy.
Make buffalo chicken wraps. Wrap the shredded buffalo chicken in a tortilla with some lettuce, diced tomatoes, and shredded cheddar cheese. Add some ranch dressing for some extra flavor.
Make buffalo chicken quesadillas. Spread shredded buffalo chicken with some shredded cheddar cheese in a flour tortilla. Cook in a skillet until the cheese is melted and the tortilla is crispy. Serve with blue cheese dressing for dipping.
You really can't go wrong with buffalo chicken leftovers!
How Do I Store Leftover Buffalo Chicken?
To store leftovers, place the shredded buffalo chicken in an airtight container and refrigerate for up to 4 days. To prevent the rolls from getting soggy, store them separately from the chicken.
Can I Freeze this Chicken Recipe?
Yes, you can freeze the buffalo chicken for up to 3 months. Place the chicken in a freezer-safe container. Thaw in the refrigerator overnight before reheating.
How to Reheat Your Slow Cooker Buffalo Chicken
To reheat the chicken, place it in a microwave-safe dish and heat on high for 1-2 minutes, stirring occasionally until heated through. You can also reheat it in a saucepan on the stove over medium heat until hot. Just keep stirring so it doesn't stick, and add a bit more hot sauce if it's necessary to add more moisture.
Great Side Dishes
If you like this delicious Crockpot Buffalo Chicken Subs recipe, you'll love any of these great side dishes to go with it:
Slow Cooker Country Potatoes
Roasted Potatoes, Brussels Sprouts, and Carrots
Instant Pot Pork and Beans
Instant Pot Chipotle Rice
Yield: 6-8 Sandwiches
Slow Cooker Buffalo Chicken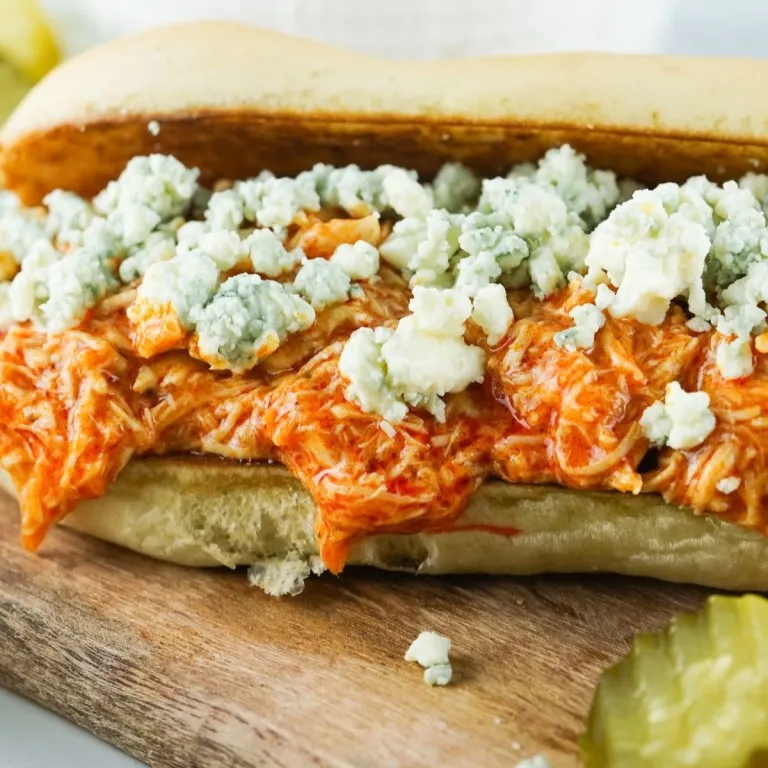 Switch up your normal sandwich routine and make these Slow Cooker Buffalo Chicken Cheesesteaks instead! Slow cooked chicken gets soaked in buffalo sauce and ranch seasoning to offer a creamy and spicy sandwich. Top with cheese or other toppings to finish off the perfect dish.
Cook Time
5 hours
30 minutes
Total Time
5 hours
35 minutes
Ingredients
2 lbs Boneless Skinless Chicken Breast
2 Cups Buffalo Sauce
1 oz Dry Ranch Seasoning (1 Packet)
1 Stick of Butter (½ cup)
Hoagie Rolls
Blue Cheese Crumbles
Provolone Cheese
Instructions
Place the chicken breasts in the slow cooker.
Cover the chicken with the ranch seasoning and then add all of the buffalo sauce to the slow cooker.
Place the butter on top of the ingredients and secure the lid.
Cook for 5 hours on low. After 5 hours, shred the chicken thoroughly with 2 forks and mix well.
Switch the slow cooker to the warm setting and let it rest for 30 minutes.
Load up the bottom portion of the hoagie with some buffalo chicken and top with blue cheese and provolone, if desired.
Cut it in half. Enjoy!
Notes
●If you want the meat to cook quicker, you can switch to the high setting and cook for half the time. However, I have found that this makes the chicken a bit tougher and not as moist.
●This sandwich can pair with so many great toppings. Pickles, ranch, and onions are excellent ways to add variety.
●When you shred the chicken, it is ready to eat. However, if you let it rest at a lower temperature it will give the chicken time to absorb the sauce. It will also allow the sauce to become a lot more creamy as opposed to runny.
●This chicken can be used as a great buffalo chicken dip as well.