Red Grapefruit Scrub Recipe
If you love making your own salt scrubs, then you're going to love my Red Grapefruit Salt Scrub recipe! This body scrub is so easy to make, and is so much more economical than buying them in stores or online. My red grapefruit body scrub has only 4 ingredients in it! That's how easy it is to make. You don't have to worry about wha's in your body scrub, when you can totally make your own. If my red grapefruit body scrub flavor isn't your cup of tea, then you should totally try my lemon and lavender body sugar scrub variety made with fresh ingredients and essential oils!
I suffer from food color allergies, so I have to so super careful about what's in the products in that I use. Many more people are coming forward in understanding how food dye colors affect your body from the inside to the outside. That's why I love making my own products. I don't have to second guess what ingredients are inside the products that I'm using and having to read every single label.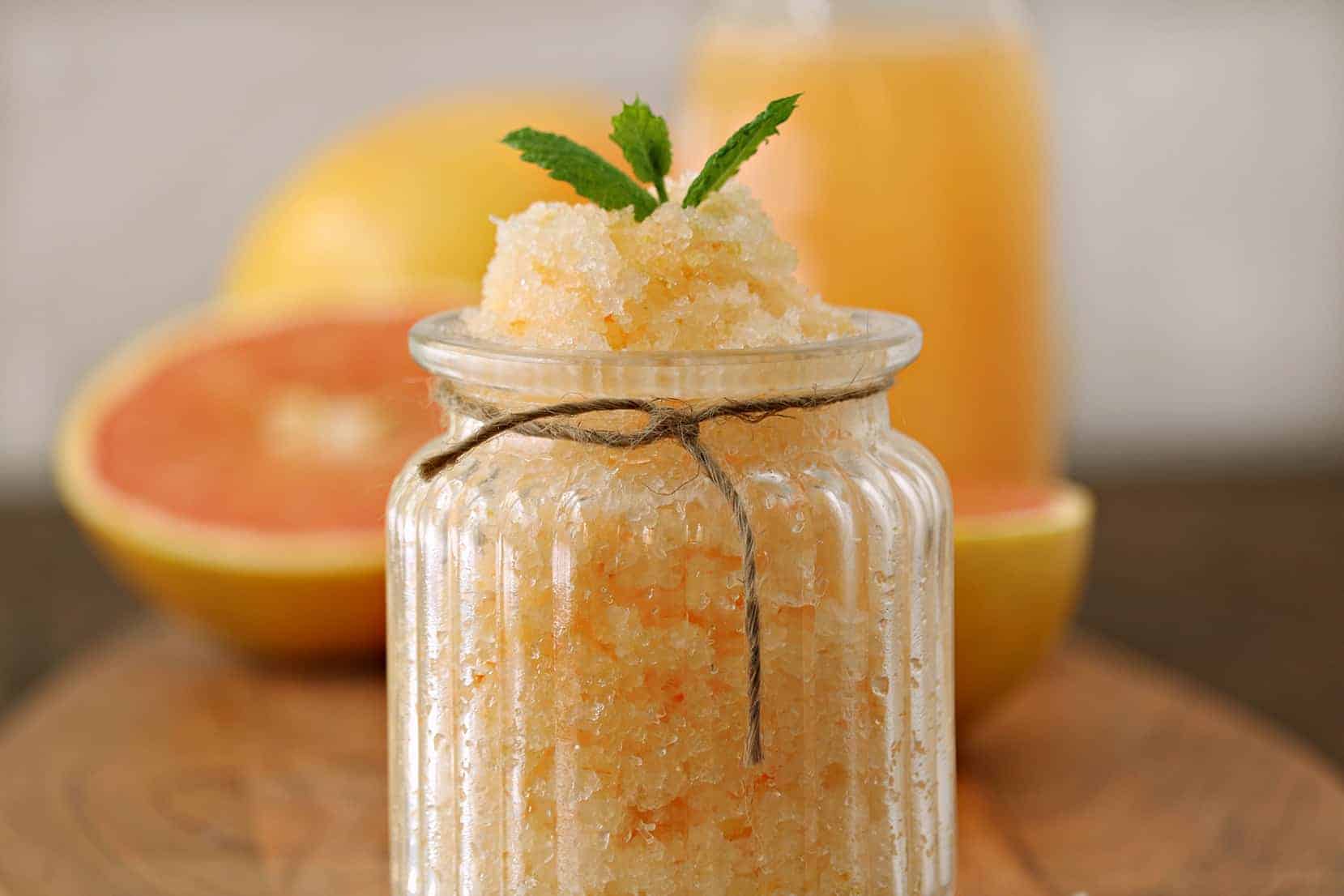 I love being able to use basic ingredients in my body scrubs that aren't harmful and filled with other chemicals. In fact, with my red grapefruit body scrub you use fresh red grapefruit and red grapefruit zest! The smell is absolutely amazing, especially if you love a great citrus smelling product.
Just look at the fresh juice that was squeezed out the red grapefruits! I love how the smell of red grapefruit body scrubs stays with you throughout the day, and not just a few minutes. That's thanks the epsom salt and coconut oil base. Scrub away the dead skin cells, and open your pores to be lathered with a fabulous coconut oil infused base.
This red grapefruit body scrub also makes a great gift! You can make it in big batches, and then bottle it up to giveaway to you friends and family members. They will totally love you for it.
Here's how easy it is to make, and all of the ingredients that you're going to need for it.
Red Grapefruit Body Scrub DIY Tutorial
Ingredients for Red Grapefruit Body Scrub:
1 cup Epsom salt

1/4 cup melted coconut oil  (or olive oil)

1 Tbsp fresh grated red grapefruit zest

1/4 cup fresh red grapefruit juice
Directions:
Mix the epsom salt, coconut oil and the zest together. Next slowly pour in the juice – mix it and see how saturated you'll like it to be.  I prefer body scrubs to be a little moist, so it's not too rough on the skin. Store in an airtight container.
I recently came across a spearmint infused epsom salt, so you can add a little zest to your life with that! It smells fabulous, and I can't wait to make another body scrub with it.
If you enjoyed this, please don't forget to save it on Pinterest and share it on Facebook.
Never miss another post! Follow me on my social media sites, and sign up for my free email that sends emails straight to your inbox. I will never spam you! Just great recipes, DIY projects, family articles, and more fun stuff!