This Pumpkin Dump Cake is a delicious layered dessert, loaded with pumpkin flavor, chopped pecans, and a buttery cake mix topping for irresistible texture! Getting into the swing of pumpkin season couldn't get easier with this pumpkin dump cake recipe!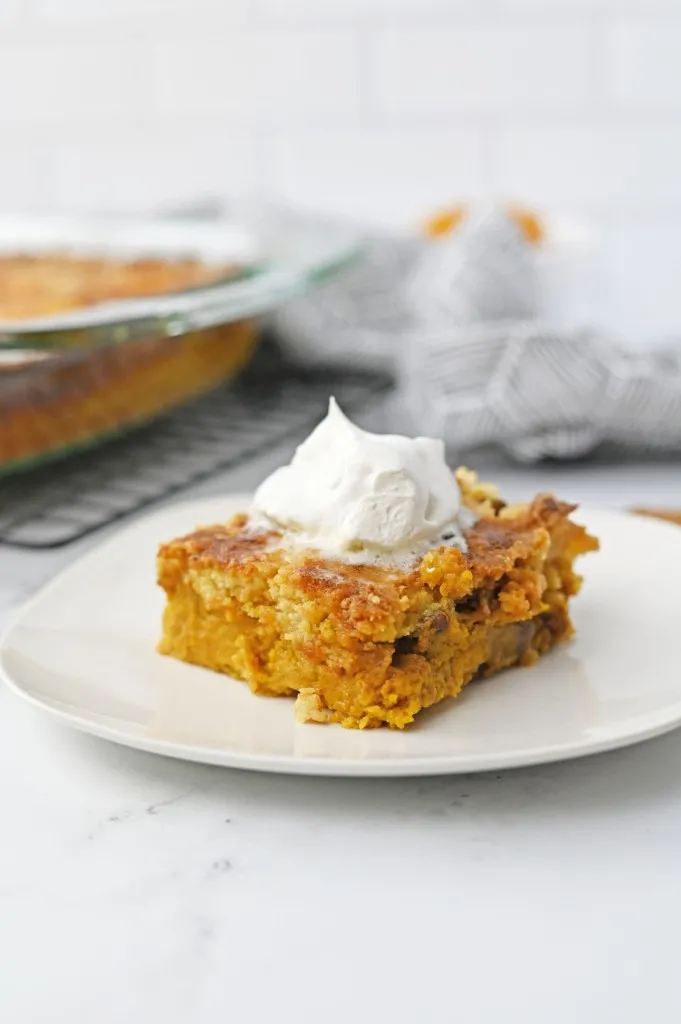 This easy pumpkin dump cake is as simple as layering one ingredient after the other, offering a quick and comforting baked dessert that you can enjoy with a scoop of vanilla ice cream, a drizzle of chocolate sauce, or a dollop of whipped cream!
WHAT YOU SHOULD KNOW ABOUT THIS PUMPKIN DUMP CAKE RECIPE?
Dump cake is a much-loved American dessert with simple layers of boxed cake mix, whipped topping, and various other dessert layers in between, depending on the recipe.
In this pumpkin dump cake recipe, I've added a pumpkin puree layer as the bottom layer, followed by chopped pecans, a boxed cake mix, and a drizzling of melted butter.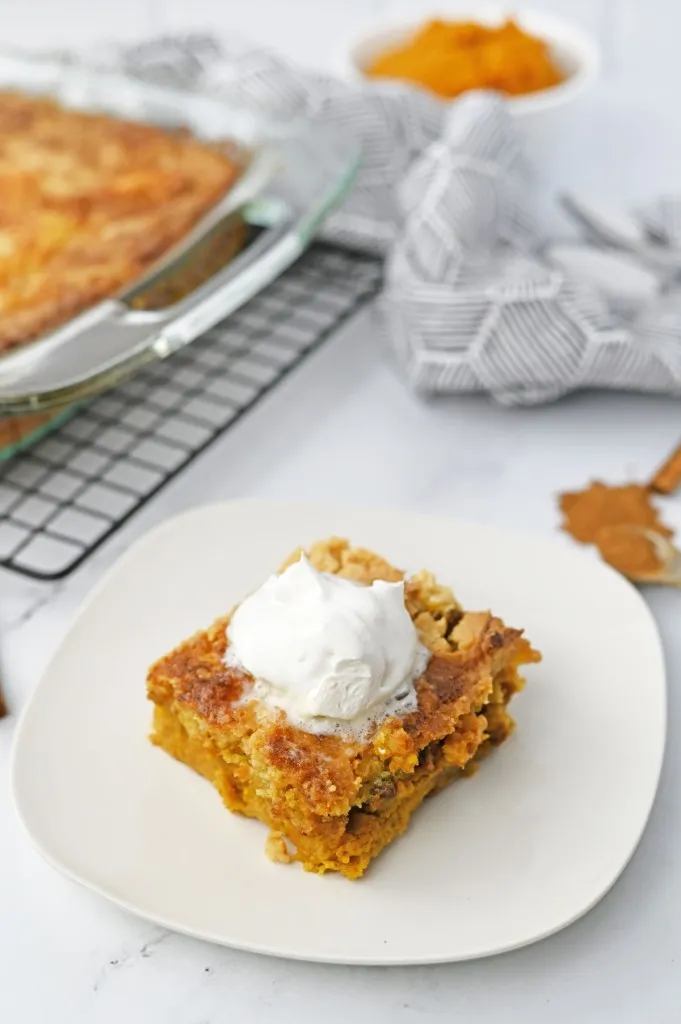 HOW SHOULD I STORE THIS DUMP CAKE?
Leftover pumpkin dump cake should be cooled completely before being stored in an airtight container in the fridge for 4-5 days.
CAN I FREEZE THIS FOR LATER?
Yes, you can! This easy dump cake can be stored in an airtight container in the freezer for 3 months. Thaw overnight in the fridge and reheat in the oven at 350F for 10-15 minutes, watching that the top of the dump cake doesn't brown too much.
WHAT CAN I SERVE WITH THIS EASY DUMP CAKE?
Pumpkin dump cake is delicious with a scoop of vanilla ice cream, whipped cream, Cool Whip, or chocolate sauce drizzled over.
CAN I USE PUMPKIN PIE FILLING INSTEAD?
That's a great question! Firstly, pumpkin pie filling is completely different from pumpkin puree. Pumpkin pie filling has the consistency of an instant pudding, and it also contains additional ingredients such as sugar and spices.
Pumpkin puree is thicker in consistency since it is just pureed pumpkin in a can. It doesn't include any extra ingredients.
The pumpkin puree in this easy pumpkin dessert helps it maintain shape so that it doesn't fall apart when served. I haven't tried pumpkin pie filling or pumpkin spice instant pudding mix, but I imagine it would make the dessert runny.
WHAT VARIATIONS CAN I MAKE TO THIS PUMPKIN DUMP CAKE?
Make gluten-free pumpkin dump cake by using gluten-free box cake mix.
Use chopped walnuts instead of pecans. In fact, you can use any preferred nut in this dessert.
Customize your spices. Instead of using pumpkin pie spice, add and remove your favorite spices and least favorite spices individually instead of using a standard pumpkin pie spice mix.
Drizzle melted chocolate over the top of this dump cake for extra decadence.
TIPS FOR MAKING MY DUMP CAKE
Dump cake is not supposed to be stirred! Make sure that you combine the individual ingredients required for specific layers in a separate bowl before assembling your pumpkin dump cake!
I prefer drizzling melted butter over the top of the assembled dump cake so that it evenly covers the cake mix layer, but some people add pieces of cold butter instead. This is up to personal preference.
Bake this dump cake for about 60 minutes or until the top turns a lovely golden brown. Since each oven differs, it's best to keep a watch closer to the end of the recipe baking time.
You can make your own pumpkin puree for this dessert if you like. Simply mash roasted or steamed pumpkin into a smooth consistency without adding anything else.
More Fall-Inspired Desserts