Pina Colada Cheesecake Bars
If you love the creamy and tropical flavors of the Pina Colada cocktail, then you're going to become obsessed with these Pina Colada Cheesecake Bars!
This cocktail-inspired dessert consists of a buttery cracker crust, cheesecake filling, and a pineapple layer made from pudding mix and pineapple-flavored gelatin. It's topped with whipped topping, sweetened shredded coconut, and juicy-sweet maraschino cherries!
Every bit of this Pina Colada Cheesecake dessert will send you to tropical dessert heaven! Enjoy these pineapple cheesecake bars freshly chilled with or without a scoop of vanilla ice cream for family dessert, summer social gatherings, or potlucks.
WHAT YOU SHOULD KNOW ABOUT PINA COLADA CHEESECAKE BARS
These Pina Colada cheesecake bars are inspired by the classic Pina Colada cocktail! The creamy cheesecake filling, tropical pineapple layer, and strong coconut flavors throughout this dessert make it an irresistible treat – perfect for summer to enjoy with family and friends.
I've garnished these cheesecake bars with sweet maraschino cherries, which makes each dessert bar look super cute!
HOW SHOULD I STORE THESE PINA COLADA CHEESECAKE BARS?
Store leftover Pina Colada cheesecake bars in an airtight container in the fridge for up to 3 days.
CAN I FREEZE PINA COLADA CHEESECAKE BARS?
These Pina Colada cheesecake bars are best enjoyed after chilling in the fridge. I don't recommend freezing the fully assembled tropical dessert, as the texture of the whipped topping may change.
If you would like to make this dessert ahead of time and freeze it, leave the whipped topping off until just before serving.
WHICH TASTES BETTER…BAKED OR NO-BAKE CHEESECAKE?
This depends on personal preference. The great thing about no-bake cheesecake is the convenience of not using the oven, which means that you can assemble the cheesecake the night before and leave it in the fridge to chill and set without any necessary supervision.
On the other hand, baked cheesecake is known and loved by many for its dense, creamy, and slightly firm texture from being cooked in the oven. Baked cheesecakes can be fussier, with the potential risk of the cheesecake filling cracking if not made correctly.
Baked cheesecake is typically enjoyed slightly warm or at room temperature, while no-bake cheesecake is always served chilled. This Pina Colada cheesecake bar recipe breaks the mold by combining a baked cheesecake base with elements of dessert that require chilling in the fridge – you get the best of both with this dessert!
WHY BAKE THE CRACKER CRUST?
Baking the buttery crushed Graham cracker crust for 10-12 minutes helps to make the base more sturdy to be topped with the rest of the soft dessert layers. It also helps prevent the crust from becoming soggy and adds a lovely depth of flavor.
WHAT VARIATIONS CAN I MAKE TO THIS RECIPE?
Use crushed Golden Oreos or vanilla cookies for the crust instead of Graham crackers.
Opt for gluten-free crackers to make this a gluten-free dessert.
Unsweetened shredded coconut can be used to reduce the sweetness of this dessert.
Add white rum to the cheesecake filling for a boozy twist on this dessert!
Garnish your Pina Colada cheesecake bars with pineapple chunks, chopped macadamia nuts, or freshly sliced limes as an alternative to the shredded coconut and maraschino cherries.
For extra pineapple flavor, mix some pineapple juice into the cream cheese mixture (either canned pineapple juice or from a carton).
TIPS FOR MAKING PINA COLADA CHEESECAKE BARS
This recipe makes 12 bars. You can halve the recipe and use an 8×8 baking dish instead.
Canned coconut milk can be found in the Asian food section of your local grocery store.
Allow ingredients such as cream cheese and eggs to reach room temperature for better mixing.
Serve these Tropical Cheesecake bars as is or with a scoop of creamy vanilla ice cream. Me? I prefer the extra whipped cream on top.
More Tropical Sweet Treats!
Yield: 12 Bars
Pina Colada Cheesecake Bars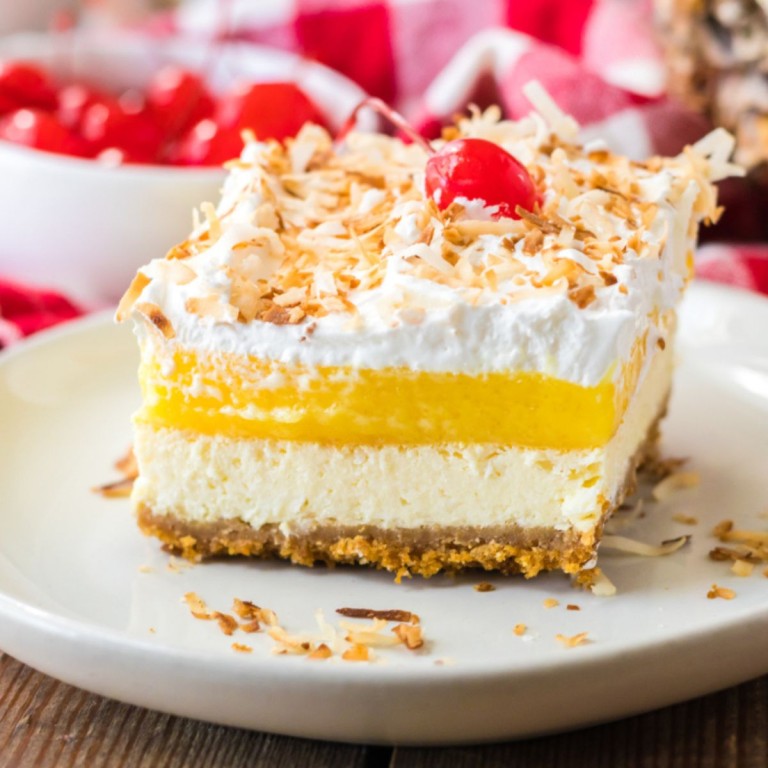 These Pina Colada Cheesecake Bars are sinfully delicious and creamy!
Total Time
5 hours
20 minutes
Ingredients
CRUST
1 1/2 cups graham cracker crumbs
1/4 cup sugar
6 tablespoons butter, melted
CHEESECAKE FILLING
2 (8 ounce) blocks cream cheese, softened
1/2 cup sugar
1 cup coconut milk
3 large eggs
3/4 cup sweetened shredded coconut
PINEAPPLE LAYER
2 boxes (3 ounce each) pineapple gelatin
⅓ cup boiling water
2 boxes (3.4 ounce each) vanilla instant pudding & pie filling mix
2 ½ cups cold milk
TOPPING
1 (8 ounce) container whipped topping
1 cup sweetened shredded coconut, toasted
12 maraschino cherries
Instructions
Preheat oven to 325 degrees. In a medium bowl, combine graham crackers with sugar, and melted butter until well combined. Pour the crust mixture into a greased 9x13 baking dish. Press layer down firmly and spread evenly.
Bake until just golden about 10-12 minutes. Remove from the oven and set aside.
Prepare the fillings.In a large bowl using an electric mixer beat the cream cheese and sugar until fluffy.
Next add in the coconut milk and eggs until well combined.
Stir in the shredded coconut.
Pour the cheesecake mixture over the crust and bake in the oven for 45 minutes.
Once done, remove from oven and cool completely. Then place the pan in the fridge to chill for 2 hours.
Next make the pineapple layer.
In small bowl, place the 2 packets of pineapple gelatin, and add the boiling water.
Whisk together until combined and most of the gelatin is dissolved.
In medium bowl, whisk together the dry pudding mixes and milk until well combined.
Whisk the pineapple gelatin into the vanilla pudding until completely combined. Pour over the chilled cheesecake layer.
Chill again for 5 minutes.
Make your toasted coconut by placing the 1 cup shredded coconut in a dry pan over medium low heat stirring constantly until golden brown.
Spread the whipped topping over the pineapple layer.
Top with the toasted shredded coconut and cherries.
Chill for 2 hours before serving.
Notes
●Store leftovers in an airight container for up to 3 days.
●You can garnish with pineapple chunks on top if you like.
●You can substitute golden oreo crumbs if you like.