Pet Wipes Made Easy with Brawny Tear a Square Paper Towels #CollectiveBias #TearASquare
This shop has been compensated by Collective Bias, Inc. and its advertiser. All opinions are mine alone. #CampaignHashtag #CollectiveBias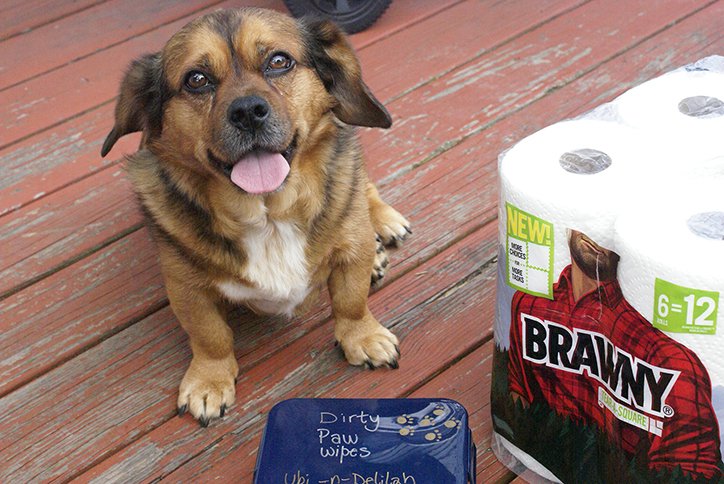 I'm in love with the 6 pack of Brawny® Tear-A-Square Paper Towels that I recently purchased at my local Target in Monmouth Junction, NJ. By Clicking on the image, you can IMMEDIATELY get to shopping without leaving home!
Brawny® has this amazing thematic idea that I'm in love with: "One little towel. Imagine the possibilities."
Let explain why I love this theme. Brawny® released a new Tear-A-Squaree paper towels. Now, you're probably already in love with their select a size paper towels, but Brawny Tear-a-Square takes it to a whole different level of possibilities.
Sometimes, life just a little mess that needs to be cleaned up.
Sometimes, life just needs a disposable coaster for when friends and family members gather for a BBQ at your home.
Sometimes, life brings you puppies that have to use the bathroom when it's a little muddy or dirty outside.
I would be the one with the dirty puppy paws running around, but I'll get to my little fur babies in just a minute.
With Brawny® Tear-A-Square, you'll wind up making life's little messes easier to clean.
You don't have to worry about wasting the "other half" of the paper towel, or feel bad about wasting a whole paper towel for something that only require's a 1/4 sheet, or possibly a 1/2 sheet, maybe 3/4 of a sheet, and sometimes…the whole sheet.
Brawny® is also 2 ply, absorbent, durable, and strong, so the Tear-a-Square paper towels are also great on life's TOUGH little messes. You're still getting the same dependable and reliable paper towel that you've come to expect from Brawny over the years.
With Brawny® Tear-A-Square paper towels, less is more! Which brings me to my little fur babies and their dirty little paws.
Let me introduce you to my box of Dirty Paw Wipes for my Ubi and Delilah.
While I was at Target, I purchased a blue storage container and Gold & Silver markers to write & draw on my little box.
It's super easy to put together. Let me show you!
Each sheet I use is just 1/4 of a Brawny® Tear-A-Square paper towel. I just overlapped a small piece so it would make it easier for me to grab and go to wipe those dirty little paws off.
Then I just made a nice stack.
I decorated the little box because well…I like being artsy cute once in a while.
I used about 60 1/4  Brawny® Tear-A-Square paper towels, and pushed them in the box. Then I used about 1/2 cup of water. Press the wet paper towels down so they all get the water.
Now, I have no reason for my little pups to have dirty paws.
Just look at how much dirt came off of one little paw. That's less dirt going into my home.
PLUS there are no harmful chemicals in it, so Ubi was more than happy to take a little lick off of the wet Tear-A-Square paper towel.
I guess you can say that he's become a dog leisure now, and probably thinks he's having a spa moment.
The next time you're at and about shopping at Target, be sure to see if they have Brawny® Tear-a-square. You'll love how less is more, and life's little (sometimes tough) messes are cinch to clean.