MY favorite Ambrosia salad is an Orange fluff salad is a fluffy, creamy bowl of goodness with a burst of tangy orange flavor. It's a classic combination of whipped cream, zesty orange, and a hint of tropical sweetness. This vintage treat has been loved by families for generations, and you can whip it up in no time.
Orange Fluff Salad is incredibly easy to make. You barely need any kitchen skills at all, and you don't need to bake it or even cook it. It's a recipe that anyone can master! All you need is a mixing bowl, a spoon, and a little bit of patience. Trust me, the end result will be totally worth it.
This classic salad looks pretty on the table and can be served for dessert or as part of the main course. People are always excited to see it on the menu.
What is Orange Fluff?
Orange Fluff Salad is a vintage dessert that combines creamy whipped cream with tangy oranges. It's a refreshing treat that's perfect for warm weather or whenever you want a simple, sweet treat. This recipe is easy to make and requires just a handful of ingredients. The pillowy, fluffy salad will quickly become one of your favorite dishes!
Why You'll Love This Recipe:
Fast to Make: It's a quick and easy dessert that requires no baking skills.
The Taste: The creamy texture and tangy orange flavor create a perfect balance.
It's Refreshing: It's a refreshing treat that's great for cooling down on hot summer days.
Bright Color: The vibrant color adds a pop of sunshine to your table.
Why Use Cottage Cheese?
One interesting ingredient in this recipe is cottage cheese. Cottage cheese might seem like an unconventional ingredient to add to a dessert, but it adds a lovely creaminess and subtle tang to the dish. If you're not a fan of cottage cheese or would like to try something different, you can substitute it with an equal amount of Greek yogurt. This will still give you a creamy and slightly tangy flavor.
Recommended:
Nutella Whipped Icing
Chocolate Ganache Tart
Pumpkin Sweet Potato Tarts
Ingredient Substitutions
Cool Whip – Use regular whipped cream (either homemade or store-bought)
Orange Gelatin Powder – Substitute lemon gelatin powder or any other citrus-flavored gelatin powder for a different flavor
Mandarin Oranges – Freshly peeled and segmented oranges or canned pineapple chunks will also work.
Mini Marshmallows – Chopped marshmallows or mini marshmallow bits will still taste great!
Cottage Cheese – Greek yogurt can be used in place for a slightly different but still yummy flavor.
Tips for Making a Perfect Orange Fluff Salad
Make sure the gelatin powder is completely dissolved in the whipped cream. Otherwise, the texture might be a touch grainy.
Gently fold in the remaining ingredients – don't stir! This could deflate the salad and make it a bit runny instead of fluffy.
Drain the mandarin oranges well to prevent excess liquid in the salad.
You can add a teaspoon of orange extract for a stronger orange flavor.
Let the salad set in the fridge for at least an hour before serving for the best flavor and texture. It needs to set up, and the flavors need to blend together.
Recipe Variations
You can add to this recipe to create new flavors. Here are some of my ideas:
Tropical Twist: Add diced pineapple and shredded coconut for a tropical flavor.
Berry Blast: Substitute the mandarin oranges with fresh berries like strawberries, blueberries, or raspberries.
Creamsicle Delight: Replace the orange gelatin powder with vanilla pudding mix and add a teaspoon of orange zest and you'll have that classic creamsicle taste.
Chocolate Orange Surprise: Fold in chocolate chips or chunks for a yummy chocolate-orange combo.
How to Store Leftovers
In the fridge: Store any leftovers of the Orange Fluff Salad in an airtight container in the refrigerator for up to 3 days.
I don't recommend freezing orange fluff. It doesn't thaw well, and will probably end up watery, and not taste so good.
Can I Make This Ahead?
Absolutely! Orange Fluff Salad can be prepared ahead of time. Simply cover it tightly with plastic wrap or transfer it to an airtight container and refrigerate for up to 24 hours before serving. The flavors will meld together beautifully, making it even more delicious! When you transfer it to a serving bowl, scoop it slowly and carefully so you don't deflate it.
FAQs
Can I make this recipe without cottage cheese or Greek yogurt?
Yes, you can omit the cottage cheese or Greek yogurt altogether if desired. The salad will still be deliciously creamy.
Can I use fresh whipped cream instead of Cool Whip?
Absolutely! You can use homemade whipped cream instead of Cool Whip.
Can I substitute shredded coconut with something else?
If you're not a fan of coconut, you can omit it from the recipe or replace it with chopped nuts for added texture.
How long should I let the salad set in the fridge?
It's recommended to let the salad set in the fridge for at least an hour, but longer chilling time will further enhance the flavors.
Can I double the recipe for a larger crowd?
Absolutely! You can easily double or triple the recipe to serve more people. Just make sure you have a big enough mixing bowl to accommodate the increased quantities.
Side dish recipes you MUST try:
Instant Pot Loaded Baked Potatoes
Southern Squash Casserole
Slow Cooker Cheesy Potatoes
Air Fryer Brussels Sprouts
Yield: 6-8 Servings
Orange Fluff Salad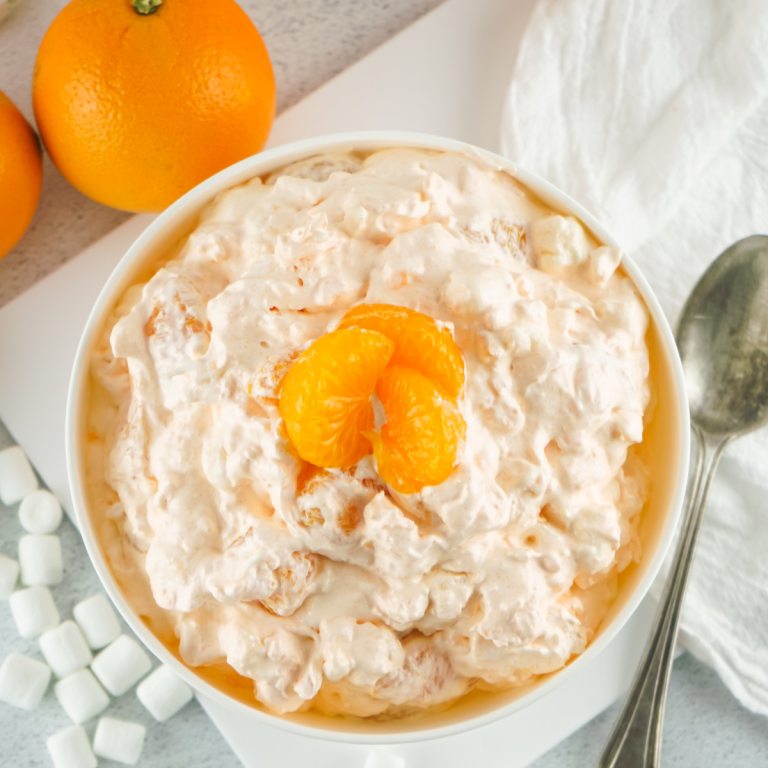 You can never go wrong with a classic recipe like this orange fluff salad. It only takes a handful of ingredients to make and a quick toss together. A deliciously sweet and fruity side dish for most occasions.
Total Time
1 hour
10 minutes
Ingredients
1 Tub Cool Whip (8 ounces)
1 Box Orange Gelatin Powder (3 ounces)
1 Can Mandarin Oranges, drained (14 ounces)
1 ½ Cups Mini Marshmallows
1 Cup Cottage Cheese
1 Cup Sweetened Shredded Coconut
Instructions
Combine the whipped cream and orange jello powder in a large mixing bowl and mix until no white streaks remain.
Add the remaining ingredients and fold them in until fully combined.
Serve immediately or store in the fridge, covered, until ready to serve. I would TOTALLY Recommend to leave this in the fridge for 1 hour to set.
Notes
●This can be stored in the fridge for up to a week. You'll want to cover it with at least plastic when storing it or it will dry out. Do not freeze.
●If you store it in the fridge for at least a day, the flavor has a chance to really soak in and it's truly the best.
●You'll want to stir it well after storing it as some of the liquid will migrate to the top. This simply redistributes it evenly.
●The marshmallows will get much gooier once stored. Don't be alarmed, this is ok and, in my opinion, makes it better.
●Swap out various jello flavors to change up the entire flavor of the salad.
●Other popular add-ins are sour cream, yogurt, fruit cocktail, chopped pecans, etc. Many variances exist for this salad since it's been around for so many years. So, just adjust it to your preferences.