Orange Chocolate Chip Muffins
Orange Chocolate Chip Muffins are freshly baked muffins that are bursting with the vibrant flavors of juicy oranges and rich chocolate. It's a flavor combination that's simply irresistible. The sweetness of the chocolate chips perfectly complements the tangy notes of the oranges, creating a taste sensation that will leave you wanting more. These muffins are a perfect balance of refreshing zestiness and indulgent sweetness. Translation: Make these today, and try not to eat them all.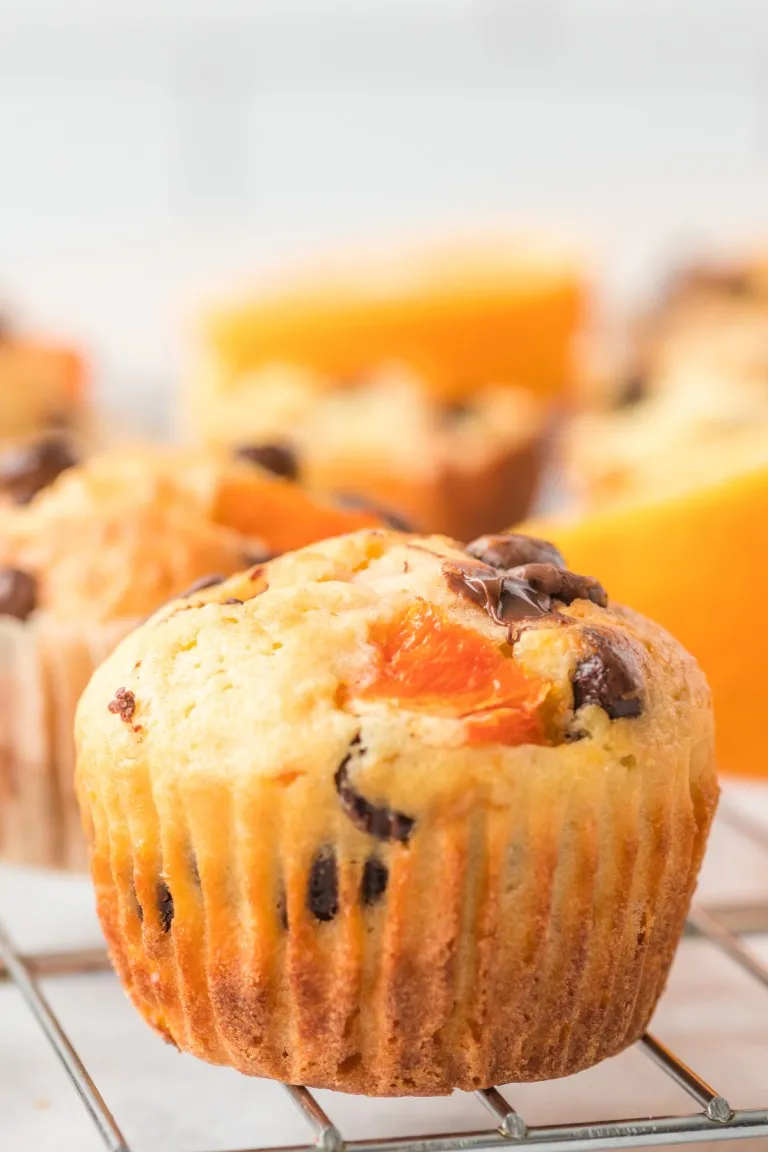 Even if you're new to baking, fear not, because this recipe is designed to be simple and fuss-free. You'll be amazed at how a handful of basic ingredients can come together to create such delectable treats.
These Orange Chocolate Chip Muffins are perfect as a delightful addition to your weekend brunch spread, a tasty treat for an afternoon snack, or a surprise lunchbox treat, these muffins are the way to go. Their bright, sunny flavor brings a touch of cheer to any gathering, making them a hit among friends and family.
Why You'll Love These Orange Chocolate Chip Muffins
Quick to Make: It takes very little time to make this recipe, allowing you to enjoy freshly baked muffins even on busy days.
Bursting with Flavor: The combination of oranges and chocolate chips creates a taste combination you can't get enough of.
Versatile: These muffins are perfect for various occasions, whether it's a casual brunch, an afternoon tea party, or a delicious lunchbox treat.
Ingredient Substitutions:
Flour – Instead of using all-purpose flour, you can use a 1:1 gluten-free flour blend if you need to.
Eggs – For an egg-free option, you can replace the egg with a flaxseed or chia seed egg. Combine 1 tablespoon of ground flaxseed or chia seeds with 3 tablespoons of water and let it sit for a few minutes until it thickens.
Milk – You can use almond milk, soy milk, oat milk, or any other plant-based milk of your choice. You may want to use a little less if your milk is thin, as it can thin the batter too much. Add it and mix it in slowly.
Butter – Instead of melted butter, you can use melted coconut oil or vegetable oil as a dairy-free alternative. You can also use dairy-free butter or margarine.
Chocolate Chips – While semi-sweet chocolate chips are the classic choice (and my favorite to blend with citrus), feel free to experiment with dark chocolate chips, white chocolate chips, or even chunks of your favorite chocolate bar.
Orange Zest – If you don't have fresh oranges on hand, you can use orange zest from dried or dehydrated oranges. Alternatively, you can substitute with a few drops of orange extract for a concentrated citrus flavor.
Oranges – If you don't have a fresh orange, you can use half a cup of drained canned mandarin oranges.
Tips for Making the Recipe Perfectly:
Sift the dry ingredients before blending, especially if you've had them sitting in the cupboard for a while and they aren't very fresh. This help you have a smooth and evenly textured batter without lumps.
Gently fold in the chocolate chips at the end to prevent them from sinking to the bottom of the muffins.
For extra zesty flavor, you can add some grated orange zest to the batter.
Instead of using a hand mixer, just stir this recipe together. Overmixing muffin batter leads to tough muffins without enough rise. So just stir carefully.
Fill your muffin cups about 2/3 of the way full for the best size.
Recipe Variations
Want to make a new flavor combination? These muffins are easy to add to. Here are a couple of ideas:
Orange Cranberry Muffins: Replace the chocolate chips with dried cranberries for a tangy twist that complements the orange flavor.
Orange Walnut Muffins: Add a crunchy texture by substituting all or half the chocolate chips with chopped walnuts. The nutty flavor pairs wonderfully with the citrusy notes.
How to Store
In the fridge: Store any leftover muffins in an airtight container in the refrigerator for up to 3-4 days.
In the freezer: If you have more muffins than you can finish, you can freeze them. Place the cooled muffins in a freezer-safe bag or container and store them for up to 2-3 months.
How to reheat: If you like your muffins warm, you can gently heat them in the microwave for a few seconds until warmed through.
Can I make this ahead?
Absolutely! You can prepare the batter for these Orange Chocolate Chip Muffins ahead of time and refrigerate it overnight. When you're ready to bake, simply scoop the batter into the muffin pans and pop them in the oven. This way, you can enjoy freshly baked muffins without all the morning prep work.
FAQs
Can I reduce the sugar in the recipe?
Yes, you can adjust the sugar amount according to your preference. However, keep in mind that it may affect the overall sweetness and texture.
Can I use frozen oranges instead of fresh ones?
While fresh oranges are recommended for this recipe to get the best flavor, you can use thawed and drained frozen orange segments if fresh oranges are not available.
Can I make mini muffins instead of regular-sized ones?
Yes, you can adjust the baking time and make mini muffins instead. Start checking for doneness around 12-15 minutes, as they may require less baking time.
Can I double the recipe?
Yes, you can easily double the recipe to make a larger batch. If you put more than 12 in the oven at once, make sure to adjust the baking time accordingly, as larger batches may require a little longer in the oven.
More Delicious Recipes to Enjoy
Starbucks Copy Cat Blueberry Muffins
Blueberry Lemon Dessert Cake
Instant Pot Bananas Foster Cheesecake
Air Fryer Pear Tarts
Yield: 12 Muffins
Orange Chocolate Chip Muffins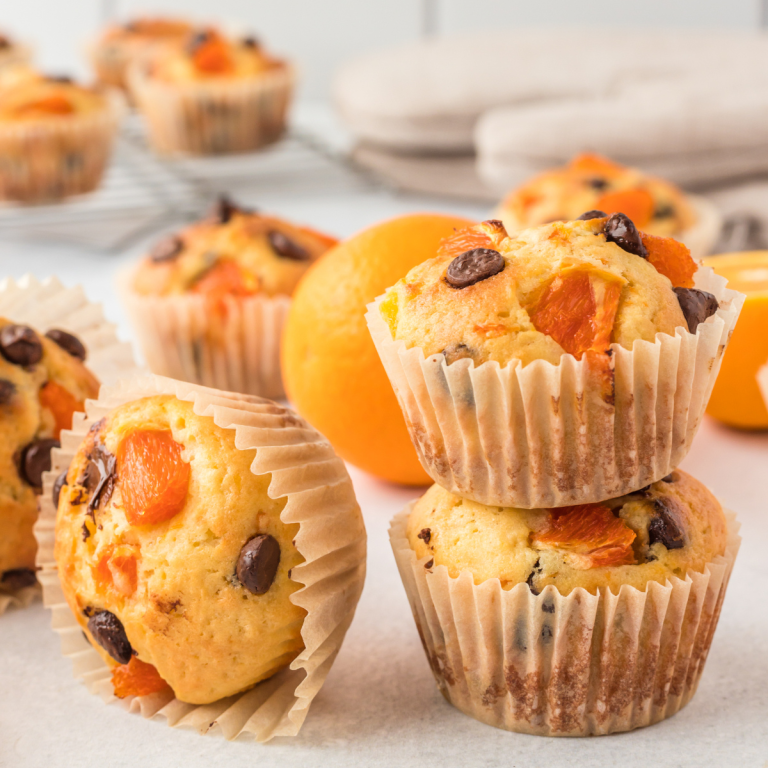 These orange and chocolate muffins are the perfect combination of sweet and tart.
Ingredients
1 3/4 cup flour
1 tsp baking powder
3/4 tsp salt
1 egg
1/2 cup sugar
1/2 cup milk
1/3 cup melted butter
2 whole oranges
1 cup semi-sweet chocolate chips.
Instructions
In a bowl, sift the flour, baking powder, and salt. Set aside.
Take one orange, cut in half and press the juice out of it, reserve.
You will need to peel the other orange, then slice it into chunks.
Add egg, sugar, milk, oranges pieces, juice, and butter in another medium bowl. With a hand mixer or a whisk, mix until all the ingredients are well combined.
Pour the liquid mixture over the dry ingredients, mixing as little as possible, just enough to obtain a moist batter.
Gently fold in the chocolate chips.
Spoon the batter into silicone or paper-lined muffin pans and bake at 380°F for about 25 minutes.
Notes
Do not open the oven door or you run the risk of ending up with flattened muffins.
Do not beat the dough like a cake, which prevents the muffins from rising and makes them heavy.
Never fill the muffin molds more than three-quarters full and place them in the center of the oven.
Using vegetable oil results in lighter muffins because it prevents gluten formation in the flour. On the other hand, butter adds more fluffiness to the dough.
Silicone molds give better results than paper molds, which burn easily.
You can replace cutting up an orange with 1/2 cup canned/drained mandarin orange segments.