If you've never tried One-Pot Taco Spaghetti, you're in for a treat! This surprising dish will have your family excited for dinnertime. Is it tacos? Is it spaghetti? Yes!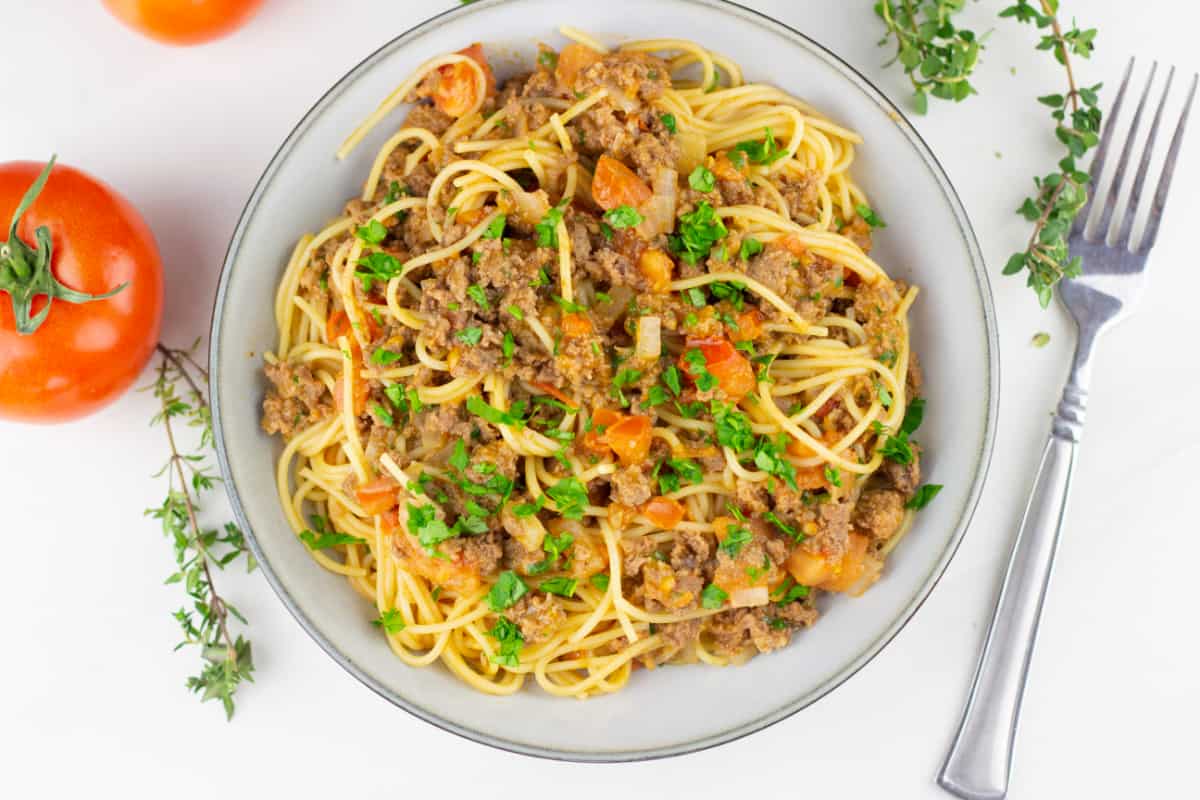 The zesty goodness will get mouths watering because of the aroma from the kitchen. Traditional taco spices mixed in a bubbling tomato sauce are sure to please.
Topped with cheeses, fresh tomatoes, and herbs, this meal is as beautiful as it is delicious. Take taco Tuesday up a notch with this easy taco spaghetti recipe.
What is Taco Spaghetti?
One-Pot Taco Spaghetti is a fun twist on traditional spaghetti because it calls for taco seasoning. The convenience of a one-pot meal makes this dish easy to serve and a breeze to clean up.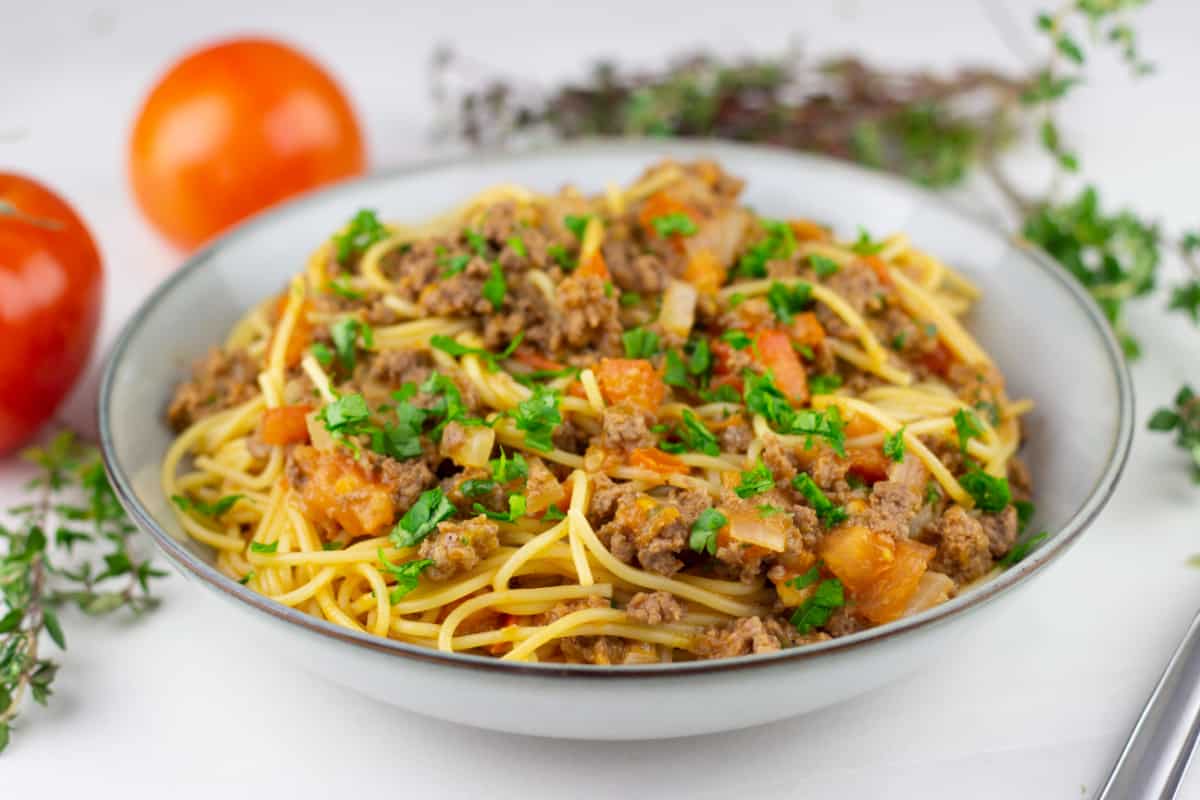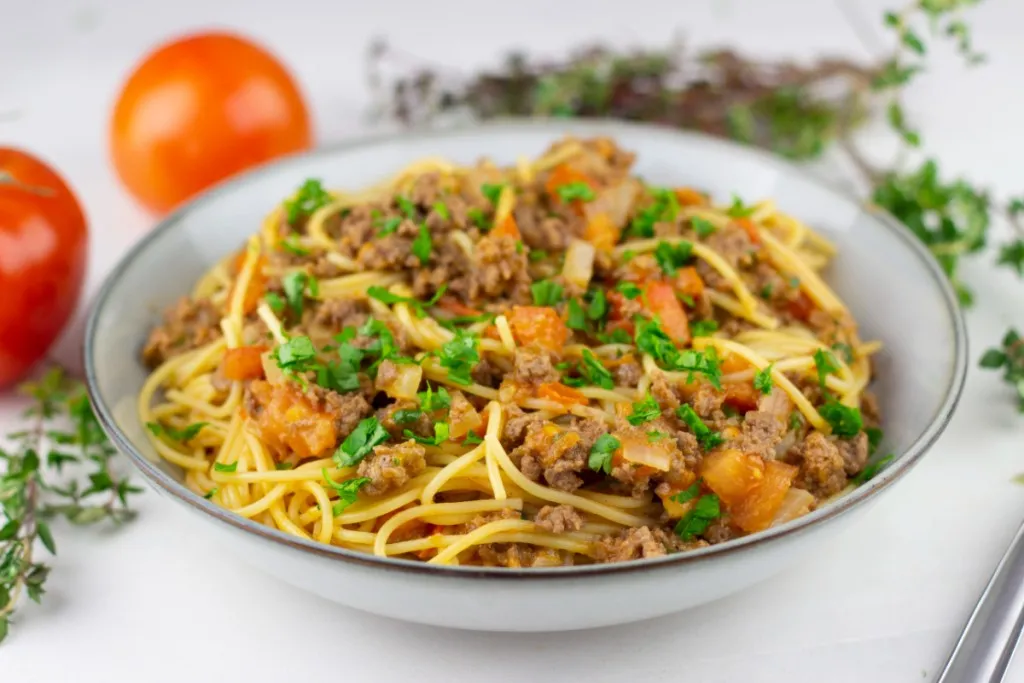 Is One-Pot Taco Spaghetti easy to make?
Yes! One-pot taco spaghetti is actually quite easy to make. The basic skills needed are browning ground beef and boiling water for pasta. In fact, it's so easy, you can let the kids help.
What can I serve with Taco Spaghetti?
Because taco spaghetti is a fusion of Mexican and Italian cuisine, there are plenty of foods that will go great with it. We've served this as the only dish, but we've also served it alongside other dishes. Here are a few ideas:
A tossed salad of mixed greens, black olives, and diced tomatoes with an avocado ranch dressing.
Oven-toasted garlic bread
Mexican (or buttered) corn on the cob
Pico de gallo
Grilled vegetables
Avocado salad
Of course, you can serve it alongside tacos, burritos, burrito bowls, quesadillas, or other Mexican favorites your family loves.
Recommended:
Homemade Mild Taco Seasoning
Homemade Hamburger Helper
Slow Cooker Meatballs
Tips and Recipe Notes
Use a potato masher to easily break-up the ground beef into small bits.
Be careful not to overcook the spaghetti. If the noodles are too soft, they will breakdown when mixed with the other ingredients.
A little splash of oil in the pasta water helps keep the pot from boiling over and the noodles from being sticky.
What Else Can I Put in Taco Spaghetti?
This is a yummy, filling dish. But I think, when it comes to Mexican food, there's always room for more toppings! Dress up your taco spaghetti with any of these toppings:
Sour cream
More cheese!
Salsa
Corn
Corn salsa
Creme fraise
Ingredient Substitutions
Ground Beef – Try chorizo instead of ground beef for a spicier meat sauce.
Spaghetti – You could use a different shape of pasta in place of the spaghetti i.e., penne or bowtie pasta.
Cheese – Pepper Jack cheese would give this dish an extra kick. You can also grab spicy Mexican cheese pre-shredded from the grocery store.
Diced Tomatoes – For some extra flavor, use a can of Rotel instead.
Veggies – Add some extra vegetables like mushrooms or bell peppers to add some vitamins.
How Do I Make This Vegetarian?
One simple way to turn this into a vegetarian dish is to replace the ground beef with crumbled tofu or Beyond Meat. You can also make this gluten-free by using gluten-free pasta.
How Do I Store Taco Spaghetti?
To store left-over Taco Spaghetti, allow it to cool to room temperature before putting it into an airtight container. Seal carefully and store in the refrigerator for up to three days.
Can I Freeze Taco Spaghetti?
Taco Spaghetti can be frozen to serve another day if you're making a double batch or making freezer meals. Allow the food to cool to room temperature. Then, place into a freezer bag, smoothed flat, or in an air-tight container. Taco Spaghetti can be stored in the freezer up to three months.
How to Reheat Taco Spaghetti
Allow the frozen Taco Spaghetti to thaw in the refrigerator overnight. Reheat in the microwave. Add extra cheese on top, if desired.
Finish off your meal with a yummy dessert! Try any of these:
No-Bake Cookie Bars
My Favorite Chocolate Chip Cookies
S'mores Pizza
Flourless Chocolate Cake
Instant Pot Chocolate Chip Bread Pudding
Lemon Cheesecake Bars
Yield: 6 servings
One Pot Taco Spaghetti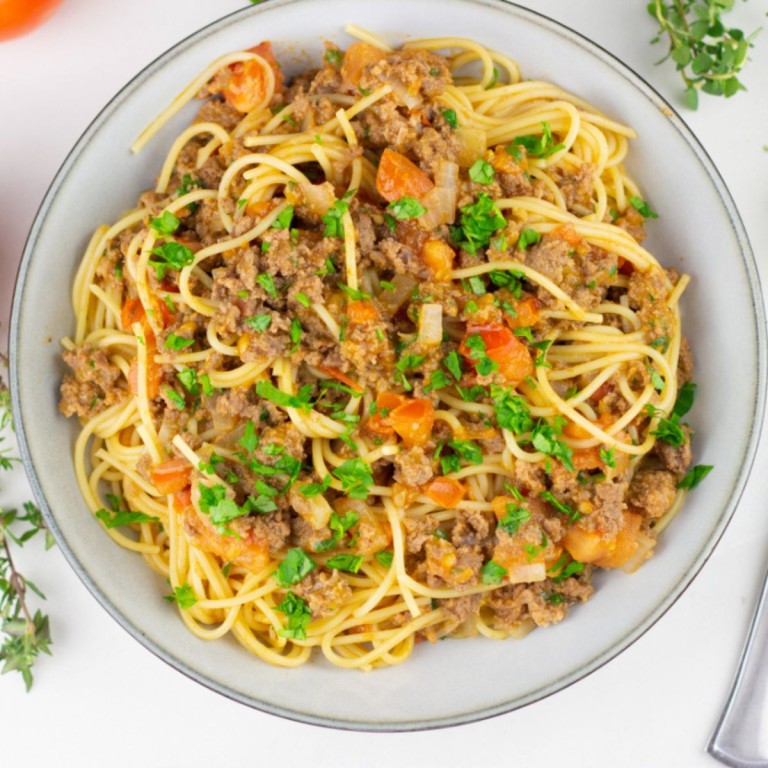 If you've never tried One-Pot Taco Spaghetti, you're in for a treat! This surprising dish will have your family excited for dinnertime. Is it tacos? Is it spaghetti? Yes!
Additional Time
5 minutes
Ingredients
1 tablespoon olive oil
1 lb ground beef
½ cup yellow onion, diced
4 ½ tablespoons taco seasoning, or 1 package
1 tablespoon tomato paste
10 oz tomato, diced, 1 can
8 oz spaghetti
3 cups water
½ cup cheddar cheese, shredded
½ cup mozzarella cheese, shredded
1 roma tomato, diced
2 tablespoons fresh cilantro, chopped
Instructions
Heat olive oil in a large stockpot over medium-high heat. Add ground beef, yellow onions, and taco seasoning. Cook until beef has browned, about 3-5 minutes, making sure to crumble the beef as it cooks.
Stir in tomato paste and diced tomatoes, then stir.
Add spaghetti and water. Bring to a boil; cover, reduce heat, and simmer until pasta is cooked through, about 15 minutes.
Remove from heat and top with cheddar cheese, mozzarella cheese, Roma tomato, and cilantro. Mix until cheese is melted.
Serve immediately. Garnish with additional tomato and cilantro, if desired.