Mini Mexican pizzas : Your perfect one-bite appetizer for every occasion!
If you're anything like me, you probably love snacks, especially bite-sized delicacies. Not only me but my whole family is a snack-lover, especially mozzarella cheese sticks, buffalo wings, loaded potato wedges, pigs in a blanket, and pretzel bites, among others.
I usually whip up these quick snacks as a late afternoon supper. And I also make them as appetizers. Therefore, I serve different bite-sized appetizers whenever we have friends and family over for dinner. The newest addition to my list is mini Mexican pizzas.
My family loves tacos, and they're crazy about pizzas. Therefore, I decided to combine both the cuisines into one! Hence, the amazingly delicious and irresistible mini Mexican pizzas!
And guess what? Everyone who has tasted them loves em'!
Why We Love Mini Mexican Pizzas?
If you're a pizza fan, you will instantly fall in love with these mini Mexican pizzas. The fusion of Italian pizza and Mexican tacos is such a fantastic combination, bursting with savory, cheesy, and appetizing goodness.
The ingredients to make these mini Mexican pizzas are also pretty basic, just like regular pizza. However, instead of pizza sauce, we'll be using salsa sauce. After all, we need to give the pizzas a Mexican twist!
This mini Mexican pizza recipe is so easy to make; it takes hardly 40 minutes. And even the preparation doesn't require much effort. Simply mix all the ingredients in a large bowl, top the filling on the tortillas, sprinkle with cheese, and pop them in the oven. And that's all!
Such an easy recipe with basic ingredients is definitely a must-try!
It's the perfect lunchbox idea for your kids, a delicious afternoon snack, a tempting appetizer, and the ideal item for potluck suppers or BBQs.
Recipe Ingredients for Mini Mexican Pizzas
Here's the list of all the simple ingredients you need to make these mini Mexican pizzas:
2 large corn tortillas: I used corn tortillas, but you can also opt for flour tortillas. Cut the large tortillas to make 6 small circles.
4 oz ground pork: I use ground pork to make the filling. However, you can also use ground beef, chicken, or turkey as your preference.
2 oz homemade or regular salsa sauce: You can make salsa sauce at home or get the store-bought one to use as the base of the mini pizzas.
2 tsp dry taco seasoning: I used my homemade dry taco seasoning for this recipe, but if you can't make it at home, use store-bought taco seasoning.
2 oz refried beans: To add creaminess and texture to the pizza filling. And we also need a splash of Tex-Mex!
3.5 oz shredded cheddar cheese: I used cheddar cheese for the topping; however, you can also go for mozzarella, provolone, parmesan, or ricotta cheese.
Frequently Asked Questions (FAQs)
Here are some common queries regarding this recipe to help you make it with ease:
Can we add other toppings to the mini Mexican pizzas?
I kept things basic for this recipe and only topped the pizzas with cheese. However, you can add tomatoes, jalapenos, lettuce, bell peppers, olives, mushrooms, sour cream, and corn to make the mini Mexican pizzas more flavorful and appetizing.
Can we make the same recipe using bread instead of tortillas?
If you don't have tortillas, you can use bread as a base and make mini Mexican bread pizzas.
What can I use in place of ground pork?
For these Mexican pizzas, we need ground meat. I used pork; however, you can also use ground beef, chicken, or turkey. And if you don't want to use ground meat, you can also use shredded meat.
Which other cheese can I use for these mini Mexican pizzas?
You can use any melty cheese for this recipe. Cheddar and mozzarella are the best options; however, provolone, parmesan, ricotta, cotija, or Monterey Jack cheese will also give the pizzas a great taste and an even greater cheese pull!
How to store the mini Mexican pizzas?
You can store the baked Mexican pizzas in an airtight container in the fridge for up to 3 days and in the freezer for up to 3 months. However, you can also prepare the filling beforehand, refrigerate it for 2 days, and freeze it for 3 months.
Tips and Tricks
1. You can use whole wheat flour tortillas instead of corn tortillas.
2. If you prepare the meat filling, you can refrigerate it for a few days. When ready to eat, just layer the taco shells with the mixture, top with cheese, and bake like usual.
Note for recipe: I have a taco seasoning blog post: Homemade Mild Taco Seasoning
More Recipes to Enjoy!
Yield: 6
Mini Mexican Pizzas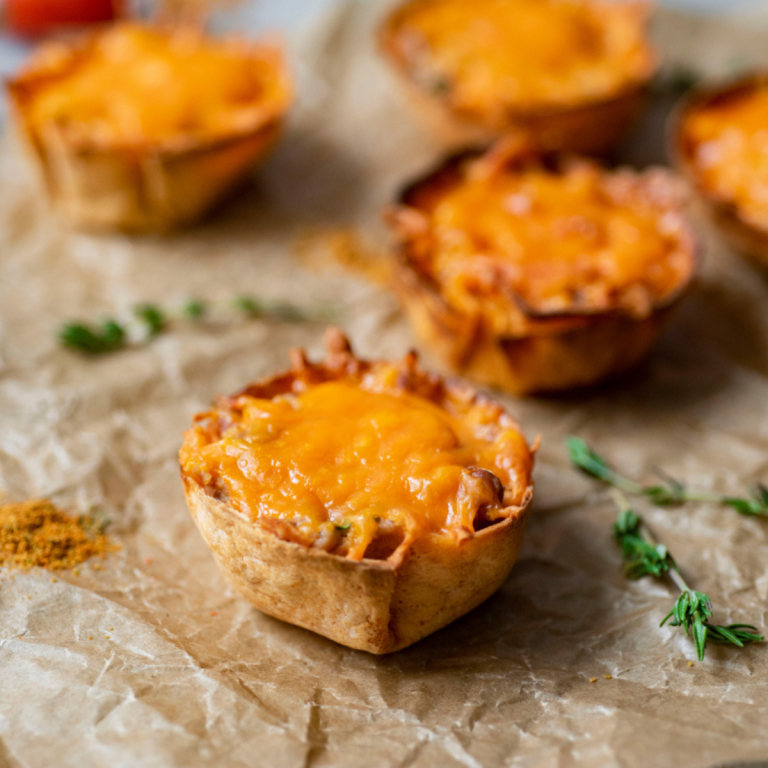 These mini Mexican pizzas make the perfect appetizer, or a twist on your next Taco Tuesday night!
Additional Time
7 minutes
Ingredients
2 Large corn tortillas, cut for 6 small circles
4 oz Ground pork
2 oz Homemade or regular Salsa sauce
2 tsp Dry taco seasoning
2 oz refried beans
3,5 oz shredded cheddar cheese
Instructions
Prepare all ingredients. Preheat oven to 425 degrees
Cut out 6 circles from the tortilla
Place tortilla circles to muffin tin
In a large bowl put the ground pork, refried beans, salsa and Taco seasoning.
Mix all these ingredients until smooth.
Fill tortillas with meat mixture
Sprinkle grated cheddar on top. Cover it with aluminum foil and bake for 35 minutes. Take up the foil and bake 7 more minutes.