Mango Salsa is a bright and tropical salsa with a delicious kick of jalapeno spice. The juicy sweet mango pieces, bell peppers, red onion, diced jalapenos, freshly chopped cilantro, and lime juice meld together in the fridge for a few hours to intensify the flavor of this dish.
Enjoy this vibrant mango salsa as a tasty appetizer or snack with tortilla chips, as a side to seafood, or topping for fish tacos.
WHAT YOU SHOULD KNOW ABOUT MANGO SALSA
Mango salsa is believed to have originated in South and Central America during the colonial Columbian era when the Spanish invaders arrived.
Today, there are variations of mango salsa depending on the region of Mexico. Despite this, the overarching flavor is tropical and sweet – perfect for seafood.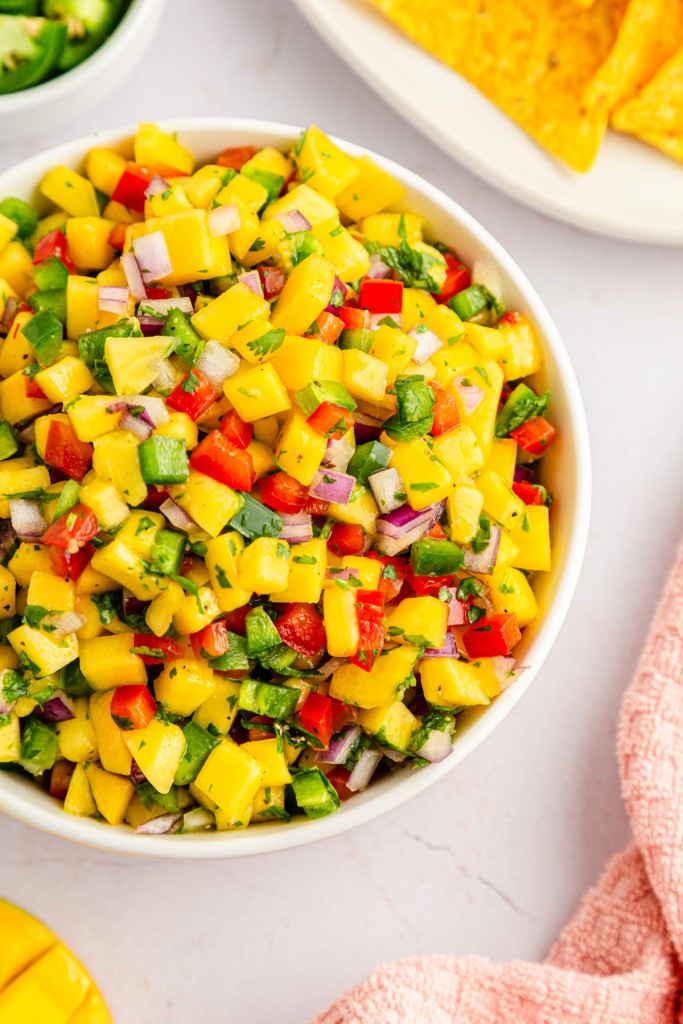 HOW SHOULD I STORE LEFTOVER MANGO SALSA?
Leftover mango salsa can be stored in an airtight container in the fridge for 3 days. The mango will soften in storage, and the onions will become translucent.
I don't recommend freezing the salsa as this can change its texture.
HOW SHOULD MANGO SALSA BE USED?
Serve this mango salsa with tortilla chips, as a side to fish dishes like this Instant Pot Salmon, or as a delicious topping for fish tacos.
HOW DO I CHOOSE THE BEST MANGOES FOR THIS SALSA RECIPE?
There are a few varieties of mangoes, but most stores only stock about two types. While most mango types will work in this mango salsa, I don't recommend using honey mangoes, as they tend to be smaller and softer and won't hold up as well as the others in the salsa mixture.
Always select ripe mangoes for this mango salsa. A ripe mango will appear yellow or orange, while an unripe mango will be green. A ripe mango will also have a fragrant smell.
The mango flesh should be soft, but not mushy.
WHAT'S THE BEST WAY TO CUT MANGOES FOR SALSA?
Start by slicing through the sides of the mango away from the oblong pit in the center. Make sure you stand the mango on a sturdy kitchen board, holding it upright with one hand while slicing the other side from top to bottom with a sharp knife.
Repeat this for the other side of the mango. You will now have three pieces, including a sliced section that has the pit.
Take one of the mango slices without the pit and make cuts into it, lengthwise and crosswise, but don't cut through the peel. Invert the slice so that the cut segments stick outward.
Use a small paring knife to remove the segments from the peel. Repeat this process for the other sliced section that doesn't contain the pit.
When it comes to the third sliced section housing the pit, lie the slice flat on a kitchen board and cut around the pit. Remove the peel and cut the small amount of mango flesh remaining.
WHAT VARIATIONS CAN I MAKE TO MANGO SALSA?
Easily adjust the spice level in this salsa recipe by either omitting the jalapenos and using green bell pepper instead, keeping the seeds in the jalapenos, or even using a spicier pepper, such as serranos!
Yellow, green, and orange bell peppers can be used instead of red. You could also use a combination of bell peppers.
Skip the chilling time and serve this mango salsa immediately if you are in a rush.
Use any type of mango that you prefer the most. The most common type of mango in the United States is the Tommy Atkins mango.
TIPS FOR MAKING MANGO SALSA
I highly recommend that you chill the salsa in the fridge as directed in the recipe, as this will allow all the flavors to meld together and the spice from the jalapeños to intensify. The wait is worth it!
Younger jalapeños with smoother skin are typically milder than older ones with wrinkly skin. This is good to know when deciding how spicy you want the salsa to be. 
Use gloves when deseeding jalapenos to avoid skin irritation.
More Delicious Salsa Recipes!
Yield: 4 Cups
Best Ever Mango Salsa Recipe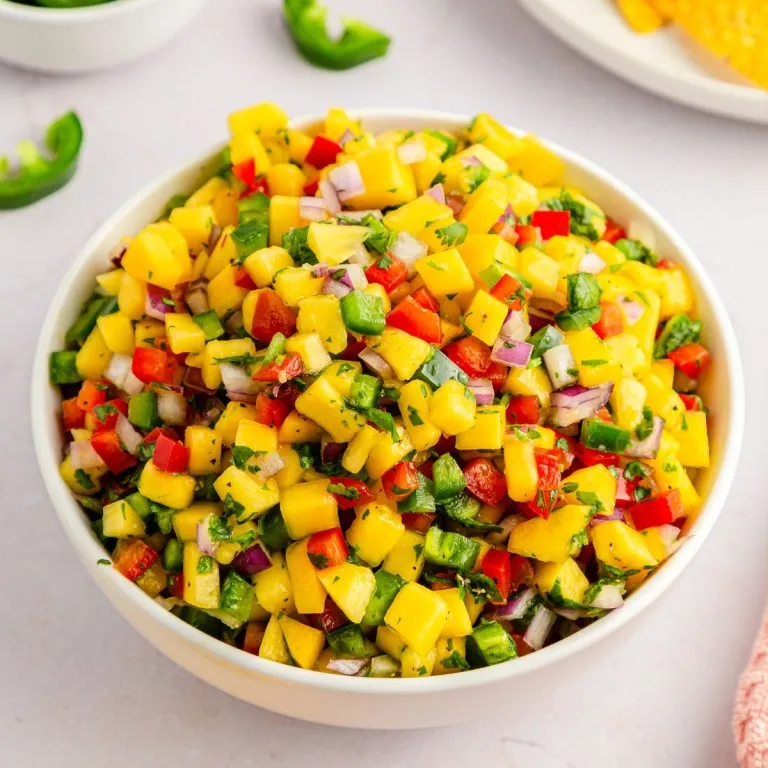 Mango Salsa is a bright and tropical salsa with a delicious kick of jalapeno spice.
Total Time
1 hour
15 minutes
Ingredients
3 large ripe mangoes, diced
1 large red bell pepper, diced
¾ small red onion, diced
3 jalapenos, seeded and diced (keep seeds intact if you want it spicy)
½ cup chopped cilantro (about 1 bunch)
1 lime, juiced
Salt and pepper, to taste
Instructions
1. In a medium mixing bowl, combine the mango, red bell pepper, red onion, jalapeños, cilantro, and lime juice. Season with salt and pepper and stir together with a spoon.
2. Place in the refrigerator to chill for at least 1 hour for the flavors to really come out.
3. Serve with a side of tortilla chips or over some fish tacos. Enjoy!
Notes
If you don't like spice, you can omit the jalapenos and substitute it with green bell peppers instead.

For more spice, keep the seeds from the jalapenos or substitute for a spicier pepper like serranos!

Younger jalapenos with smoother skin are usually more mild than older jalapenos with wrinkly skin.

If you don't like jalapenos then just omit it entirely. I do not recommend substituting with parsley or other herbs.

Chilling is not required but highly recommended. It allows the lime juice to soak into the rest of the ingredients and the spice from the jalapenos to come out. It will be much more flavorful if you can wait at least 1 hour or even 2.

This salsa is best eaten the same day it is made but you can keep any leftovers in an airtight container in the refrigerator for up to 3 days. The mangoes may soften and lose some texture and the onions may start to get translucent.