How To Make School Clothes Shopping Easy
School clothes shopping is either tons of fun, or the most dreaded time of the year. Whether your worries are financial, or you have a child that is difficult to fit, school shopping is often a struggle. I have some great tips that will make school clothes shopping much easier to manage, and will have you and your kids happy to head to the stores this year.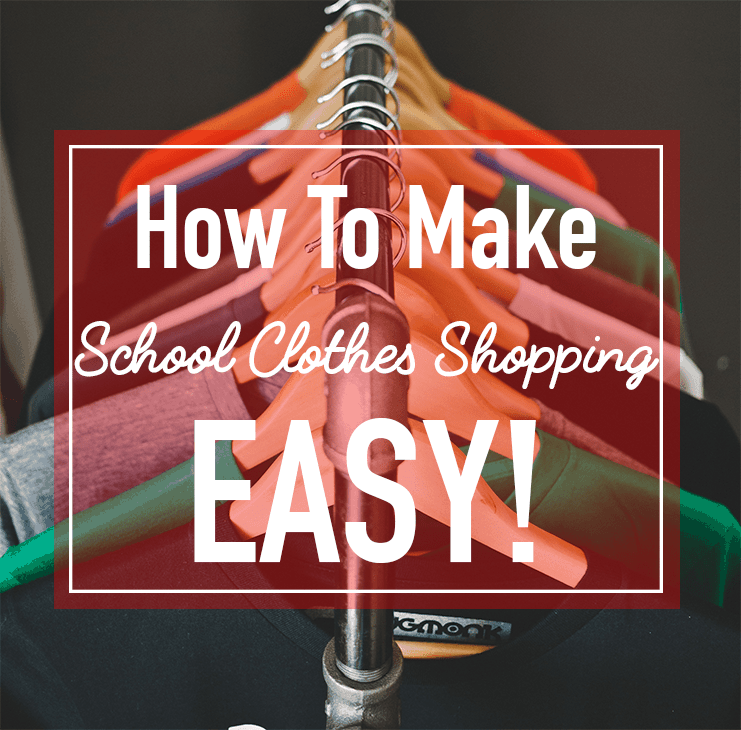 How To Make School Clothes Shopping Easy
School clothes shopping doesn't have to be stressful for the parent or child. Take some time to prepare in advance, and make sure you head out to the stores with all of the right tools to make this task an easy and fun time for everyone. Be prepared for a few hours in stores, but know that the end result will make your kids happy – but your sanity and budget happier.
Set a budget and stick to it. Before you even open up a web browser or leave the house, set a realistic budget. This isn't what you think you could spend, but what you really an afford to spend. Even small budgets can be manageable when you work hard and grab back to school sales. However, if you set out without that budget in mind, you'll find yourself going over budget and in debt in no time at all. Stick to you budget, and make sure to talk to your kids about it before you begin shopping so they understand their limitations. Most kids not only need the financial instruction this will give them, but can easily work within the budget to pick out what they want and need the most for school.
Look at styles online prior to going in store. While I am a huge fan of shopping online, I do realize that getting the right fit often means you have to step into a store to try something on. That said, it is a great idea to sit down with your kids and look at their favorite stores online. You can find specific styles and designs that they prefer before even heading to the store. This makes it super easy to make a plan of what stores to visit when you go shopping. You can even create a list to prioritize what stores have more items they want than others. If you get to your local store and find they don't have the right size or color in stock, you can just order online when you get home. Bonus: This helps you scope out the styles they like to find the stores with the best deals!
Take measurements before you leave the house. If for some reason you are going shopping without you kids, you really should take measurements before you leave the house. Basic measurements can help you to pick the right sizes in store, and create a lot fewer return visits to the store.
Wear the right undergarments for shopping. This may sound like an odd suggestion, but when it comes time to try on things like fitted shirts, pants, or even shoes you want to have the right socks, underwear and bra on underneath. You'll want to make sure that the items you buy will work with the undergarments that your kids will be wearing on a regular basis.
This means you need to make sure your kids wear the socks they will be wearing to school. For those who have dress shoes as part of the uniform, that may mean you would toss a pair of dress socks into your purse for them to try shoes on with in store. For others it means they will need to make sure shirts and blouses won't be too sheer for their bra, or even pants too fitted to wear with certain underwear. This may seem odd to add to a list for school clothes shopping, but it can prevent some major frustration when you have your kid crying on the first day of school because something doesn't fit right with different undergarments on underneath.
Build interchangeable wardrobes when possible. Most parents will tell you that this one thing makes a huge difference, especially with younger kids. By picking out basic wardrobe pieces that are interchangeable, you make it easier for your kids to dress themselves each day. Great recommendations for this are to grab basic bottoms in standard classic colors like khaki, navy, black, and denim then find unique tops to mix and match. Anything that saves time on busy school mornings is a bonus. Plus, it can be much more cost effective if you have just a few bottoms that can go with multiple tops. A skirt that matches only one shirt is tough to wear enough to justify the cost on many occasions. This makes it easy to keep your budget low, and your kids happy.
Set ground rules before you begin shopping. There are going to be some things you just won't let your kids buy. Whether it is a popular style of clothing you feel is immodest, or a t-shirt with a vulgar slogan – you will have some rules. Before you head to the store to shop, talk to your kids about what you are okay with and what is definitely not an option. Knowing ahead of time can make the in store process much easier to manage.
Let your kids show their own unique style. Depending on school dress code, your kids may be able to show their own style easily in their wardrobe. Keep the basic wardrobe pieces easy to mix and match, but don't hesitate to add in things like fun shoes, socks, jackets, scarves, jewelry, and even hair accessories. Set a separate budget for a few fun pieces that they really love. This will help them to be happy with your basic wardrobe choices while you can keep the bulk of the school clothes shopping easy and functional.
School clothes shopping with your kids is a great time to really bond and let them show you their own personalities. Whether you have a girl that loves everything pink and glittery, or a teen that wears only sports jerseys and running shoes, you can still have fun helping them pick out new school clothes this year. Stick to a budget, and communicate with your kids the things that are a must, and a definite no along the way. Most of all, have fun helping them find their own unique style along the way.