Key Lime Icebox Cake is a refreshing, zesty, sweet, and slightly tangy no-bake dessert with layers of Graham crackers, custard, and a whipped topping. The freezer cake is topped with lime zest and freshly sliced key limes that add flavor and appeal to this stunning dessert!
Freezing this citrusy icebox cake not only sets the dessert but also softens the Graham crackers. It's the perfect summer icebox cake that's well worth the extra recipe time!
WHAT YOU SHOULD KNOW ABOUT KEY LIME ICEBOX CAKE
An Icebox cake is a traditional no-bake dessert made with layers of cream, fruit, nuts, and wafers. The classic icebox cake first became popular in the 1920s and 1930s when housewives started to use the "icebox" (a non-mechanical refrigerator).
As the years have passed, the recipes for no-bake layered cakes have evolved considerably, including the likes of this key lime icebox cake!
HOW SHOULD I STORE THIS ICEBOX CAKE?
This icebox cake should be stored in the fridge, covered loosely with plastic wrap, for 3-4 days.
CAN I FREEZE THIS ICEBOX CAKE?
Yes! You can store leftover key lime icebox cake in the freezer for up to 1 month. Allow the frozen cake to sit at room temperature for 15-20 minutes before slicing to serve.
WHAT IS THE TEXTURE AND TASTE OF THIS KEY LIME ICEBOX CAKE?
A typical icebox cake is firm in texture, similar to an ice cream cake. It will become softer in texture the longer it sits at room temperature.
Key lime icebox cake is a refreshing dessert that's ideal for those warmer days. It has a good balance of sweet and tangy with a bite of zest from the lime juice and zest.
WHAT TOPPINGS CAN I ADD TO THIS ICEBOX CAKE?
I've garnished this no-bake icebox cake with lime zest and fresh slices of lime. Other garnish options include candied lime slices, fresh fruit, and green and yellow sprinkles.
CAN I USE REGULAR LIMES IN THIS RECIPE?
Yes, you can. Regular limes are larger with a tarter flavor and thicker skin compared to the smaller key limes, but this dessert will still taste great when using regular limes.
WHAT VARIATIONS CAN I MAKE ICEBOX CAKE RECIPE?
Fresh lime juice is best, but you can use bottled lime juice in a pinch.
Cool Whip can be used instead of heavy whipping cream.
Make a different fruity icebox cake by swapping the ingredients with other fresh fruit, such as strawberries, kiwi, peaches, or other berries.
Different sweet crackers can be used instead of Graham crackers. Nilla Wafers are also a great option.
Make this no-bake dessert gluten-free by using gluten-free crackers or wafers.
TIPS FOR MAKING KEY LIME ICEBOX CAKE
It's best to make this icebox cake is the night before since it requires at least 8 hours, preferably overnight, in the freezer to set.
If you have leftover slices left and want to freeze them, place the slices on a parchment-lined baking tray in the freezer for 1-2 hours until hardened, and then wrap the slices individually in plastic wrap before storing them in an airtight container. This will help prevent the whipped topping from messing everywhere in storage.
This dessert can be doubled and assembled in a 9×13 baking dish – perfect when catering to a larger crowd.
Don't allow the key lime icebox cake to sit at room temperature for too long if not being served due to the dairy ingredients.
More No-Bake Desserts You'll Love!
Yield: 9 Servings
Key Lime Icebox Cake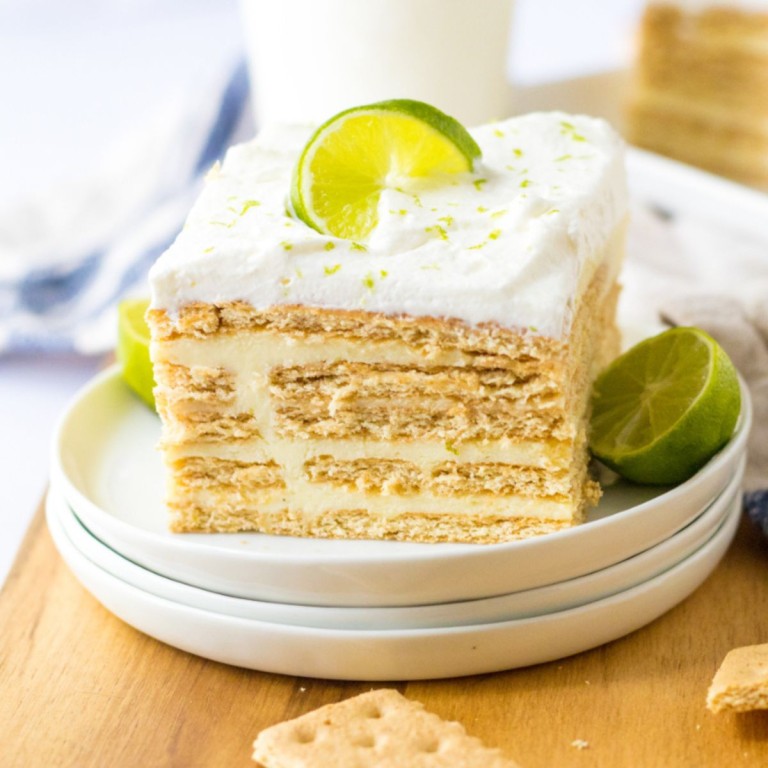 I am in love with this Key Lime Icebox Cake! It is so easy to make and full of creamy, refreshing key lime flavor on a graham gracker crust!
Total Time
8 hours
40 minutes
Ingredients
3/4 cup sugar
1/4 cup cornstarch
4 large egg yolks
2 cups half-and-half
3 tablespoons butter
2 tablespoons key lime zest
1/2 cup key lime juice
About 15 graham crackers
1 cup heavy whipping cream
1/4 cup powdered sugar
Instructions
In a medium saucepan whisk together the sugar and cornstarch.
In a bowl whisk together the egg yolks and half and half. Turn the heat to medium and whisk the egg mixture into the sugar mixture.
Bring to just a boil while whisking constantly. Let bubble for 1 minute. Remove from heat. Whisk in the butter, lime zest and lime juice.
Set aside to cool for 10 minutes.
Meanwhile line an 8x8 square baking dish with plastic wrap.
Place your graham crackers down the bottom of the pan, I did 3 across and then broke apart some to fit the end of the pan.
Spoon 3/4 cup of the custard over crackers and spread over the crackers.
Repeat 3 times ending with a top layer of crackers.
Cover the top with plastic wrap and freeze for 8 hours or overnight.
Remove the cake from the pan and plastic wrap and place on a plate or platter and let thaw for 1 hour.
Meanwhile make the whipped topping by beating the heavy whipping cream and powdered sugar together with an electric mixture until you get soft peaks. Spread the whipped topping on the top of the cake and garnish with lime zest and lime slices if desired.