This one-pot Jollof Rice is a popular West African dish that consists of long-grain rice, tomatoes, peppers, onions, tomato paste, and various spices.
This beautiful rice dish with a striking red glow is so delicious, you'll easily want to enjoy it by the spoonful without the thought of adding anything else to the meal!
WHAT YOU SHOULD KNOW ABOUT JOLLOF RICE
Jollof Rice is a traditional West African dish that is made with long-grain rice, tomatoes, tomato paste, onions, peppers, and spices. The key to any good Jollof is to use parboiled rice so that you don't end up with a mushy or creamy consistency similar to risotto.
This rice dish may include other ingredients or call for certain variations depending on personal preference and the specific region. For instance, the Ghanaian version of Jollof uses basmati rice or jasmine rice which provides a slightly sweeter flavor to the dish. It's what I've used in this recipe too! 
If you're looking to compare Jollof rice, one dish similar is Jambalaya.
HOW SHOULD I STORE JOLLOF RICE?
Leftover Jollof rice can be stored in an airtight container in the fridge for a week or in the freezer for up to 3 months.
Thaw the frozen rice in the fridge and reheat on the stovetop or in the microwave with a splash of stock or water if needed.
IS JOLLOF RICE A SIDE DISH?
Jollof is not traditionally considered a side dish. It's enjoyed as a main dish and can be paired with chicken, beef, fish, goat, or eggs. 
WHAT TYPE OF RICE IS BEST FOR MAKING JOLLOF?
I've used basmati rice for this recipe since the classic version calls for long-grain rice. Another long-grain rice that would work well is Jasmine rice. 
In Nigeria, Jollof is served with a salad that closely resembles coleslaw.
WHAT ARE THE OTHER NAMES FOR THIS RICE DISH?
Jollof rice is known by different names depending on the region. It's called "thiéboudienne or ceebu jen" in Senegal, "benachin" in Gambia, "zaame or nsamé" in Mali, "riz au gras" in the French-speaking areas of West Africa, and "Jollof" in the English-speaking regions of Sierra Leone, Liberia, Ghana, and Nigeria.
TIPS FOR MAKING JOLLOF RICE
This recipe makes a generous serving. You can halve the recipe if desired.
You may need to add more stock when cooking with long-grain rice that is thicker than basmati or Jasmine rice.
Jollof rice should not be creamy like risotto. To help prevent a creamy texture, it's important that you don't continually stir the rice while it cooks. Allow it to cook and only stir occasionally.
The rice must cook on very low heat during the cooking time to allow it to cook through, absorb the flavors, and not burn on the bottom of the pot. It's fine if there is slight browning on the bottom of the pot; in fact, it's quite delicious!
The habanero pepper adds a lovely red color to this dish. You could also use other types of red pepper, such as Red shepherd peppers which are sweet, or red bell peppers.
I've added frozen mixed vegetables to this rice but not all versions of Jollof rice include these vegetables. You can easily omit these veggies if you prefer.
More Comforting Rice Recipes To Try
Yield: 6 Servings
Jollof Rice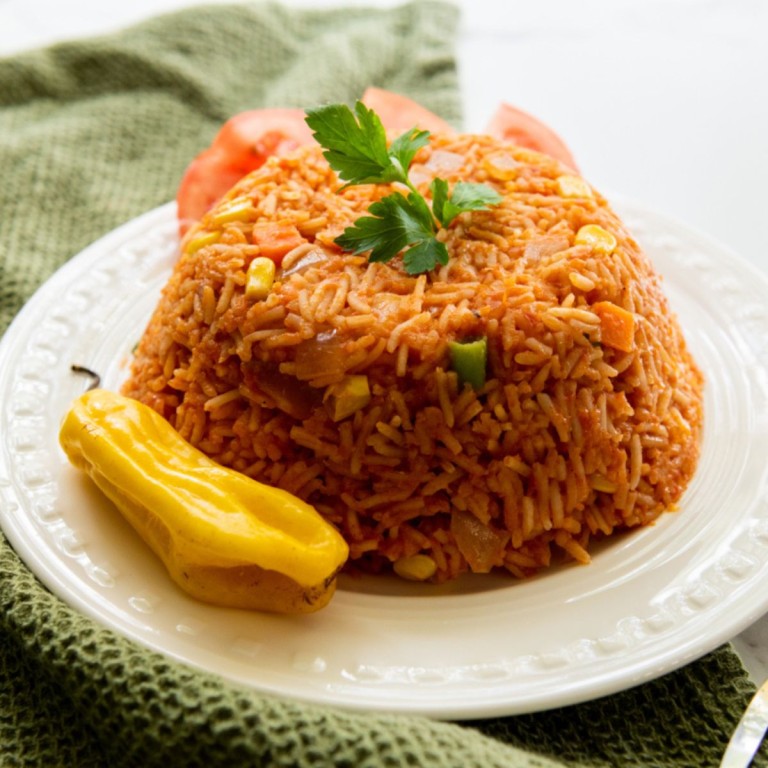 You'll love the the delicious and aromatic flavors in this simple Jollof Rice recipe!
Additional Time
15 minutes
Ingredients
2 ½ cup white Basmati rice
1 ½ cup vegetable or chicken stock
3 cubes chicken or vegetable bouillon
1 (12 oz) bag frozen mixed vegetables
2 large yellow onions
1 (28 oz) can diced tomatoes
1 (6 oz) can tomato paste
1/3 cup vegetable oil (plus a few extra tablespoons for cooking)
1 1-inch fresh ginger
1 habanero pepper
2 tsp garlic powder
Salt, & Pepper to taste
Instructions
Start by blending 1 ½ of your onions, vegetable oil, ginger, and habanero pepper until everything is a smooth paste. Transfer to a medium size bowl.
Then blend your diced tomatoes until smooth and transfer to the bowl with onion paste. You can mix until well combined.
Dice the remaining onion. Bring a pot to medium-high heat, add your remaining vegetable oil and sauté the onions for a few minutes, until it gets fragrant.
Then add the blended tomato/onion mix and cook until it starts cooking.
Add the rice and vegetable stock and cook on high, until it starts cooking.
Bring the heat as low as possible and cover with a lid. Cook for a total of 20-25 minutes.
After simmering for about 10 minutes, you can add the vegetables. Stir in well, until well combined and cover again, and cook for 15 more minutes.
Remove from heat and serve while hot.