Instant Pot Whole Chicken
This recipe for an Instant Pot whole chicken is a foolproof way to get perfectly juicy chicken every time. No more fussing with probe thermometers or worrying about overcooking the chicken — the Instant Pot does all the work.
Every time I put a chicken in the oven, I experience just a touch of anxiety. Will it end up dry? Will I cut into it and find it's slightly undercooked around the thighs? You know the feeling. But with this recipe, you can say goodbye to poultry-induced anxiety.
Yup, that's right, cooking a whole chicken in an Instant Pot is easy as… well, just about anything else you put in an Instant Pot! Just set it and forget it, and come back to perfectly cooked, juicy chicken ready to be carved and served to your adoring fans (ahem) I mean, family.
What is Instant Pot Whole Chicken?
Instant Pot Whole Chicken is a great way for beginners to cook a whole chicken. The result is a super flavorful, juicy chicken that is cooked all the way through. It is flavored with garlic, lemon, and Lawry's chicken seasoning.
Does the chicken need to be covered in liquid in the Instant Pot?
The chicken only needs a little bit of liquid in the Instant Pot and does not need to be submerged in liquid. In this case, we will use about a cup of chicken broth. The Instant Pot creates pressurized steam, which is very hot and can quickly cook whatever is inside. It needs liquid to turn into steam to function properly.
Can I use this recipe for chicken parts instead of whole chicken?
Absolutely! The recipe can be adapted for chicken parts like drumsticks, thighs, or breasts. The cooking time may be slightly different if you only cook chicken parts instead of whole chicken.
Recommended
Slow Cooker Pineapple Chicken
Dutch Oven Orange Roasted Chicken
Air Fryer Kung Pao Chicken
Tips & Recipe Notes
The general rule for cooking chicken in the Instant Pot is 4 minutes per pound. Your mileage may vary, but the recommended safe internal temperature for chicken is 165° F. If you aren't sure if your chicken is cooked through, you can use a meat thermometer to check the internal temperature, but the Instant Pot is a very reliable method for fully cooked chicken that stays super moist.
When it's time to crisp the chicken in the oven, you can pat it dry with paper towels or a clean kitchen towel to remove excess moisture and help it get crispier. You can also brush it with some extra olive oil or melted butter.
Make sure to let the chicken rest for at least 10 to 15 minutes before carving it to ensure it stays nice and juicy. It also helps to let the chicken cool a bit before cutting so you don't burn yourself!
Ingredient Substitutions
Lemons and garlic are amazing with chicken, but you can try out limes or oranges if you don't have lemons. Those options will create a different but still amazing flavor.
Lawry's chicken seasoning is delicious, but there are a lot of other delicious seasonings that would work instead. Try a classic poultry blend of sage, thyme, and rosemary or any other spice or herb blend you have on hand.
If you prefer, you can use vegetable oil or butter in place of canola oil.
Why do I need to tie the chicken legs together?
Tying the drumsticks helps the chicken cook evenly. If you don't have kitchen twine on hand, you can tuck the drumsticks under the chicken or use a strip of aluminum foil to secure them.
How should I store Instant Pot Whole Chicken?
Once the chicken has cooled, it should be stored in the refrigerator. My preferred method is to use my hands and a fork to remove all the meat from the bones and store it in an airtight bag or container. This makes it easy to use for things like chicken salad, quesadillas, or buffalo chicken dip. You can also store the whole chicken if you prefer.
Can I freeze Instant Pot Whole Chicken?
Freezing leftover chicken is a great way to ensure you always have an easy protein on hand to make a quick meal with. Remove the chicken meat from the bones and place it into a zip-top freezer bag or airtight container. The chicken will keep in the freezer for up to three months. Thaw the chicken in the refrigerator or on the countertop.
How to Reheat Cooked Chicken
To reheat a whole chicken that you have stored in the refrigerator, place it in a baking dish and heat in a 350° F oven for 15-20 minutes until cooked through.
If you removed the chicken from the bones, you can heat it through in a non-stick skillet. It should only take a couple of minutes.
FAQs
How long does chicken need to be in the Instant Pot?
A whole chicken cooking time will vary depending on the size of your bird. I recommend using a general guideline of 6 minutes per pound on high pressure with a resting time in the pressure cooker of about 15-20 minutes.

Here's a helpful guide:
4 pound chicken = 24 minutes on high pressure
5 pound chicken = 30 minutes on high pressure
6 pound chicken = 36 minutes on high pressure
7 pound chicken = 42 minutes on high pressure
Can I use an air fryer to brown the skin?
Yup! Just preheat the air fryer to 400 and place the chicken inside on a foil-lined tray for about 5 minutes. Keep an eye on it so it doesn't burn.
Can I cook a frozen chicken in the Instant Pot?
Yes, you can cook a frozen chicken in an Instant Pot. However, it has been my experience that thawed chicken really does work best. If you decide to cook your chicken from frozen, instead of the 6 minutes-per-pound rule, cook your chicken for 10-12 minutes per pound with a 20 minute natural release.
More Easy Instant Pot Recipes You'll Want to Make This Week
Instant Pot Tofu Curry
Instant Pot Butternut Squash Soup
Easy Instant Pot Hummus
Yield: 1 Chicken
Instant Pot Whole Chicken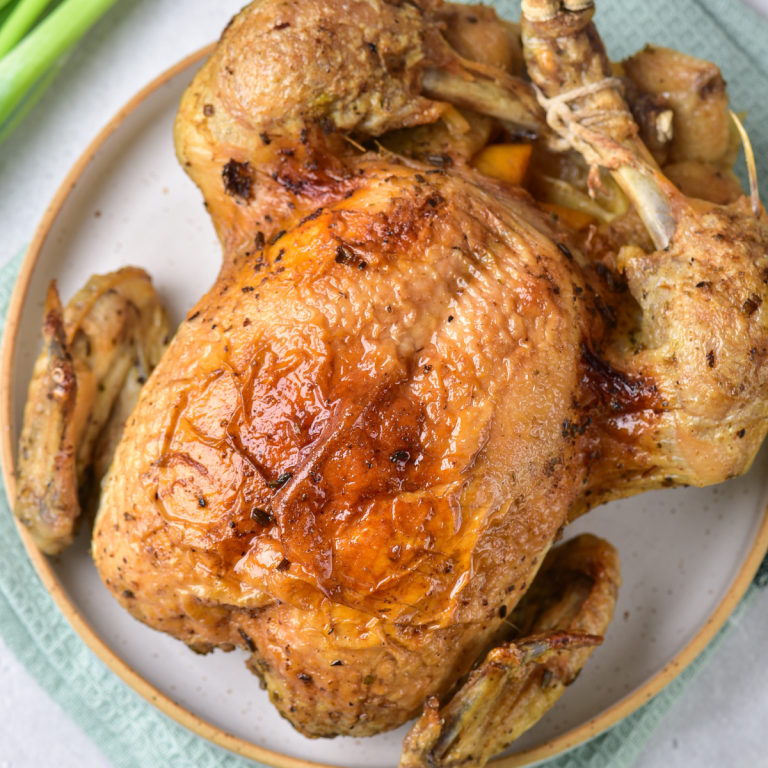 My Instant Pot Whole Chicken is easier to make than you think! It turns out moist, and the whole family will love it.
Additional Time
10 minutes
Ingredients
1 whole chicken (4 lbs)
1/2 cup chicken broth
4 tbsp olive oil
3 tsp Lawry's chicken seasoning
2 lemons
1 head of garlic
Instructions
Mix spices and olive oil in a bowl.
Wash the chicken and pat dry with paper towels. Rub the chicken inside and out with olive oil and spice marinade.
Wash the lemons and cut them into quarters. Cut the head of garlic in half crosswise.
Put the lemons and garlic inside the chicken.
Tie off the chicken drumsticks with a cooking string.
Put the chicken in the instant pot bowl on the metal stand. You can simply put the chicken in the bowl if there is no stand. Pour the broth into the bowl as well.
Preheat the oven to 400°F. Close the instant pot lid and set the pressure cooker to 25 minutes (4 minutes per lb). After the beep, leave the chicken inside the instant pot for another 15 minutes, then gently release the pressure and remove the chicken. Put it in a preheated oven to brown on top and gets a beautiful, crispy skin.