Instant Pot Tuscan Chicken
This Italian-inspired Instant Pot Tuscan Chicken offers fork-tender chicken in a creamy butter garlic sauce with spinach, sun dried tomatoes and Italian seasoning.
You're Going to LOVE This Easy to make Pressure Cooked Tuscan Chicken!
Make a delicious family-favorite meal in less than 30 minutes that can be served over pasta or freshly steamed rice to soak up all that creamy parmesan sauce. I love using my pressure cooker because it's just so easy to cook and clean!
This dish is incredibly versatile too. Add in additional vegetables like sliced mushrooms, double the sauce, or use chicken thigh meat instead of chicken breasts.
How to Store the Creamy Instant Pot Tuscan Chicken Dish
This Instant Pot Tuscan Chicken can easily be stored for up to 5 days in the refrigerator. Either transfer it to an airtight container or keep the leftovers in the Instant Pot inner pot with a silicone or glass lid.
This dish can also be stored in the freezer for up to 3 months in an airtight container which is great if you don't anticipate eating it within the week or plan on making it ahead of time. Thaw overnight in the refrigerator to reheat and enjoy.
How Should I reheat the Stored Instant Pot Tuscan Chicken?
You'll notice that your sauce will have thickened from storage which is totally normal.
I prefer reheating my Tuscan Chicken in the oven since I find that it heats the chicken more thoroughly than when doing so on the stovetop.
Add your chicken and sauce to a baking dish and add in a splash of water or broth to thin out the thickened sauce while heating in the oven. Give the chicken sauce a bit of a stir to incorporate the added water or broth and then cover with foil (this will help prevent your chicken pieces from drying out).
Reheat in the oven at 350℉ for 20-30 minutes. Reheated chicken should reach an internal temperature of 165℉ prior to being served. Use a Digital Instant Read Meat Thermometer to check for readiness.
What's Great to Serve with This Tuscan Chicken Recipe?
Serve your creamy Tuscan chicken over a bowl of al dente pasta, freshly steamed rice (white or brown), or cauliflower rice or zucchini noodles (for a low-carb option).
This dish will also pair beautifully with:
Take a look below for step by step visual directions of what your recipe will look like at certain stages of preparation!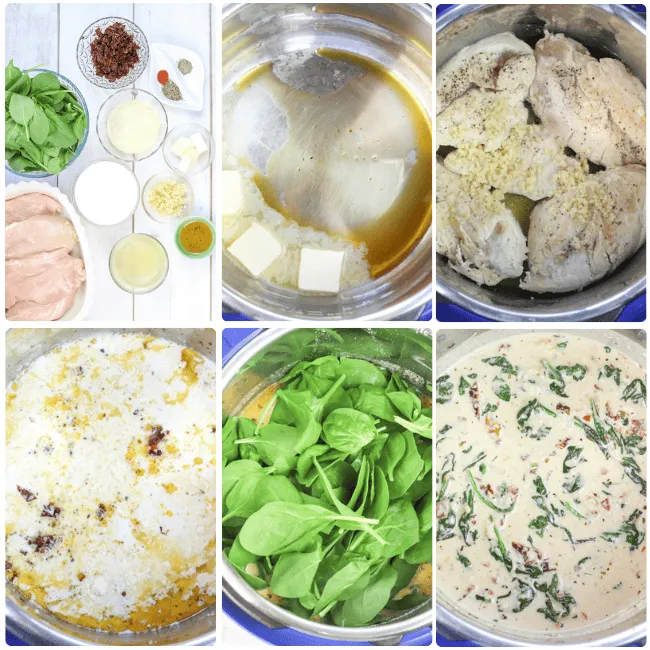 Tips for Making My Instant Pot Tuscan Chicken:
I love using the leftover sun-dried tomato oil from the jar of the sun-dried tomatoes since it gives the dish a boost of additional flavor. If it isn't available, simply use some olive oil instead.
Adding some sliced mushrooms to this Tuscan chicken is another great option. You can add them after the garlic, and sauté them for a couple of minutes.
My recipe calls for chicken breasts (skinless and boneless) but if you want to use chicken thighs instead, go right ahead! For bone-in, skin-on chicken thighs, adjust the cooking time to 8 minutes. For boneless skinless chicken thighs, pressure cook for 5 minutes.
While you can substitute the heavy cream with half and half, just be aware that you'll end up with a thinner, less creamy sauce.
If you're someone who loves lots of sauce with their food then double the whipping cream and parmesan cheese quantities.
I prefer using freshly grated cheese (in this case, parmesan) as it doesn't have an anti-caking coating that most pre-shredded cheeses have for extended shelf life purposes. Freshly grated cheese will always ensure that you end up with a smoother and better tasting sauce!
More Easy Recipes To Make For your Family:
Whether you're looking for a dessert, entrée, or dessert, these recipes are all super simple to make, and even better to enjoy!