Instant Pot Steel Cut Oats
Instant Pot Steel Cut Oats are soft and chewy oats cooked in your pressure cooker. There's no need to stand over the stove in the mornings stirring a pot of steel cut oats when you can just set your pressure cooker to do the work.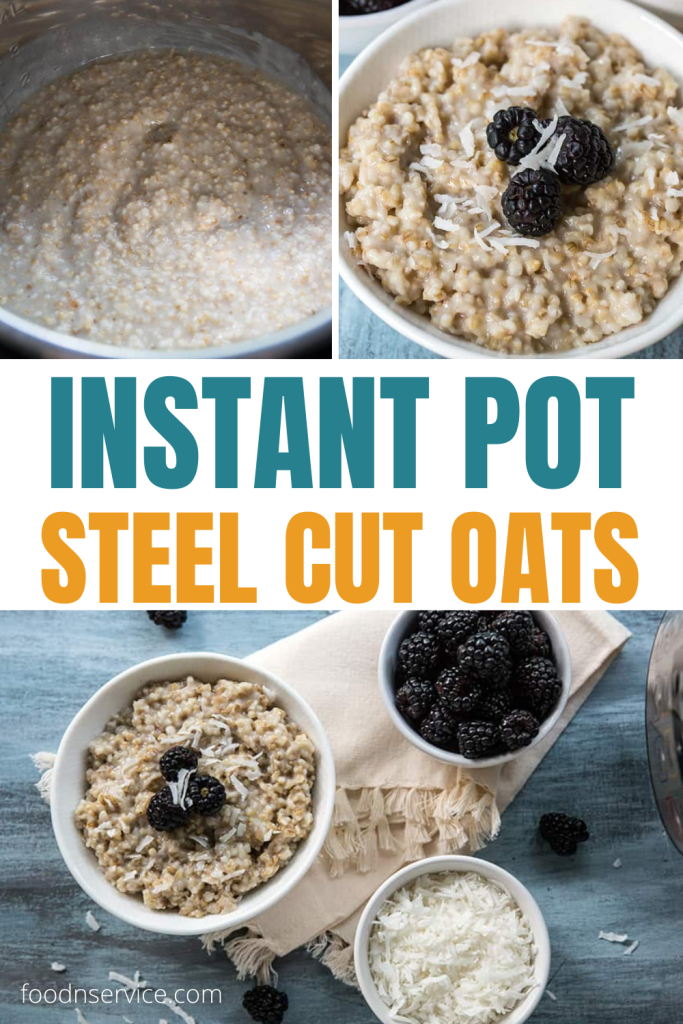 Can I tell you a secret? I never really liked sitting down to a bowl of oatmeal in the mornings because I just couldn't get used to the mushy and bland taste of rolled oats. When I tried my first bowl of steel cut oats I knew that I was missing out on something amazing.
After that first bowl of steel cut oats I knew that I wanted more. But, then I saw how long I was going to have to stand at the stove in the morning. Who wants to stand at the stove stirring oatmeal for 30 minutes before you've even had your second cup of coffee for the day?
Not me for sure. I researched how to cook steel cut oats in my Instant Pot and fell in love after the first time. I get the delicious taste and chewy texture of steel cut oats without having to stand in the kitchen in the mornings babysitting my breakfast.
Frequently Asked Questions About Instant Pot Steel Cut Oats
What is the difference between steel cut oats and rolled oats?
Manufacturing: The major difference between steel cut oats and rolled oats is the manufacturing process.  Steel cut oats are the least processed form of oat grains. Steel cut oats still have most of the bran intact.  Rolled oats typically have all of the bran removed for a quicker cook time. 
Nutrition: Steel cut oats tend to have fewer calories and contain more fiber than rolled oats.  Steel cut oats and rolled oats both have the same protein, carbohydrate and fat content. 
Texture: Steel cut oats still have the bran attached and that helps the oats absorb less liquid.  Since steel cut oats take on less liquid than rolled oats they do not get mushy and retain more of a chewy texture.
Cook Time: Steel Cut Oats take a much longer cook time then rolled oats.  Steel cut oats can take as long as 30 minutes on the stove to be fully cooked compared to just minutes for rolled oats. 
Can I make these Instant Pot Steel Cut Oats ahead?
Absolutely you can make Instant Pot steel cut oats ahead. These oats reheat well in the microwave or on the stove top. You can store them in a tightly sealed container in the fridge for up to four days. Making your oats ahead is great for a busy week.
Can I use quick cooking steel cut oats?
Yes and no. There is no reason that you cannot cook quick cooking steel cut oats in the Instant Pot. However, for them to turn out well you will need to adjust the cook time and the liquid amounts that you place in your Instant Pot, and you'll have a huge mushy mess.
What kind of milk should I use?
You can use water or any type of nut milk that you prefer. My favorite nut milk to use is almond milk. However, you can also use soy or coconut milk. If you decide that you want to try to use a dairy based milk, just keep in mind that occasionally it can cause your pot to give off the burn notice.
Additions and Flavor Variations
Fresh Fruit: Use any type of fruit that you like. I've used peaches, bananas, apples, blueberries, and strawberries but the options are endless.
Frozen Fruit: If you want to use frozen fruit add them to your Instant Pot when you are cooking your oats!
Nuts: Sprinkle on chopped nuts to give your oats a crunch. Or add in a teaspoon of your favorite nut spread for a creamy nutty taste.
Sweeteners: Use brown sugar, granulated sugar, molasses, maple syrup, honey, agave or any type of sweetener that your family prefers to make your oats sweet.
Spices: cinnamon, nutmeg, apple pie spice, pumpkin pie spice are great additions to bring more flavor.
Some of my favorite flavor combinations
Banana Bread: Sliced fresh bananas, dash of cinnamon and a small amount of brown sugar
Chocolate Peanut Butter: Cocoa powder, peanut butter or a teaspoon of powdered peanut butter and the sweetener of your choice
Apple Pie: diced fresh apples, apple pie spice and sweetener of your choice
Pumpkin Pie: pumpkin puree, pumpkin pie spice and sweetener of your choice
Instant Pot Steel Cut Oats Recipe
2 cups steel cut oats
5 cups water or nut milk of choice
How To Make
Place water and steel cut oats in the Instant Pot
Give it a stir so that the oats aren't all in one spot.
Place the lid on and turn the knob to sealed
Hit manual, change the time to 4 minutes.
Let pressure release naturally.
When you open the lid the oats will look super watery. Give it a good mix and water will absorb the rest of the way into the oats.
Spoon the oatmeal into bowls and top with your favorite toppings and seasonings
Cooking Tips
Using a nut milk helps prevent getting the burn notice on your Instant Pot
This recipe was written for a 6 quart Instant Pot. if you are using a 3 quart you will need to pay attention to the max fill line on your pressure cooker. If also using a three quart pressure cooker you will want to naturally release to prevent clogging your pressure release valve.
If you are using an 8 quart Instant Pot lower your cooking time by 3 minutes to make up for the increased pressure time.
More Instant Pot Recipes