Who doesn't love sitting down to a movie with a big bowl of fresh, hot popcorn? It's not a proper movie night without it! I have officially done away with store-bought popcorn now that I have this tasty and simple Instant Pot popcorn recipe, and I think you'll quickly be as obsessed with it as I am.
With just a few ingredients and your trusted Instant Pot, you'll get fresh, crunchy popcorn that's ready for your favorite toppings. You can never go wrong with the classic combination of delicious melted butter and salt, or try adding some of your favorite candy like M&Ms. The options are endless with this quick and delicious recipe that'll be ready in time for your favorite flick!
What is Instant Pot Popcorn?
Instant Pot popcorn is all of the delicious flavors of freshly popped popcorn, conveniently made in an Instant Pot! With just a touch of coconut oil, the popcorn comes out hot and perfectly popped. This recipe allows you to customize your popcorn simply by adding different toppings and candy for a delicious snack.
How Do I Store Instant Pot Popcorn?
If you have leftover popcorn (we never do!), store it in an airtight container or resealable bag to maintain its freshness and delightful crunch. It can be stored on the counter for up to a week, making it a great grab-and-go snack.
Can I Freeze Instant Pot Popcorn?
While I wish popcorn froze well, it, unfortunately, turns into a bit of a soggy mess upon defrosting. But that's ok because making this Instant Pot popcorn recipe is so quick! We always have the ingredients on hand so fresh popcorn is never far away.
Why Won't My Popcorn Pop in the Instant Pot?
To ensure this recipe works, you need to use fresh kernels. Expired kernels just don't want to pop no matter how hot they get. If you're using fresh kernels and many of them aren't popping, carefully and gently shake the Instant Pot. This will allow the kernels to fall to the bottom of the pot, get nice and toasty, and pop when heated. Keep in mind that even in fresh bags, not every kernel is going to pop, so remove your popcorn before it burns, and don't wait around for those lingering unpopped kernels.
What Kernels Are Best for Making Popcorn?
There are a lot of different kernels to buy for this recipe and most of them are great options! Here is a small list of different types of kernels so you know what to look for at the store.
Yellow Kernels: If you like bigger, crunchier pieces of popcorn (think movie theatre popcorn), then yellow kernels are what you want. Seasoning sticks to it well due to its larger surface, and it won't get soggy if you like your popcorn smothered in deliciously melted butter (I know I do!).
White Kernels: White kernels typically produce smaller, softer pieces of popcorn, which is great for smaller mouths or those who don't like crunchy popcorn. As they are smaller when popped, you may need more kernels to make enough popcorn.
Pre-Seasoned Kernels: I don't recommend pre-seasoned kernels for this recipe, as we are using coconut oil in our Instant Pot already.
Hull-less: Some popcorn kernels market themselves as being hull-less. There will still be hulls, but hull-less popcorn has much less than regular popcorn so you don't get bits in your teeth and gums.
Tips for Making Instant Pot Popcorn
Instant Pot sizes vary, so you may need to cook the popcorn in batches. If you're making popcorn for a large group, I recommend making it in batches. Overcrowding the pot won't allow the kernels to get hot enough to pop and it might just burn instead.
You can usually tell when popcorn is ready to be taken off the heat when the rate of popping changes. Just like microwave popcorn, the popcorn will pop slowly at first, then pop like crazy! Once it begins to slow down again, and there are about 3 seconds between each pop, it's ready to be removed from the heat and enjoyed!
When you add the kernels to the pot, be sure to give them a good stir to get them evenly and well-coated in the coconut oil.
Recommended
Instant Pot Rice Pudding
Instant Pot Pizza Dip
Instant Pot Boiled Peanuts
Substitutions
Coconut Oil: If you don't have coconut oil on hand, you may have another oil in stock that can be swapped out. This recipe also works well with clarified butter or canola oil. Clarified butter is butter that has been cooked to remove any water and solids. It tastes delicious and it has a higher smoking point, making it perfect for this recipe.
Toppings: This is such an easy recipe to customize! You can top your popcorn with classic flavors like butter and salt, your favorite popcorn seasoning, or candy. If you want to add some homemade savory flavor, try sprinkling it with garlic powder, onion powder, and a dash of cayenne!
More Delicious Recipes You'll Enjoy
If you like this delightful Instant Pot popcorn recipe, you'll want to try some of our other easy Instant Pot recipes! Try any from the list below.

The Best Instant Pot Strawberry Cobbler
Instant Pot Lava Cake
Instant Pot Monkey Bread
Instant Pot Chocolate Chip Bread Pudding
Instant Pot Peach Iced Tea
Yield: 4
Instant Pot Popcorn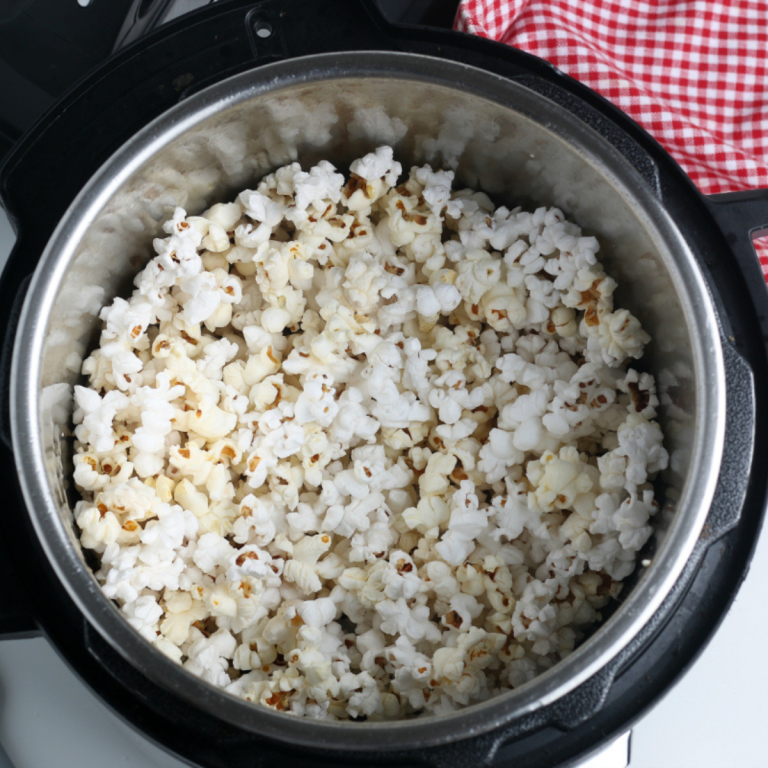 This Instant Pot popcorn recipe is a simple and delicious way to enjoy this classic snack!
Ingredients
2 tablespoons coconut oil
½ cup unpopped popcorn kernels
½ teaspoon salt
Toppings
Instructions
Set the Instant Pot to Saute.
Add the coconut oil and allow it to melt.
Add the popcorn kernels to the melted coconut oil and stir the kernels to coat them.
Cover the Instant Pot with a clear glass lid and cook for 5-6 minutes or until the popcorn stops popping.
Carefully transfer the popcorn to a large bowl and sprinkle it with salt.
Enjoy with your favorite toppings or seasonings.