Instant Pot cheesy chicken and pasta dish I made last night was a HUGE hit with my family! My family is loving the Instant Pot, as I am able to get dinner done and served in under 30 minutes. That's a HUGE sigh of relief in my home as I have such a busy day before trying to get dinner started. Time escapes me, and I wind up taking over 1 1/2 hours to making a full meal for my family. In fact, I have used my Instant Pot 3 times this week, and am planning on a fourth soon! This week I made Sausage & Peppers and then Tex Mex Chili in my Instant Pot. Go and grab the recipes because they're super simple and definitely delicious!

My family adores and chicken, and they love them some cheese. So of course, it was an easy thing to try to cook. The only thing that I was concerned about was, "What type of pasta" I should use. Common sense kicked in and told me that I would need a thick and hearty pasta too cook with the chicken. So I used an orecchiette bag of pasta that I already had on hand. You can use different pasta with it, such as penne and rigatoni.


CLICK THE "SAVE THIS!" Button to Pin on Pinterest for later!

I hope you enjoy this super duper easy and delicious instant pot cheesy chicken and pasta recipe!


Yield:

8
Instant Pot Cheesy Chicken And Pasta
Ingredients
Approximately 2 pounds of skinless boneless chicken breasts cut into 1" chunks (Approximately 5 breasts)
1 tablespoon of EVOO
4 tablespoons of salted butter
1 bag of orecchiette pasta (1 pound bag)
2 cups of whole milk
2 cups of water
1 tablespoon of yellow mustard
1 teaspoon sea salt
1/2 teaspoon black pepper
4 cups of shredded mild cheddar cheese
Instructions
Press sauté mode button, add EVOO, and allow to heat.
Once heated, add chicken breast chunks. Stir occasionally. You just want to slightly sear the chicken.
Once seared, add water, salt, pepper, and pasta. Lock lid in place, and close vent. Cook on high manual pressure for 8 minutes and NPR for 5 minutes. Release any remaining pressure and remove lid.
Add all remaining ingredients, and stir well until cheese is melted.
Notes
PLEASE NOTE: If you decide to use other types of pasta, reduce the time to 6 minutes high manual pressure time. This type of pasta is more dense than most, so it takes an extra minute or two to cook thoroughly with the chicken.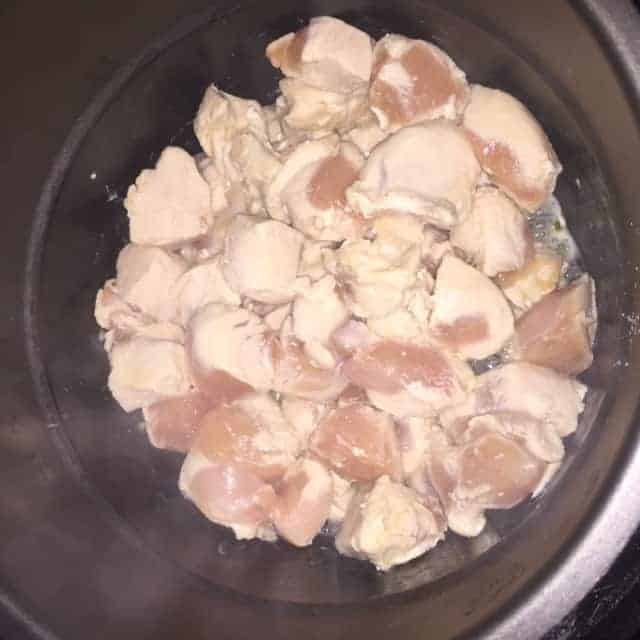 You will not have made an easier or delicious meal in your Instant Pot. My Instant Pot cheesy chicken and pasta is going to be a HUGE hit in your home, too! Please note: IF you're using a 6 quart Instant Pot, you will have to adjust your liquid some by using a little less. When I get a 6 quart Instant Pot, I will update the recipe for you!
Other Delicious Instant Pot Recipes To Enjoy: