Making a pot of fluffy rice couldn't be easier, thanks to the Instant Pot – no more standing over the stovetop, waiting for the water to boil!
This basmati rice is fragrant and fluffy with a slightly nutty flavor – perfect as a side dish to various main meals or as an ingredient in casseroles, salads, and one-pan meals.
WHAT YOU NEED TO KNOW ABOUT INSTANT POT BASMATI RICE
Basmati rice is a long-grain rice that is most commonly grown in regions such as India and Pakistan.
This type of rice has a fragrant aroma, is delicate in texture, and has a slightly nutty flavor – perfect for dishes that require the rice to remain fluffy and separate.
Basmati rice can be white or brown, depending on the refinement process used, and is generally more expensive than other types of rice.
HOW SHOULD I STORE INSTANT POT BASMATI RICE?
Allow the cooked basmati rice to cool completely before transferring it into an airtight container to be stored in the fridge for 4-6 days or the freezer for 3-6 months.
Thaw frozen basmati rice in the fridge overnight or at room temperature.
HOW TO REHEAT COOKED BASMATI RICE PROPERLY
One of the biggest mistakes when reheating leftover rice is the tendency to make it dense and mushy. It doesn't take a lot of skill to reheat leftover basmati rice, but you should definitely keep a few things in mind:
Reheating in the microwave: Place the rice in a microwave-safe dish and sprinkle some water over it. Place a microwave-safe lid or clean towel over the dish and reheat on HIGH for 1-2 minutes. Stir the rice with a fork after this time. If the rice hasn't heated through, add another 30 seconds to 1 minute to the cooking time.
Reheating in the oven: Preheat the oven to 350 F and place the leftover rice in an oven-safe dish with a sprinkling of water over the rice and cover with aluminum foil. Bake for 10-15 minutes.
Reheating on the stove: Heat a small amount of oil or butter in a non-stick pan and add the rice, heating it for a few minutes over medium heat.
Reheating in a steamer: Add the leftover rice to a steamer basket and steam it for 5-10 minutes. This option is ideal if you have a bamboo steamer, but a wooden or plastic steamer will also work.
WHAT CAN I PAIR WITH INSTANT POT BASMATI RICE?
This basmati rice is perfect with curries, stews, stir-fries, rice-based salads, and casseroles like chicken and rice casserole that call for rice as an ingredient, or it can be served as a side dish to grilled meats, roasted vegetables, and other main meals.
Basmati rice is an extremely versatile ingredient for various recipes and dishes.
SUGGESTED MEALS TO MAKE
Air Fryer Sesame Chicken
Air Fryer Kung Pao Chicken
Instant Pot Lentil Curry
Instant Pot Chicken Tikka Masala
IS BASMATI RICE HEALTHY?
Absolutely! Basmati rice is low in fat, rich in complex carbohydrates, is a great source of fiber, and is gluten-free! As with any type of food, always eat in moderation and aim for a well-balanced diet.
TIPS FOR MAKING INSTANT POT BASMATI RICE
This recipe can easily be doubled or tripled without adjusting the cooking time. If you adjust the cooking time, the texture of the rice will be affected.
I've used a 6-quart Instant Pot for this recipe. You can use a smaller or larger Instant Pot without any of these recipe steps being affected.
Don't use minute rice for this recipe. Long-grain white rice works best for beautifully fluffy rice!
Yield: 2 Cups
Instant Pot Basmati Rice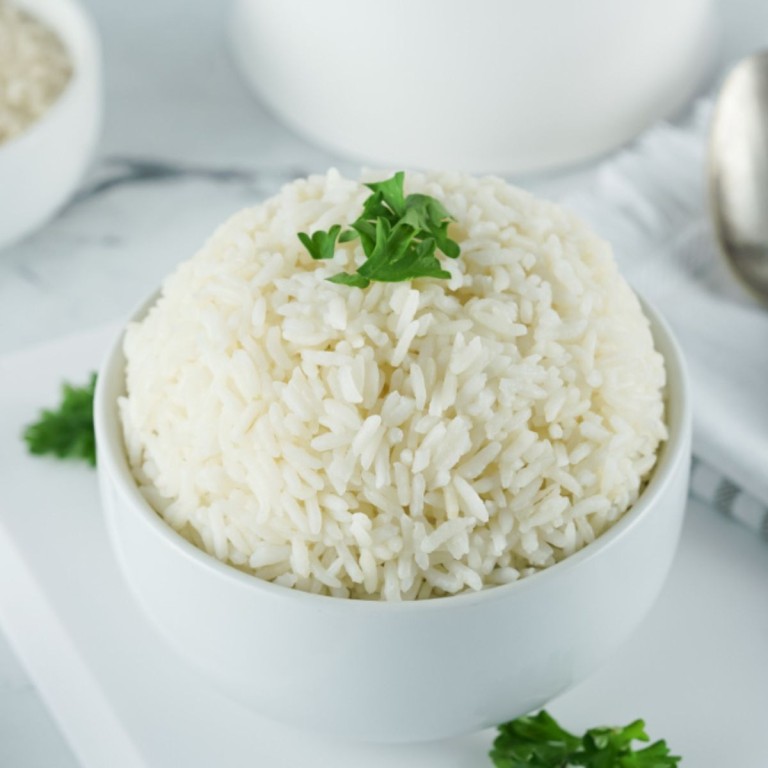 Skip the stove with all those steps and make rice in the instant pot instead! Quick easy and you can just toss it in and not have to wait for the water to boil. No hovering over the stove involved with this perfect rice every time.
Ingredients
● 1 ¼ Cup Water
● 1 Cup Basmati Rice
Instructions
Combine the ingredients in the insert of your instant pot.
Place the cover on and set to high pressure/manual for 3 minutes.
It will take about 7 minutes to pressurize before the 3 minutes will start counting down.
Let it naturally release for 10 minutes.
Fluff the rice with a fork and enjoy!