Instant Pot Baby Back Ribs
These juicy, fall-off-the-bone Instant Pot baby back ribs are seasoned with a delicious dry rub, fast-cooked in the pressure cooker, then broiled for the absolute perfect flavor and tenderness, all in less than an hour.
I used to think you had to cook ribs 'low and slow' to get that 'fall-off-the-bone' texture. But as usual, the Instant Pot changes everything!
These ribs take less than 30 minutes of time in the pressure cooker, and they might be the best I've ever made. We ate up every single bite – and licked our fingers, too! The dry rub contains cumin, a common seasoning in a rib rub, so you get that classic, smokehouse flavor.
It's so simple to make this recipe for Instant Pot ribs, I'm sure it's going to become one you grab every time you need a quick meal for your family or guests.
Baby Back Ribs vs Side Ribs
When ribs are cut from a pig, they are often cut into 2 smaller racks. The uppermost portion that connects to the ribcage become the well-loved baby back ribs. The lower portion that wraps around the side othe pig becomes the fattier, meatier side ribs. Depending on how these racks are cooked, they can both be tender, juicy, and incredibly flavorful.
Can I Cook Side Ribs in My Instant Pot Instead?
If you have side ribs around instead of back ribs, you can absolutely replace them in this recipe. You will want to adjust the cook time, however. Allow your side ribs to cook on high for 35 minutes, then give them a complete natural release. Because side ribs are meatier, they need the extra time to cook through and still be tender.
How Do You Store and Reheat Ribs?
To store leftover ribs, wrap them in plastic or tightly wrap in foil to keep them from drying out in the fridge. They'll last 2-3 days.
To reheat, you can microwave them in 30 second increments until hot, or use the oven. The oven method will take a bit longer, but will yield a result more like fresh cooked ribs. Keep the ribs wrapped in foil and place on a baking sheet in a 250 degree oven until hot throughout. This may take 20-25 minutes. Check on their temperature often, and baste with more sauce if you'd like.
Can I Freeze Instant Pot Ribs?
Yes! You can freeze your Instant Pot ribs for 2-3 months. Keep them tightly wrapped in plastic and in an airtight container. Allow to thaw in the fridge before reheating
Can I Make Instant Pot Baby Back Ribs From Frozen?
Yes! You can make baby back ribs in your Instant Pot from frozen. However, you'll need to have cut and cleaned your ribs beforehand. They should have the membrane removed, and are best cut into pieces of 3-4 bones each.
Follow the instructions above, then cook them on high for 45 minutes and allow the pressure to completely release naturally.
Tips for Making the Best Instant Pot Ribs
For fall-off-the-bone ribs, make sure your racks aren't too big. 3-Pound racks seem to work best cut into 2 or 3 pieces.
Always remove the white membrane before cooking your ribs. It's a thin, almost invisible layer on the back side of your ribs. Use a small paring knife to separate the membrane from your rib meat.
Before removing your ribs from the Instant Pot, use a fork to check their texture and doneness. If they aren't cooked through, cook on high for another 5 minutes and allow the pressure to release. If they are cooked but too tough, cook for another 10-12 minutes an again, allow the pressure to release.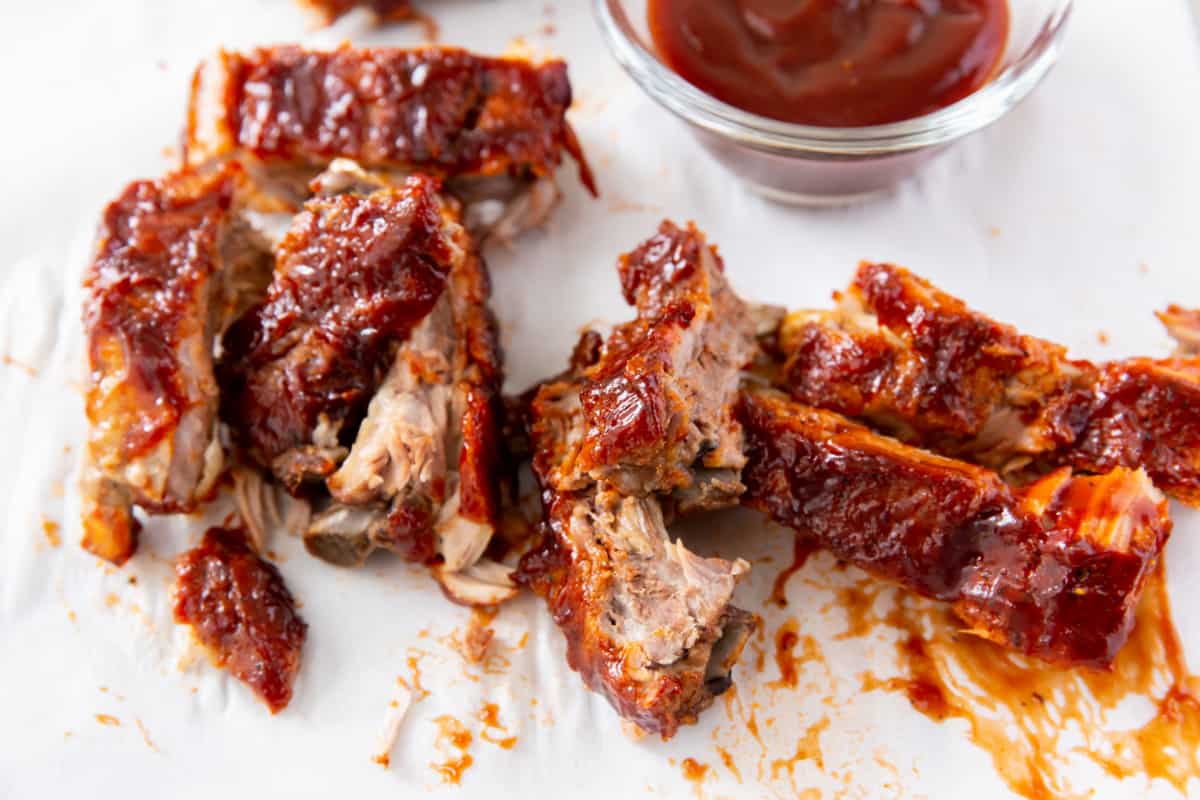 Recommended
Crockpot Pulled BBQ Pork
Crockpot BBQ Pork Roast
Instant Pot Pork and Beans
Instant Pot Baby Back Ribs
Unbelievably flavorful, finger-licking delicious, and so easy to make, these Instant Pot baby back ribs are sure to be a family favorite, regular go-to dinner. A quick dry rub, 30 minutes in the Instant Pot, and a few minutes under the broiler are all you need to make restaurant-quality ribs in your own kitchen.
Notes
These are excellent with or without sauce. Because the dry rub doesn't have any sugar, a sweet BBQ sauce will work well.
If you like your ribs spicy, add a ½ tsp of cayenne to the dry rub.
More Quick and Easy Dinner Recipes You'll Enjoy
If you like this Instant Pot baby back ribs recipe, you'll want to try some of our other dinners and side dishes as well! Try any from the list below.
Instant Pot Chicken Tikka Masala
Instant Pot Tuscan Chicken
Air Fryer Honey Garlic Chicken
Instant Pot Butter Potatoes
Instant Pot Cube Steak
Instant Pot Easy Cheeseburger Pie
Easy Pizza Bites
Yield: 1 Rack
Instant Pot Baby Back Ribs
These Instant Pot Baby Back Ribs are fall off the bone tender! Bursting with flavor, these ribs taste like they were made at your favorite BBQ joint! Make the best pork ribs in under an hour with your pressure cooker.
Additional Time
10 minutes
Ingredients
3.5 pounds of baby back ribs
1/2 cup water
1 tsp salt
1/2 tsp black pepper
1 tsp cumin
1 tsp paprika
1 tsp garlic powder
1 tsp onion powder
1/2 cup favorite BBQ sauce
1/2 cup apple cider vinegar optionally in addition to the 1/2 cup of water
Instructions
First combine all of the spice ingredients into a small bowl to make the dry rub.
Next coat the ribs evenly with rub.
Then put the trivet and the water and optional apple cider vinegar into the bottom of the Instant Pot.
Place the baby back ribs into the Instant Pot, curling it or slicing it in half so it'll fit into the Instant Pot.
Place the lid on the Instant Pot and make sure the knob is set to "sealed." Hit "manual" then select "high" and change time to 18 minutes.
Allow the Instant Pot to perform a 10 minute "natural pressure release" and then carefully release the rest of the pressure.
Next, turn your oven to broil (high). Line a baking sheet with aluminum foil.
Transfer the ribs to the baking sheet. Coat your ribs with your favorite barbecue sauce. Then place the ribs under the broiler for 6-7 minutes or until the barbecue sauce starts to caramelize.
Remove the ribs from the oven and coat with a little more BBQ sauce if desired