Halloween is the time of year when ghouls, ghosts, and things that go bump in the night come out to play – that includes these creepy Halloween mummy recipes. And what better way to celebrate this spooktacular season than by conjuring up some wickedly tasty treats?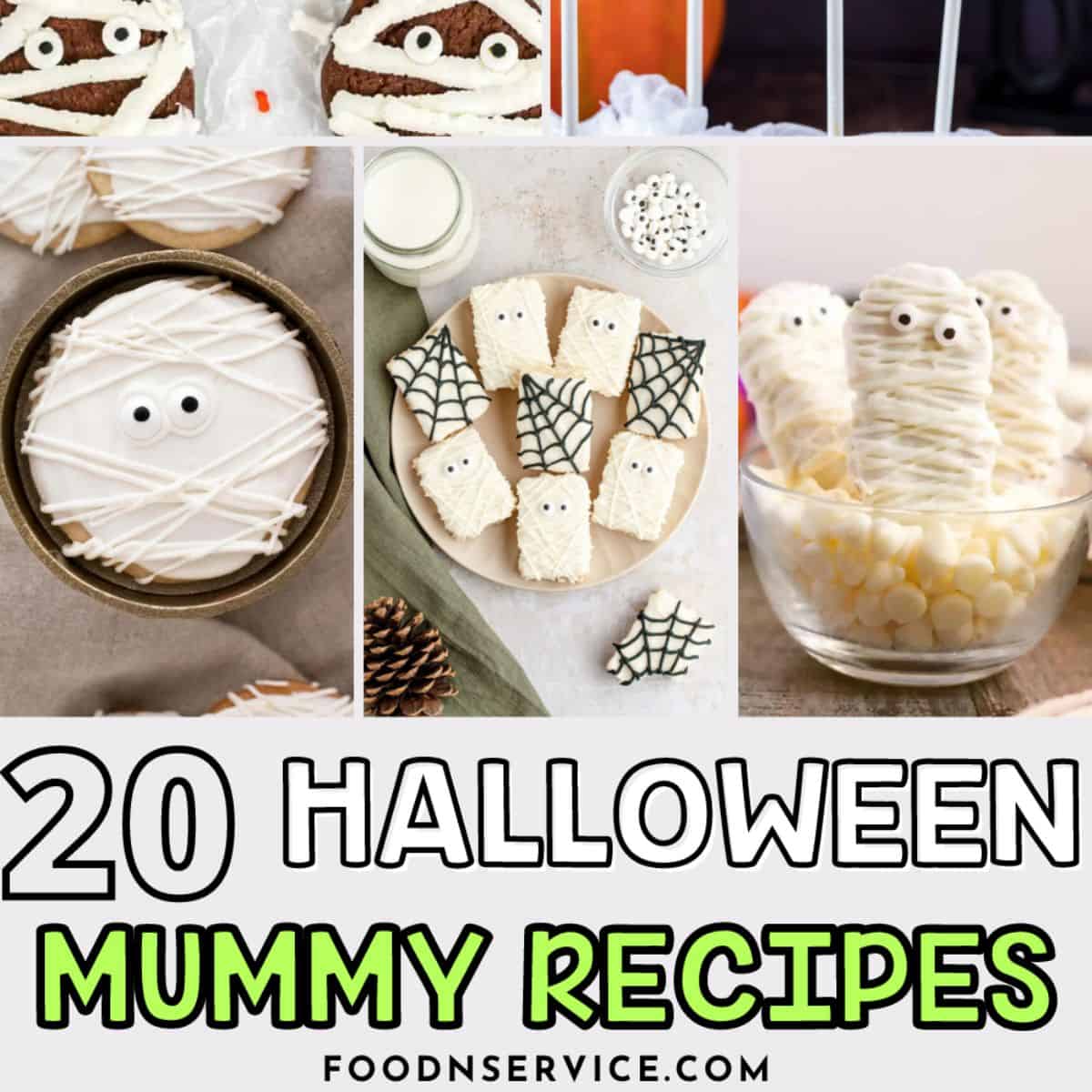 In this chillingly delightful post, we're unwrapping a collection of Halloween Mummy Recipes that are sure to cast a spell on your taste buds and thrill your guests. From savory snacks that resemble ancient pharaohs to sweet delights that playfully mimic the tightly wrapped tombs, we'll guide you through every step of creating these scary sweet delights.
So, grab your apron, sharpen your fangs, and let's embark on a culinary adventure that will leave everyone hauntingly impressed. Get ready to mummify your menu and turn your Halloween gathering into a truly memorable feast
RECOMMENDED READING
Halloween Monster Cupcakes
Mummy Peanut Butter Sugar Cookies
Witch Hat Cookies
Easy Frankenstein Cupcakes
Edible Broken Glass Cupcakes
Halloween Mason Jar Crafts
Tips and Pointers for Creating Perfect Halloween Mummy Recipes:
Before we dive into the list of delicious recipes, here are some handy tips and pointers to ensure your mummy creations are a hit:
Puff Pastry Magic: Many mummy-themed recipes use puff pastry or crescent roll dough to create the iconic wrapped mummy look. Be sure to keep your dough chilled until ready to use, as cold dough will be easier to work with and will puff up nicely in the oven.
Eye-Catching Eyes: Mummies aren't complete without their signature spooky eyes peeking through the wraps. You can use olives, small tomatoes, or even sliced cheese to create the eyes. Get creative and use different sizes for a fun twist.
Saucy Details: To give your mummies that extra touch, consider using sauces or condiments to create "bandage" lines. Ketchup, mustard, and mayo can be applied in thin lines before baking to mimic the look of wrapped mummy bandages.
Assembly Order: When layering your ingredients for savory recipes, remember to place the filling on the dough before wrapping it up. This will ensure that the mummy's bandages stay neatly in place.
Sweet and Savory Balance: Mix and match your mummy recipes with a balance of sweet and savory options. This way, you'll have something for everyone to enjoy, whether they're craving something sugary or salty.
OREO MUMMY POPS
MINI HALLOWEEN MUMMY COOKIES
MUMMY BROWNIES
MUMMY SHORTBREAD COOKIES
BREAKABLE HALLOWEEN MUMMY CANDY BOMBS
SPOOKY MUMMY OREO BALL
MUMMY JALAPENO POPPERS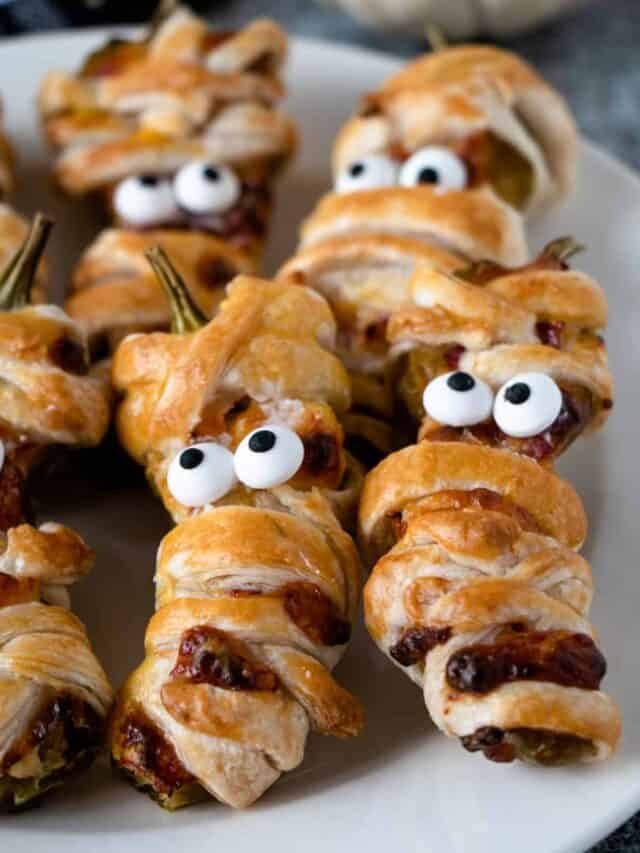 Jalapeno peppers filled with an herb cream cheese/cheddar cheese blend and wrapped with crescent dough to create delectable mummies perfect for Halloween.
Add a couple of candy eyes, then bake, and you've got a delicious Halloween appetizer, aka Mummy Jalapeño Poppers.
Get the full recipe from FoodnService
MUMMY AND SPIDER WEB RICE KRISPIES TREAT
MUMMY PIZZAS
EASY MUMMY RICE KRISPIE TREATS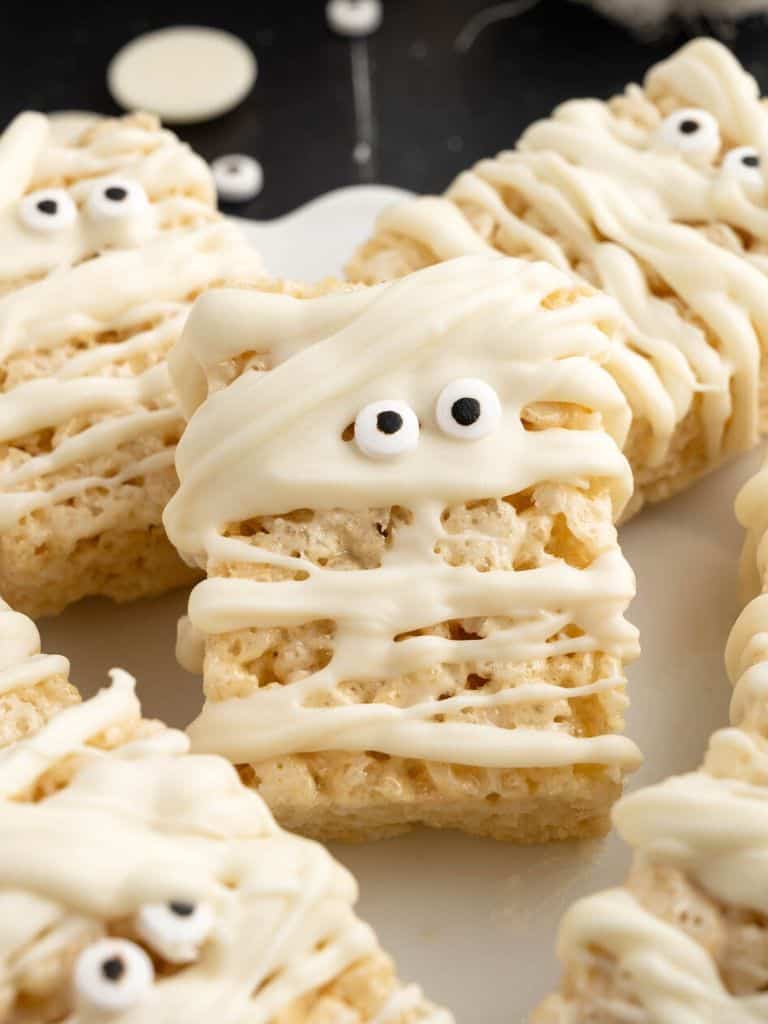 MUMMY HALLOWEEN CHERRY HAND PIES
These adorable mummy cherry pies are the perfect spooky Halloween dessert! This ghoulish recipe is perfect for a Halloween party snack board or just as a special sweet treat for the family. One way to add a little extra fun is to make a spooky treat, and these Mummy Cherry Pies check all the right boxes. Fast, easy, and the perfect mix of semi-homemade and spooky fun mummy recipes.
Get the full recipe from On My Kids Plate
MUMMY COOKIES
BLACK COCOA MUMMY COOKIES
MUMMY MEATBALLS HALLOWEEN APPETIZER
WHITE CHOCOLATE HALLOWEEN CANDY APPLES
HALLOWEEN CHOCOLATE APPLES – DIPPED SLICES
MUMMY HOTDOGS
MUMMY HALLOWEEN BROWNIE BITES
MUMMY NUTTER BUTTERS
Mummy Nutter Butter cookies are sweet, chocolaty, and an adorable Halloween treat. Perfect for parties, this easy no-bake treat looks adorable on party trays. Expect these cookies to taste their best for about five days when stored in an airtight container on the counter.
Get the full recipe from On My Kids Plate
Frequently Asked Questions About Halloween Mummy Recipes:
Can I prepare these mummies in advance?
Absolutely! You can wrap the hot dogs in the pastry ahead of time and store them in the refrigerator.
Are these recipes kid-friendly?
Yes, these recipes are perfect for kids! In fact, getting children involved in the assembly process can be a fun and engaging activity. Let them help create the mummy wraps and add the eyes for a memorable cooking experience.
Can I make a larger batch for a party?
Of course! Simply adjust the quantities based on the number of guests. You might want to consider preparing a variety of mummies with different types of sausages or condiments for added variety.
How do I ensure the puff pastry cooks evenly?
Placing the wrapped mummies on a parchment-lined baking sheet and brushing them with egg wash helps achieve even browning and a crispy texture.
Can I add other toppings to the mummies?
Absolutely! Get creative with your mummy toppings. You could add minced herbs, grated cheese, or even a sprinkle of poppy or sesame seeds for added texture.
These Halloween mummy recipes offer a creative and spooktacular way to celebrate the season. From savory treats to sweet delights, these culinary creations are sure to bewitch your taste buds and delight your guests.
Whether you're throwing a Halloween party, preparing a festive family dinner, or simply looking for a fun culinary project, these mummy-themed dishes are a fantastic choice.
With ingredients that are easily accessible and step-by-step instructions that cater to both novice and experienced cooks, these recipes provide a range of options to suit various preferences.
The visual appeal of the mummy-inspired presentation adds an extra layer of excitement to the dining experience, making each dish a memorable centerpiece for your Halloween festivities.