Halloween Graveyard Recipes
Unearthly delights and spine-tingling bites await as we step into the eerie realm of Halloween graveyard recipes. As the air turns crisp and the moon casts its ghostly glow, we gather around tombstone-shaped treats and cauldrons bubbling with sinister concoctions.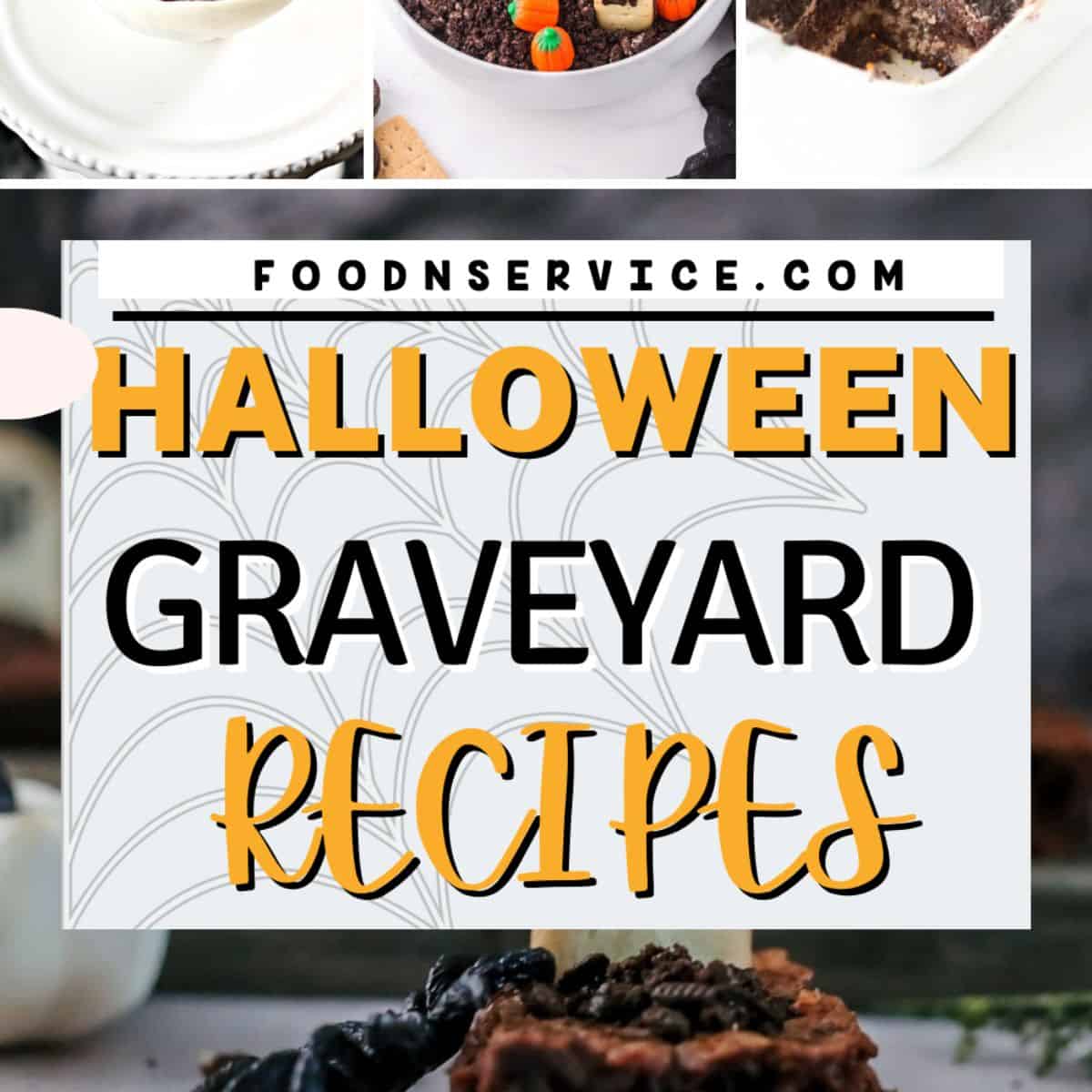 This is no ordinary feast; it is a celebration of flavors designed to delight and spook in equal measure. In this spooktacular post, we'll delve into the creative depths of the Halloween spirit, unearthing recipes that breathe life into the afterlife.
Halloween, a night when the boundary between the living and the supernatural world seems to blur, is a time of exhilarating excitement and eerie enchantment. And what better way to embrace the spirit of this enigmatic occasion than by conjuring up a collection of spine-chilling yet delectable dishes that pay homage to the restless souls of the past?
RECOMMENDED READING
Halloween Macarons Recipes
Easy Halloween Craft Ideas
Awesome Halloween Table Centerpieces
DIY Halloween Cupcake Ideas
Pumpkin Cheesecake Mummy Truffles
Tips for Creating Halloween Graveyard Recipes
Choose the Right Base: Start with a suitable base for your graveyard, like a large platter or cake board. A dirt-like surface, such as crushed chocolate cookies or brownie crumbs, works well as the ground.
Tombstone Treats: Create tombstone-shaped treats using sugar cookies, fondant, or even Rice Krispie treats. Decorate them with humorous or spooky epitaphs like "RIP Diets" or "Here Lies My Cell Phone."
Edible Skeletons: Craft edible skeletons from pretzel sticks and mini marshmallows. They can be "rising" from the ground or leaning against tombstones for a creepy effect.
Candy Coffins: Mini candy coffins can be made from graham crackers or chocolate bars. Fill them with gummy worms or other creepy-crawly candies.
Worms and Snakes: Gummy worms, jelly snakes, and other slimy candies can be placed throughout the graveyard to give it a creepy-crawly feel.
Haunted Trees: Use black licorice sticks or pretzel rods to make spooky, leafless trees. Stick them into the ground and add edible spiders for a more eerie look.
Mossy Mound: Create mossy mounds by using green-tinted coconut flakes or crushed green candies to give the illusion of overgrown graves.
Edible Eyeballs: Make edible eyeballs from peeled grapes with a chocolate chip for the pupil. Place them strategically to give the impression of lurking eyes.
Ghostly Apparitions: Marshmallow ghosts can hover over the graveyard. Use food coloring markers to give them ghostly faces.
Creepy Pathways: Create pathways within the graveyard using crushed graham crackers or cookie crumbs to make it look like a spooky walkway.
Edible Dirt: Use crumbled Oreo cookies or crushed chocolate graham crackers to add texture to the "dirt" in your graveyard.
Edible Coffin Cakes: Make individual coffin-shaped cakes with chocolate or red velvet cake and decorate them with dark chocolate ganache for a realistic coffin look.
Bloody Good Sauce: Drizzle raspberry or strawberry sauce for a "bloody" effect on your desserts or tombstones.
GRAVEYARD HALLOWEEN BROWNIES
Graveyard Halloween Brownies are a fun and simple way to add spooky ambiance to your Halloween party treat table. It's an easy, no fuss recipe featuring brownies made from a mix and creative toppings.
Get the full recipe from: Dish the Kitchen
GRAVEYARD BROWNIES
Halloween Graveyard Brownies are a fun and spooky dessert to serve at parties. Whether you're throwing a small party, bringing them to a class party, or enjoying them with your family while watching spooky movies, graveyard brownies will be a total hit! All you need is a box of brownie mix and edible tombstone decor.
Get the full recipe from My Mini Chefs
CHOCOLATE RICOTTA 6 FEET UNDER CAKE
Looking for a delicious treat that is as boo-tiful as it is spooky? Enter this layered Chocolate Ricotta 6 Feet Under Cake. This faBOOlous dessert starts with a Devil's Food cake mix, naturally. In just a handful of steps and you will have yourself some fun eats.
Get the full recipe from Cutefetti
COFFIN CRISP MUMMIES IN A GRAVEYARD HALLOWEEN TREAT
Halloween is such a fabulously fun time of year! The holiday lends itself to the best crafts and has hands down the most fun treats! Whether you want to go full-on creepy or a little bit cute, you are never at a loss for festive activities around All Hallows' Eve!
The Scary bar multipack box and treat-size single flavor packs feature ghoulishly dressed-up bars that are guaranteed to get you into the Halloween spirit.
Get the full recipe from Mom Vs The Boys
GRAVEYARD DIRT CUPS
HALLOWEEN GHOST SANDWICH COOKIES
HALLOWEEN DIRT CUPS WITH CHOCOLATE CHEESECAKE FILLING
HALLOWEEN DIRT CUPS
GRAVEYARD CHOCOLATE CHEESECAKE DIP
HALLOWEEN GRAVEYARD CAKE
FESTIVE HALLOWEEN DIRT CUPS
CUTE DIY HALLOWEEN PUDDING BOWLS
SPOOKY GRAVEYARD CHOCOLATE MOUSSE
HALLOWEEN GRAVEYARD CAKE
Frequently Asked Questions About Halloween Graveyard Recipes
Can I customize these recipes to my dietary needs?
Absolutely! Many of these recipes can be adapted to suit various dietary preferences or restrictions. Whether you're looking for gluten-free, vegan, or other alternatives, you can find substitutions for most ingredients.
Are these recipes suitable for kids?
Most of these recipes are kid-friendly, but some might be a bit more intricate and involve adult supervision. Feel free to adapt them to suit the age group you're catering to. So if you're wanting to have fun with your kids and make any one of the Halloween graveyard recipes, go ahead!
How can I make sure my graveyard-themed treats are safe to eat?
Always use food-safe materials for decorations and ensure that any non-edible elements are clearly indicated. If you're using toothpicks or skewers for assembly, make sure to remove them before serving.
Can I prepare these recipes in advance?
Many components of these recipes can be prepared in advance, such as baking cookies or making edible decorations. Assemble the final dishes closer to the serving time to keep them looking fresh and spooky.
These Halloween graveyard recipes offer a delightfully eerie and creatively delicious way to celebrate the spookiest time of the year. From savory to sweet, these culinary creations provide a perfect blend of fright and flavor that will surely impress your guests and ignite the Halloween spirit.
Whether you're crafting a tombstone-shaped sandwich, conjuring up a haunted graveyard cake, or assembling creepy-cute snacks, these recipes invite everyone to partake. So, as Halloween night approaches, embrace the fun and excitement of transforming your kitchen into a playful graveyard, where every bite is a treat and every dish tells a ghoulish tale.
As you gather around the table with friends and family, these Halloween graveyard recipes will infuse your festivities with a perfect balance of fun and fright, turning your culinary creations into a memorable and enchanting experience for all. Happy Halloween!