From concoctions that bubble and smoke to elixirs that shimmer in the moonlight, these Halloween drink recipes will introduce you to a collection of chillingly charming beverages that pays homage to the spirit of All Hallows' Eve. Each sip tells a tale of dark allure and mystique, designed to transport you to a realm where the mundane transforms into the magical.
Join us as we journey through a realm of mixology where ordinary ingredients are transformed into extraordinary potions, each sip taking you deeper into the realm of the supernatural. From the classics with a sinister twist to creatively crafted novelties, these Halloween drink recipes are designed not only to refresh but also to immerse you in the otherworldly ambiance of Halloween night.
With these spine-chilling and delectable Halloween drink recipes, you're ready to cast a spell over your guests and create a memorable, enchanted evening. Whether you're brewing up spirits for adults or crafting mocktails for the little goblins, these recipes will surely be the highlight of your haunting celebration. So, raise your goblet, sip cautiously, and let the spirits of Halloween come alive in your glass.
Tips and Tricks for Making Halloween Cocktails
Halloween cocktails are a fantastic way to add some spooky flair to your party. Here are some tips and tricks to help you craft bewitching beverages that will thrill your guests!
Pick a Theme: Start by choosing a Halloween theme for your cocktails, like "Witches' Brew," "Vampire's Kiss," or "Zombie Elixir." This will guide your creativity.
Spooky Glassware: Serve your drinks in fun and eerie glassware. Think black goblets, skull mugs, or even test tubes for a mad scientist vibe.
Creepy Garnishes: Enhance the look of your cocktails with eerie garnishes. Try gummy worms, candy eyeballs, or floating lychee "eyeballs" for that extra spookiness.
Color Schemes: Pay attention to the colors. Dark purples, greens, and deep reds can create a haunting atmosphere. Use food coloring to achieve the right hue.
Dry Ice Effects: For a smoky, mysterious ambiance, add a small piece of dry ice to your cocktails. Just remember to use tongs and never ingest it directly.
Unique Ice Cubes: Freeze plastic spiders or other creepy crawlies in your ice cubes to give your cocktails an unexpected twist.
Flavored Syrups: Create homemade flavored syrups like blood orange or blackberry to add a thematic taste to your drinks.
Signature Names: Give each cocktail a fun and spooky name to match the theme. For example, "Witch's Brew" could be a green apple cocktail, while "Vampire's Kiss" could feature a splash of grenadine.
Layered Look: Experiment with layering drinks of different densities. The classic "Black and Orange" cocktail, for instance, combines black vodka and orange liqueur for a striking effect.
Eyeball Ice Cubes: Freeze peeled grapes with a small blueberry or blackberry inside as eyeball ice cubes. They'll add a chilling element to any drink.
Candy Rimmed Glasses: Dip the rims of your glasses in colored sugar or crushed candy to create a festive and sweet touch.
Edible Blood: Create a blood effect with a mixture of corn syrup and red food coloring to drizzle down the sides of your glasses.
Fruity Brains: Serve a "Brain Hemorrhage" shot by layering peach schnapps, Baileys Irish Cream, and a few drops of grenadine. The result resembles a gruesome brain.
Potion Punch: Prepare a large cauldron of punch with colorful, spooky ingredients and let your guests ladle it into their glasses.
Halloween Jello Shots: Make jello shots in Halloween shapes or colors for a fun and boozy treat.
Striking Stirrers: Use plastic spiders, miniature broomsticks, or skeleton hands as drink stirrers.
Flavored Salts: Create flavored salts for rimming glasses, like chili-lime salt for a margarita with a kick.
Non-Alcoholic Options: Don't forget to offer creative non-alcoholic options for designated drivers and non-drinkers, like "Frankenstein's Fizz" with soda and grenadine.
Balanced Flavors: Ensure your cocktails are well-balanced in terms of sweet, sour, and bitter elements. Experiment to find the perfect taste.
Drink Responsibly: Remind your guests to drink responsibly, and always have alternatives for safe transportation.
Now for what you came for! Don't forget to share your favorite Halloween Cocktail!
HAUNTED HALLOWEEN PUNCH
ZOMBIE PUNCH RECIPE
Making this Zombie Punch for Halloween is delicious and so easy – you could almost say it's a no-brainer.
It looks just gross enough, but still tastes great and is a fun recipe that will be a hit on Halloween. Zombie Punch can be made in single servings by mixing it up in a glass or Zombie Mug. You can also mix up an entire batch in a punch bowl for serving a crowd.
Get the full recipe from Artsy Fartsy Mama
BLACK MAGIC HALLOWEEN SANGRIA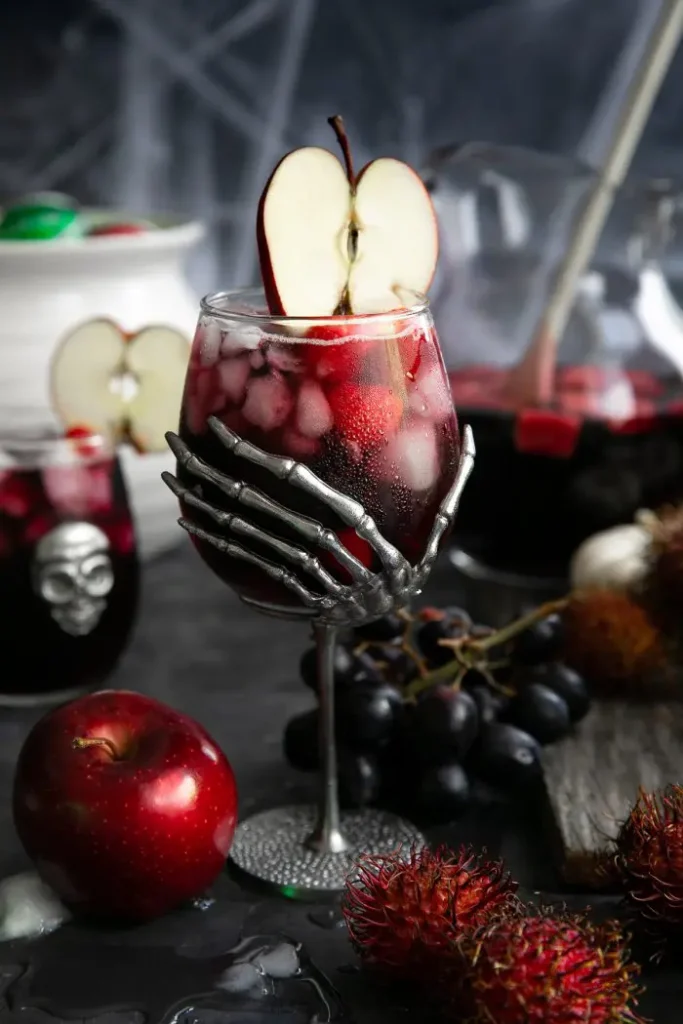 HALLOWEEN PARTY PUNCH
HALLOWEEN WHITE HOT CHOCOLATE RECIPE
DRUNK WITCH DRINK
HALLOWEEN PUNCH RECIPE: ORANGE SHERBET PUMPKIN
VAMPIRE'S KISS COCKTAIL
Looking for a fun Halloween cocktail? This Vampire's Kiss Cocktail Recipe is a fun and spooky red drink that mimics fake blood, and is perfect for Halloween parties! Learn how easy it is to make this fruity vodka cocktail.
Get the full recipe from A Full Living
HOCUS POCUS DRINK – THE BLACK FLAME CANDLE
HALLOWEEN MARGARITA
3-INGREDIENT HALLOWEEN PUNCH WITH ORANGE SHERBET
SPOOKY BEETLEJUICE MARGARITA COCKTAIL
HOCUS POCUS COCKTAIL
HALLOWEEN APEROL COCKTAILS
SPOOKY & TASTY HALLOWEEN POTION
BLOODY GHOST HALLOWEEN VODKA COCKTAIL
RED DEATH HALLOWEEN MARTINI COCKTAIL
BLACK MOJITO
RED HALLOWEEN COCKTAIL
WITCH'S BREW COCKTAIL
ADAMS FAMILY COCKTAIL – THE GOMEZ AND MORTICIA
HALLOWEEN VAMPIRE'S KISS COCKTAIL RECIPE
HOCUS POCUS PUNCH
ALIEN BRAIN HEMORRHAGE SHOT
CANDY CORN MARTINIS
Frequently Asked Questions Halloween Drink Recipes
What are some essential ingredients for Halloween drinks?
To give your drinks that Halloween twist, you'll want to have a variety of eerie ingredients on hand, such as dry ice for smoky effects, red food coloring for "bloody" drinks, themed garnishes like gummy worms, and spooky-shaped ice molds.
How can I make drinks look creepy without compromising taste?
Presentation is key. Utilize dark-colored glassware, skull-shaped cups, or beakers to give your drinks a sinister appearance. Add colored sugar rims or drips of red food coloring for an extra spooky touch.
What are some kid-friendly Halloween drinks?
Create colorful, non-alcoholic "potion" drinks using fruit juices and soda. Serve them in creepy cups with fun garnishes like gummy worms or edible eyes.
From bewitching brews to chilling concoctions, these Halloween drink recipes and answers to your frequently asked questions are sure to help you concoct the perfect spooky sips for your haunted celebration. Enjoy responsibly and have a hauntingly good time!
Halloween drink recipes offer a delightful and spooky way to elevate your festive gatherings. By embracing the eerie aesthetics and flavors of the season, you can craft beverages that not only satisfy taste buds but also provide a visual treat.
The key is to strike a balance between the visual appeal and the taste, ensuring that your concoction not only looks eerie but also tantalizes the taste buds. Keep in mind the preferences of your audience, be it a gathering of friends, a family party, or a more adult-themed event
Whether you're hosting a family-friendly party or an adults-only soirée, the magic of Halloween drink recipes lies in their ability to transport everyone into the enchanting spirit of the holiday.
As you experiment with colors, flavors, and presentation, remember to prioritize safety and moderation, ensuring that the fun remains lighthearted and enjoyable for everyone. Here's to a Halloween filled with spine-chilling sips and delightful memories.