On days when you're feeling down and want to curl up with something warm and comforting, this ground beef stroganoff recipe is there to save the day! Not only is this flavorful and creamy dish quick and easy to prepare, but it will also make you feel good and cheer you up instantly!
Moreover, the ground beef stroganoff recipe is wholesome, fulfilling, and counts as a fancy meal option, even though it takes hardly 30 minutes to make.
Why We Love Ground Beef Stroganoff Recipe?
Everyone loves cheesy, creamy, and meaty dishes. They are the perfect meal on any given day! Whether you're preparing dinner for your family, you're making something for a small intimate gathering at your place, or you're taking something to a BBQ or potluck supper, this beef stroganoff recipe is one of the best options.
The ground beef sauteed with aromatic onions, garlic, and mushrooms, cooked in salty beef broth, and topped with a generous amount of whipped and sour cream is a combination to die for! Pair it up with wide egg noodles and you have yourself a steaming bowl of creamy goodness!
The kids love it, adults crave it; plus, it can be prepared in less than 30 minutes!
So, get your deep pan ready, because we're about to make the most savory, creamy, and meaty dish you have ever had!
Ingredients for Ground Beef Stroganoff Recipe
1 lb ground beef: I'm using lean ground beef for this recipe with a small amount of fat for flavor.
½ medium onion: You can use sweet white or red onions finely diced.
1 lb sliced mushrooms: To add an earthy taste to the recipe. You can use white, cremini, portobello, or any type of mushroom for this recipe.
2 tbsp all-purpose flour: To add thickness and consistency to the recipe.
2 garlic cloves minced: To take the flavor of the dish up a notch!
1 cup beef broth: You can use low-sodium beef broth too, but it will significantly reduce the flavor.
1 cup heavy whipping cream and ⅓ cup sour cream: For that creaminess we all love!
½ tsp salt and ½ tsp ground black pepper: Seasonings are essential to highlight the taste of other ingredients.
12 oz package of wide egg noodles: Prepare them according to the instructions on the packaging.
Frequently Asked Questions
Q. What can I serve with ground beef stroganoff?
You can serve ground beef stroganoff with egg noodles, rice, or potatoes. As a side dish, you can have your choice of vegetables.
Q. What can I use in place of sour cream?
You can use plain Greek yogurt in place of sour cream, or you can use a can of cream of mushroom soup and omit the sour cream altogether.
Q. Which ground beef is best for this recipe?
I used lean ground beef with a small amount of fat; however, you can use anything that's within your budget.
Q. How do I store leftover beef stroganoff?
You can store leftover ground beef stroganoff in an airtight container in the fridge for up to 4 days. I would not suggest freezing it because the creamy contents will separate on reheating, ruining the whole dish.
Q. What gives the ground beef stroganoff its flavor?
The garlic, onions, mushrooms, salt, and pepper help in bringing out the best flavor in ground beef stroganoff. The sour cream and whipping cream help give the dish a creamy texture, which when combined with the ground beef and other ingredients, makes the stroganoff lip-smackingly savory.
Tips and Tricks
Here are some tried and tested tips and tricks to make a mouthwatering ground beef stroganoff.
1. When you add the flour to the mixture, make sure to stir continuously to avoid any lumps.
2. When you add beef broth to the flour mixture, stir and bring it to a boil to remove the raw flour taste.
3. Don't forget to add some green onions or fresh parsley as a garnish to give the stroganoff an appetizing look.
4. Try using ground meat for this recipe to speed up the cooking process, as meat chunks take longer to cook.
5. Mushrooms and Worcestershire sauce give the ground beef stroganoff an umami flavor to make it savory and flavorsome.
6. Cook the egg noodles side by side when preparing the stroganoff to save time.
More Easy Recipes to Enjoy Making!
Yield: 4
Ground Beef Stroganoff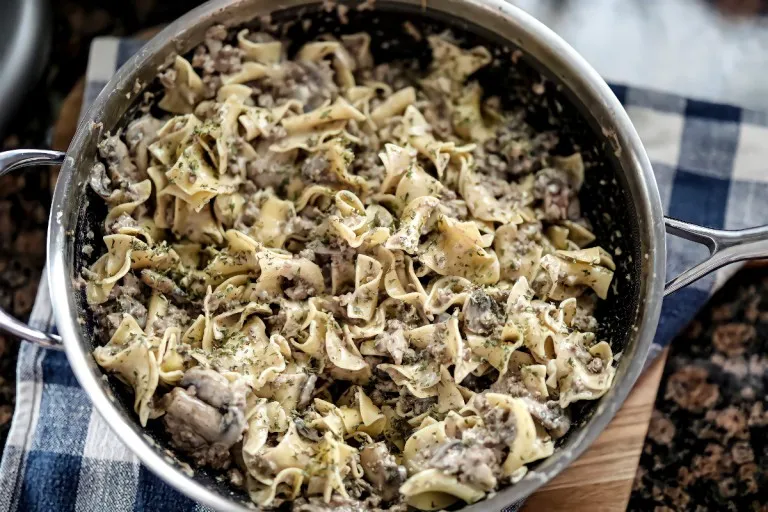 You'll love this creamy and delicious beef stroganoff one pot dish that your family will enjoy.
Ingredients
1 Tbsp olive oil
1 lb ground beef
½ medium onion diced
1 lb sliced mushrooms
2 Tbsp all-purpose flour
2 garlic cloves minced
1 cup beef broth
1 cup heavy whipping cream
⅓ cup sour cream
1 Tbsp worcestershire sauce
½ tsp salt
½ tsp ground black pepper
12 oz package of wide egg noodles
Instructions
Preheat a deep pan over medium-high heat with olive oil. Add the ground beef and break it down into tiny pieces. Add pressed garlic and onions. Sauté until the onions are translucent.
Add the sliced mushrooms and sauté for another 5 minutes.
Add flour and stir until fully mixed in. Be sure not to let any lumps form.
Add the beef broth, whipping cream, worcestershire sauce, salt and black pepper and bring to a simmer. Turn the heat to low and simmer for an additional 5 minutes.
Remove from heat and add in the sour cream. Stir again to combine all of your ingredients together. Serve over egg noodles cooked according to package directions. Also great served over rice or potatoes.