I can't even begin to tell you how much of a busy schedule that I have throughout any given day! It's definitely doesn't get easier during the day as I am the main care take for my special needs sister, Angela. If work isn't keeping me busy, she sure is! By the time that I'm done with work, and making meals and snacks, changing the TV channels, putting on a new show for her, walking my pups throughout the day…I'm so exhausted. To exhausted to even think about dinner. So, I like to try to create a super easy and healthy meal. My philosophy is: Just because I'm making a quick meal, it doesn't mean that it should be healthy and make bellies super happy! That's when I came across Gardein! My family loves having vegetarian and vegan meals. We like to mix things up to keep food fun and interesting. So, we all made the meatless switch to try them out! We were totally surprised in how much we actually loved the flavors, and how much fun we had with creating different recipe ideas to go along with them.
There's a few things that I love about Gardein products:
They complete NON-GMO!
They have no Cholesterol and their products have less fat than meat!
They are a great healthy addition to add into all of our diets without the fear of losing out on the flavor.
The first product we tried was the Gardein Szechuan Beef. With this recipe, I simply made a fried brown rice with a confetti mixture of diced multi-colored bell peppers. I like the hint of sweetness the peppers add to the rice and meatless beef. These literally take about 12 minutes to cook in a electric convention oven. With it getting so hot outside, I like to keep the house cooler by not putting on the big oven. Instead, I have a mini electric convention oven that bakes, broils, toasts, and more! It's great to keep down the summer heat and to be able to enjoy a meal like this.  We all LOVED it. We completely could not tell the difference in flavor between this versus real meat. I didn't tell Angela at all that it wasn't real meat. She loved it and devoured almost the whole portion by herself! I was like, uhm…can you save me just a little bit?? She just laughed at me and said no. lol. This girl…she better know that I  love her!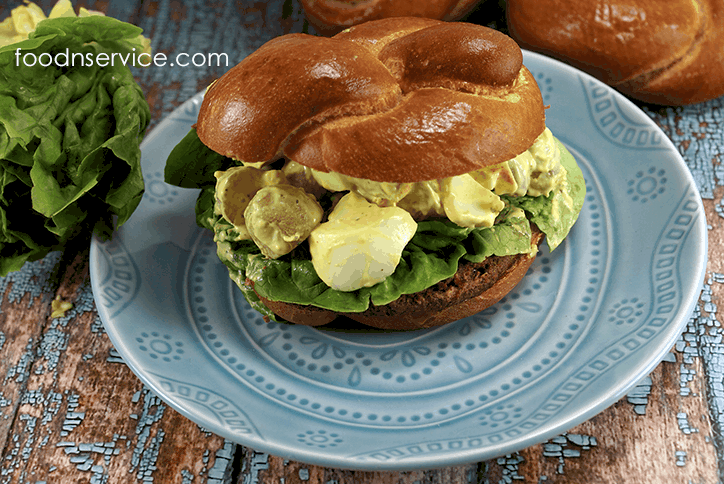 The next product we tried was the beefless burgers. However, we wanted to have a little fun with it. Since we love making so many different creations, we decided that we wanted to use my deviled egg potato salad on top of the burger! It mostly Angela's idea. She loves my potato salad, so how could I really say no to her? I couldn't. She was just lucky that I actually already made the potato salad yesterday, so I didn't have to heat up my kitchen today for her! I would have, and I would have put on a big smile on my face to whole time faking it lol.
The idea was amazing, and the burger so totally yummy! The potato salad completely made the burger, along with some fresh bib butter lettuce leaves of course. It reminded me of adding french fries to my burger, like I used to do what I was younger…or maybe that was a week ago? Who knows. It was just delicious!
Here's a yummy little video for you to take a look at!

SAAAAUUUUUCE! I love it! Yes…it really is that simple and easy! You really only need about 15 minutes to cook anything for dinner! I think a lot of us can love being able to cook a delicious and super healthy meal for our whole family to enjoy. The price isn't bad either! It's totally something we can actually afford to add into our diet!
Gardein products are available in over 22,000 retailers nationwide, 5,000 restaurants, and over 100 colleges and universities! It seems that everyone trusts the name and flavor that is Gardein!