French Silk Brownies are rich and decadent, made with a fudgy brownie base, silky-smooth cream cheese and melted chocolate French silk layer, and topped with Cool Whip and chocolate shavings!
This dessert combines my love for dense brownies with the sophistication of classic French Silk pie! One bite is all it takes to get you hooked, and I wouldn't blame you!
These French Silk Brownies are perfect as a chilled summer dessert, a midweek family treat, or to take to potlucks and celebrations. They're sure to impress every time!
WHAT YOU SHOULD KNOW ABOUT FRENCH SILK BROWNIES
These French Silk Brownies get their name from the famous French silk chocolate pie that originated in 1951, baked by the American Betty Cooper when she made it for the 3rd annual Pillsbury Bake Off competition!
The original French silk pie is known for its smooth-as-silk chocolate filling and fresh whipped cream topping. In today's recipe, I've added a twist by making the base of this dessert with a brownie layer, followed by the French silk layer, and topped with Cool Whip and chocolate shavings!
The results speak for themselves!
HOW SHOULD I STORE THESE FUDGE BROWNIES?
Due to the cream cheese French silk layer in this dessert, these brownies must be stored in an airtight container in the fridge and will last for up to 5 days. Though I promise you, they will definitely not last that long in your house. Got a party coming up or a church pot luck dinner? These will be a huge hit!
CAN I FREEZE FRENCH SILK BROWNIES?
Yes, you can! These brownies can be stored in the freezer for 3 months. Thaw overnight in the fridge, and serve chilled. The best part is that you don't lose any flavor from being in the freezer.
WHAT DO FRENCH SILK BROWNIES TASTE LIKE?
French silk brownies are rich and decadent with a dense and fudgy brownie base, followed by silky-smooth and creamy chocolate spread that's then topped with a final layer of Cool Whip and chocolate shavings.
This dessert is perfect for chocolate lovers who enjoy a variety of texture, richness, and sweetness in desserts. 
So what does it taste like? Well, it tastes like you're gonna want more.
CAN I MAKE THESE FUDGY BROWNIES AHEAD OF TIME?
To reduce baking time and recipe preparation time, bake the brownie base a day or two before assembling this dessert and store the base in the baking dish, wrapped tightly with plastic wrap to store in the fridge.
The French silk layer can also be made ahead of time and spread over the brownie base since it will need to chill in the fridge for 25-40 minutes before topping the dessert with Cool Whip.
WHAT VARIATIONS CAN I MAKE TO THESE FRENCH SILK BROWNIES?
Fresh whipped cream can be used instead of Cool Whip.
Sprinkle mini chocolate chips over the top of the assembled dessert to replace the chocolate shavings. Your favorite chopped candy could also be used as a delicious topping.
Use a favorite homemade brownie recipe to make the base of this dessert instead of a brownie mix.
For a gluten-free version of this French Silk Brownies recipe, select a gluten-free brownie mix from your local grocery store.
TIPS FOR MAKING FRENCH SILK BROWNIES
Go ahead and use your favorite brand of brownie mix. Since mixes can vary, it's best to check the packaging for the additional ingredients called for, such as milk, oil, and eggs.
Any name-brand Cool Whip or store-brand whipped topping can be used for this dessert.
It's important to allow the brownie base to cool completely before adding the French silk layer; otherwise, it won't set properly and may even seep into the base. While the dessert will still be delicious, it won't have the same desired layered effect.
Bring the cream cheese to room temperature before making the French silk mixture for easy incorporation and silky-smooth consistency.
Don't overheat and burn the chocolate in the microwave, or you will need to start it again. You can also melt the chocolate in a double boiler if you prefer.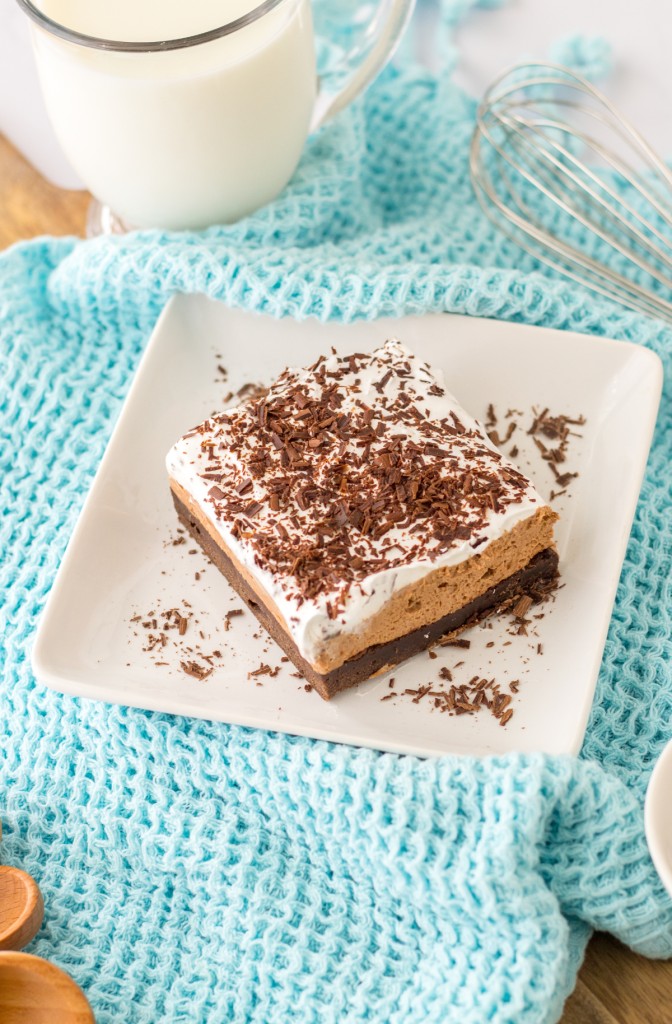 More Creamy Desserts!
Yield: 12
French Silk Brownies
These easy to make French Silk Brownies are so incredibly good, the perfect amount of creaminess and chocolate!
Ingredients
Brownies
1 18 oz box of brownie mix
1 egg
1/3 cup water
1/2 cup of unsalted butter (melted)
French silk layer
1 8 oz cream cheese
1 tsp of vanilla
2 cups powdered sugar
2 4 oz semi sweet chocolate bar
1/4 cup unsalted butter
8 oz cool whip
2 tbsp chocolate syrup
Topping
8 oz cool whip
1 1/2 cup of Chocolate shavings
Instructions
Preheat oven to 350° Grease a 9x13 baking dish with cooking spray. In a medium size bowl prepare the brownies according to the box, my box called for 1 egg, 1/3 cup of water and 1/2 cup of melted butter.
Bake for 20-25 minutes. Check with a fork or toothpick to see if the brownies are done. Let brownies cool completely all the way before starting the next step.
In a large bowl beat cream cheese and vanilla then add the powdered sugar and chocolate syrup.
In a small microwave safe bowl break apart 1 chocolate bar and add the 1/4 cup of butter, microwave for 30 seconds, stirring every 10 seconds. (It may need more time)
Pour the chocolate mixture into the cream cheese mixture and beat again.
With a rubber spoon fold in the cool whip to the mixture, do not stir or it won't be fluffy anymore. Spread over top of cooled brownies and pop in the fridge for 25-40 minutes.
Once out the fridge spread the other container of cool whip all over the top of the French silk layer, sprinkle chocolate shavings on top. You can use a potato peeler to make shavings with the other chocolate bar.
Place back into the fridge until ready to serve!