Easy Halloween Recipes For Kids
Halloween is just around the corner, and many Parents are looking for some easy Halloween Recipes for Kids to make! Beyond the costumes and the candy, this festive season presents a great opportunity for parents and caregivers to spark their children's creativity and culinary curiosity. Welcome to a world where the kitchen transforms into fun, and ordinary ingredients are enchanted into delightful Halloween treats.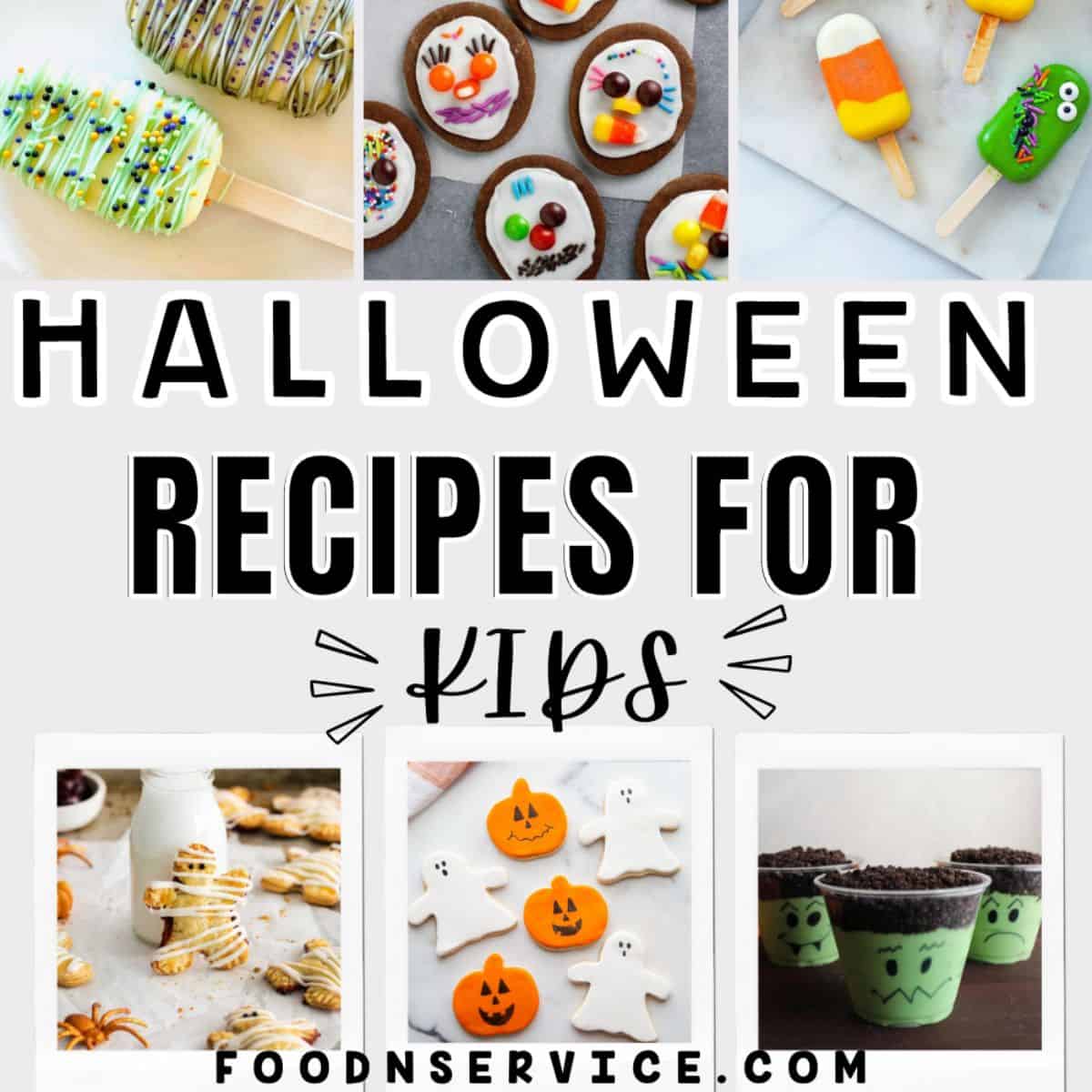 Tips and Tricks for Making Easy Halloween Recipes for Kids
Safety First: Always start by emphasizing the importance of safety in the kitchen. Teach kids about handling sharp objects and hot surfaces. Supervision is crucial.
Simple Recipes: Choose easy and age-appropriate recipes. Some options include Halloween-themed fruit skewers, mummy hot dogs, or witches' broomstick snacks.
Preparation: Pre-measure ingredients and organize them in separate bowls. This makes it easier for kids to follow the recipe without getting overwhelmed.
Costumes: Encourage kids to wear fun Halloween costumes while cooking. This adds to the festive atmosphere and makes the experience more enjoyable.
Themed Decor: Set up the kitchen with Halloween decorations like fake cobwebs, spooky music, and themed aprons to create a fun atmosphere.
Pumpkin Carving: Carving pumpkins can be a great precursor to cooking. Let kids scoop out the insides and use the pumpkin flesh for recipes like pumpkin pie or roasted pumpkin seeds.
Food Coloring: Use food coloring to add a spooky touch to recipes. For example, turn mashed potatoes or macaroni and cheese into green or purple creations.
Creative Shapes: Invest in Halloween-themed cookie cutters or molds to create fun shapes for sandwiches, cookies, or other treats.
Monster Mash: Make a "monster mash" by letting kids mix and mash ingredients with their hands. This can be a fun and messy way to create Halloween-themed dishes.
Ghoulish Names: Give dishes creative and spooky names. For example, call spaghetti "Worms in Brain Sauce" or guacamole "Goblin Goo."
Edible Eyes: Use edible candy eyes to add a whimsical touch to various dishes. They can turn ordinary snacks into spooky delights.
Storytelling: Share Halloween stories or legends while cooking. This can add an educational element to the fun.
Taste Testing: Allow kids to taste-test ingredients to encourage their curiosity and interest in the cooking process.
Dessert Decorating: Making Halloween-themed desserts like cupcakes or cookies and allowing kids to decorate them with colored frosting, sprinkles, and candies.
Party Planning: Involve kids in planning a Halloween party menu. This can include making invitations and decorations as well.
Healthy Options: Incorporate healthy ingredients like vegetables into Halloween dishes. Create a veggie platter with a jack-o'-lantern design or make "Monster Mouth" apple slices.
Share the Results: Encourage kids to share the spooky creations with family and friends, which can boost their confidence and motivation to cook.
Clean-Up Fun: Turn cleaning up into a game by setting a timer and seeing how quickly they can put away ingredients and wash dishes.
Recipe Cards: Create fun recipe cards for the recipes that you make together! This helps kids remember what they've learned and can be a great keepsake.
Positive Reinforcement: Praise and celebrate their cooking efforts, no matter the outcome. This will encourage them to continue exploring their culinary skills.
Today, we dive into the realm of spooky, fun, adorable, yet scrumptious Halloween recipes tailored especially for kids – and some adults! These creations are not only irresistibly tasty but also easy to make, making them the perfect bonding activity for families. Whether you're hosting a Halloween party, planning a family movie night, or simply seeking to infuse a touch of magic into your daily routine, these recipes are sure to delight both young and young-at-heart.
We have a collection of fun and delicious recipes that will surely make your kids excited. These recipes include eerie eyeball popcorn balls that will make them squeal with delight, as well as monster-shaped creations that are both playful and great to make. Even if you don't have little ones of your own, these are so much fun to make!
MUMMY OREO POPS
OREO HALLOWEEN DIRY WORM CUPS
With basic ingredients, you can create these chilling and gross dirt cups for your kids to eat! Chocolate pudding, crumbled Oreo cookies, and gummy worms adds everything you need to create this gross dessert.
Get the Full Recipe from FoodnService
EASY HALLOWEEN POPCORN BALLS RECIPE
SPIDER DONUTS
HALLOWEEN CAKESICLES
AIR FRYER HALLOWEEN QUESADILLA
FRANKENSTEIN PUDDING CUPS
BLOODY HALLOWEEN HOT DOG FINGERS
MUMMY HALLOWEEN HOT DOGS: A SPOOKY RECIPE
HALLOWEEN CAKE POPSICLES
HALLOWEEN COOKIES FOR KIDS
DAY OF THE DEAD COOKIES
WITCHES BROOM STICKS HALLOWEEN SNACK FOR KIDS
HALLOWEEN HAND PIES
MUMMY HOT DOGS
HALLOWEEN CLEMENTINES
Cute Halloween clementines and edible broomsticks are fun to make and eat. They are the perfect Halloween food idea for kids.
The shape is more pumpkinny when compared to an orange. But, if you cannot find clementines, then you can always go with an orange
Get the full recipe from Kitchen At Hoskins
Frequently Asked Questions About Kids Halloween Recipes
Can I make these recipes ahead of time for a Halloween party?
Yes, many of these recipes can be prepared in advance to save time on the day of the Halloween party. Cookies can be baked and decorated beforehand, and most savory dishes can be assembled partially or fully before the event. Just be sure to store them properly to maintain freshness.
What are some allergy-friendly Halloween recipes?
Many children have allergies, so it's important to consider this when planning Halloween recipes. Opt for recipes that can be easily adapted to accommodate allergies, such as allergen-free chocolate-covered pretzels, gluten-free pumpkin muffins, or dairy-free pumpkin spice rice crispy treats.
Are these recipes safe for kids to prepare?
Absolutely! All the recipes in our blog post are designed to be safe for kids to help with under adult supervision. We've kept the steps simple and the ingredients child-friendly.
Halloween recipes for kids offer a delightful blend of creativity, fun, and flavor that can transform ordinary treats into extraordinary experiences. By incorporating spooky elements, vibrant colors, and playful designs, these recipes not only satisfy young taste buds but also ignite their imaginations.
Whether it's the excitement of Monster Eyeball Cupcakes, the cheesy goodness of Mummy Hot Dogs, or the enchanting charm of Witch's Potion Punch, these culinary adventures provide an ideal opportunity for families to bond, share laughter, and create lasting memories during the Halloween season.
So, as Halloween approaches, don't miss the chance to transform your kitchen into a laboratory of Halloween wonders. Let your creativity run wild, experiment with flavors and textures, and most importantly, have fun crafting these spooktacular treats with the little ones.
Remember, Halloween is all about having fun and getting into the spirit of the season. These recipes are meant to spark your imagination and bring a little extra magic to your Halloween celebrations!