Cracker Barrel Weight Watchers
Be sure to read over and print this Cracker Barrel Weight Watchers Menu with SmartPoints before you go to your favorite Southern chain restaurant! Now you easily get the points off the WW app? Of course you can, but I'm here to try to help you save a little time and effort, and to help you plan ahead.
The Cracker Barrel Menu is pretty huge, so I did my best to narrow it down, and I don't go above a certain amount SmartPoints. In fact, the highest I go is 17 SmartPoints. I want to help you make "Smarter" decisions, so I can't encourage anything about those points.
Are you grown adult and can eat what you want? Of course, you can! You can go on with your bad self and eat that Grandma's sample for 25 SmartPoints, the Sunrise Sample for 27 SmartPoints, the bowl of Clam Chowder for 35 SmartPoints, or the Signature Double Cheeseburger for 27 SmartPoints. NOTE: If you want to run a ZERO point day to eat here, I'm all for that! Just count those points!
Image by Vickie McCarty from Pixabay
They're your points, and you can do with them what you please. But, we CAN try to make smarter decisions to hep get us out the predicament that we're in. This Cracker Barrel Weight Watchers Menu will help guide you along the way! I'll mention some of my favorites, and then I'll list everything I can at the very bottom of the post.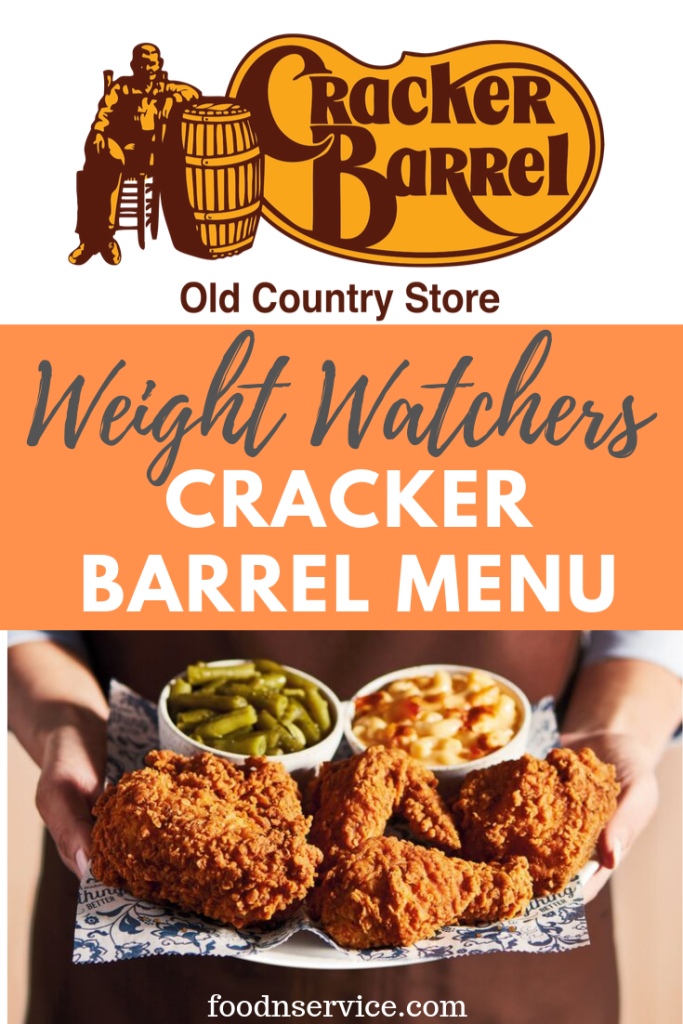 Cracker Barrel Menu Breakfast Items for Weight Watchers
These Cracker Barrel menu breakfast items will work really well for you. Breakfast is probably one of my most favorite types of foods to eat, so I was super happy to learn that eggs were put on the extremely huge list of 200+ Zero point food items!
But now, here's the deal with the WW App and the Cracker Barrel Menu: They don't fill in the blanks for you! For example: Uncle Herschel's Favorite dish is marked 3 SmartPoints, but that's just for the Eggs and Grits. Because you ALSO get your choice of fried apples (8 SmartPoints) or Hashbrown casserole (6 SmartPoints), and your choice of meat. Before you know it, you have 25 point breakfast in front of you.
With that being said, here's a few combinations you would enjoy while you're there! When ordering, remember that you can swap out food. You can leave off "All the Fixin's" and ask for a side of fresh seasonal fruit (for 0 SmartPoints).
Cracker Barrel Breakfast Menu
Good Morning Breakfast, 5 Blue SmartPoints and 6 PersonalPoints (Two Scrambled Egg Whites, Coarse Ground Grits, a side of Fresh Seasonal Fruit, sliced tomatoes and Turkey Sausage Patty)
2 Fried Eggs, 2 Turkey Sausage Patties, side Seasonal Fresh Fruit, 4 SmartPoints and 5 PersonalPoints
Country Morning Breakfast, 13 SmartPoints and 13 PersonalPoints (Two eggs, grits, Two buttermilk biscuits. Hold the butter and sawmill gravy. They add on so many points. Unless you have 1 biscuit with a half the gravy with this breakfast, then you will have an 11 SmartPoints breakfast)
2 Fried Eggs, a side of Cheese Grits, and Seasonal Fresh Fruit, 6 SmartPoints and 6 PersonalPoints.
Eggs in Basket with Seasonal Fresh Fruit, 12 SmartPoints and 9-12 PersonalPoints (Eggs are served in Sourdough bread, leave off the fried apples and hash brown casserole for Seasonal Fresh Fruit, and get Turkey Sausage patties)
Two Turkey Sausage Patties, 3 SmartPoints and 3 PersonalPoints
Side Cheese Grits, 5 SmartPoints and 4-5 PersonalPoints
Seasonal Fresh Fruit, 0 SmartPoints and 0 PersonalPoints
Signature Biscuit, 5 SmartPoints and 6 PersonalPoints per biscuit
Sawmill Gravy, 6 SmartPoints and 6 PersonalPoints. Over Mashed Potatoes: 2 SmartPoints and 2 PersonalPoints
Sourdought Bread, One Slice, 2 SmartPoints and 3 PersonalPoints
These selections should help you navigate your breakfast like a champ! If I'm going out to eat, I don't mind indulging a little bit in points. I just don't want all my points to be done and gone for the day, and I'm just left eating water all night.
Weight Watchers Cracker Barrel Menu Sides
I wanted to review and touch base about the Cracker Barrel menu sides before moving onto the entrée items because we basically all live for the side items in our lives. However, I'm trying to just help you stay educated about where the main points are going to come from, and how we overcome those higher point items for lesser point items without feeling "robbed" of an experience of eating at a Cracker Barrel location.
Mixed Greens Side Salad, 0 SmartPoint/PersonalPoints
House Salad (no bacon, no cheese, no croutons, no dressing), 0 SmartPoints/PersonalPoints
Steamed Broccoli, 0 SmartPoints/PersonalPoints
Pinto Beans (side), 1 SmartPoint/3 PersonalPoints
Green Beans, 1 SmartPoint/1 PersonalPoint
Cranberry Sauce, 2 SmartPoints/2Personal Points
Hush Puppies (1 piece), 2 SmartPoints/2 PersonalPoints
Sweet Baby Whole Carrots, 2 SmartPoints/2 Personal Points
Turnip Greens (side), 2 SmartPoints/1 Personal Point
Boiled Cabbage, 3 SmartPoints/1 PersonalPoint Plus gain a Point!
Coarse Ground Grits, 3 SmartPoints/3 PersonalPoints
Whole Kernel Corn, 3 SmartPoints/5Personal Points
Beans 'n Greens, 4 SmartPoints/8 PersonalPoints
Green Bean Casserole, 4 SmartPoints/4-7 PersonalPoints
Pinto Beans (Bowl), 4 SmartPoints/3-5 PersonalPoints
Sweet Pepper n ' Red Skin Hash, 4 SmartPoints/1-4 PersonalPoints
Cheese Grits, 5 SmartPoints/4-6 PersonalPoints
Turnip Greens (Bowl), 5 SmartPoints/4 PersonalPoints Plus gain a point!
Lima Beans, 6 SmartPoints/3-6 PersonalPoints
Hash Brown Casserole, 6 SmartPoints/4-6 PersonalPoints
Mashed Potatoes, 6 SmartPoints/3-6 PersonalPoints
Corn Muffin (1 piece), 7 SmartPoints/6-7 PersonalPoints
Fried Apples, 8 SmartPoints/5-8 PersonalPoints
Breaded Fried Okra, 8 SmartPoints/8 PersonalPoints
Cole Slaw, 9 SmartPoints/10 Personal Points
Homestyle Fries, 9 SmartPoints/10 PersonalPoints
Macaroni 'n Cheese, 9 SmartPoints/10 PersonalPoints
Sweet Potato Casserole, 9 SmartPoints/9 PersonalPoints
Loaded Hash Brown Casserole, 12 SmartPoints/10-14 PersonalPoints
Weight Watchers Cracker Barrel Entrées
Now we're off to the fun part of it all! Take a look at that Instagram post that I shared above. That's the Grilled tenderloins entree with green beans and steam broccoli. The grilled chicken tenderloins has 2 SmartPoints, the green beans has 1 SmartPoint, and the broccoli has zero SmartPoints. There you go with a 3 SmartPoint meal! AND it's a super hearty one!
This leaves you room to enjoy a biscuit, 5 SmartPoints, or a corn muffin, 7 SmartPoints, or whatever you would like! Starting off with the right Cracker Barrel entrée can be everything for the whole meal, so you can indulge in a side item of your choice that you've been craving.
Like this Instagrammer, gettingoffthebabyweight. She enjoyed a fabulous 12 SmartPoint meal by indulging into those lima beans, 5 SmartPoints, and that signature biscuit, 5 SmartPoints. That's the JOY of the Weight Watchers Freestyle program. It gives us the tools to help balance out our points.
So here's what I would enjoy while you're there. Again, eat what you want…this is just a road map to enjoy some yummy Cracker Barrel food.
Grilled Farm Raised Catfish (2 pieces), 1 SmartPoint
Grilled Chicken Tenderloins, 2 SmartPoints
Lemon Pepper Rainbow Trout (2 pieces), 2 SmartPoints
Signature Cured Ham, 4 SmartPoints
Grilled Pork Chop, 6 SmartPoints
Country Ham Slice, 6 SmartPoints
Sirloin Steak, 6 SmartPoints
Buttermilk Oven Fried Chicken Breast, 8 SmartPoints
Pan Fried Haddock, 9 SmartPoints
I feel that these items are a great base to deal with. It's form these entrée choices that you can work your way up. Do you feel like a delicious piece of Buttermilk Oven Fried chicken breast? Go for it! You can pair that with steamed broccoli, zero SmartPoints, and a side of pinto beans, 1 SmartPoint, and you have a decadent 9 point meal.
There are so many amazing choices to create a fabulous meal at Cracker Barrel, and they can all fit within your daily & weekly points.
Easily Print this WW Cracker Barrel Menu Pdf file
I like trying to make life easy, so I created an easy Cracker Barrel menu pdf file for you save and print. If you want to, you can even save it as a file on your phone or table for when dinging out – in case you don't want to print it.
I like taking my WW Cracker Barrel Menu To Go
Printing up the Cracker Barrel menu makes my life a little bit easier, and not just to look up my points. It's because if I'm going too many options, I take longer to order and then I feel that I might get side tracked of my ultimate goal. Sometimes, I need blinders on so I can stay focused. Too many options, and I'm sure to order things outside of my points range.
You can print up your free Weight Watchers Cracker Barrel Menu Below. Just click the button.
Cracker Barrel Allergen Menu
If you have food allergies, everyone takes that serious. It's always great to know what to eat before you get to Cracker Barrel. Just list my Weight Watchers Cracker Barrel Menu, you can easily store this Cracker Barrel Allergen Menu as a pdf file and print, or just bookmark to take a look at it before you go. The menu is pretty intense, but they break down for all food allergies.
There are two fabulous Weight Watchers Groups on Facebook you should totally join! One is a Freestyle Success group where we share all types of fabulous information, and the other is an Instant Pot Weight Watchers Group. You can join either group by clicking on the buttons below.
Weight Watchers Recipes and Article You'll Love and Save
I love making these Weight Watchers recipes while I"m on the Freestyle program, and I hope you'll love them too! It's always great to be able to expand and add our own personal Weight Watchers recipes Rolodex (that never seems to stop growing, and I love it!).