If you are tired of the same average tacos for Taco Tuesday, then try my easy to make chicken taco casserole recipe! Are you looking for a dish that could become a new weekly Mexican staple in your home? This South Western inspired chicken taco casserole is ooey gooey goodness wrapped up in a convenient casserole that your whole family is sure to love!
Blend juicy chicken, fresh veggies, and lots of gooey cheese, then bake it all together for an easy casserole that's ready in just 30 minutes! Seriously, it's as easy as it is tasty!
You won't need to spend a fortune feeling your whole crew at a Mexican restaurant anymore. Now you can savor the flavors of Mexico in your own kitchen any night of the week.
What is Chicken Taco Casserole?
If you've never made a casserole before you might be wondering what exactly it is. A casserole is simply a hot dish slow-cooked in the oven with a handful of varying ingredients.
Specifically, chicken taco casserole is an insanely delicious take on the traditional casserole you may think of when hearing the word.
It's made with the following:
Chicken
Fresh veggies
Lots of cheese
Taco seasoning
Crushed tortilla chips
And more!
Is your mouth watering yet? You've got to try this recipe as it's the perfect balance of delicious and easy!
Can I Make Chicken Taco Casserole with Tater Tots?
Absolutely you can! If you've never had a tater tot casserole before, you've simply got to give it a whirl. And if you have, then you know how tasty they are! So, why not make a simple edit to this chicken taco casserole by adding 1 bag of tater tots to the casserole instead of the crushed tortilla chips?
Why is My Chicken Taco Casserole Watery?
There are a few reasons why the chicken taco casserole may come out watery.
If you've added too much liquid to the recipe it could cause it to become watery.
Not draining your vegetables well enough can also create a watery casserole.
If you don't use enough thickener in your recipe, it could become watery.
If you follow the recipe below to a T, it shouldn't come out watery. Just measure carefully!
Recommended
Instant Pot Taco Pasta
Instant Pot Key Lime Chicken Tacos
Slow Cooker Tater Tot Casserole
Tips and Recipe Notes
Add more ingredients to the base – Experiment by adding even more ingredients to the casserole, go for it! You could try adding olives or even lime juice.
Consider the toppings – Easily add more toppings to your casserole depending on your taste preference. Some ideas may include sour cream, black olives, cilantro, or even guacamole.
Add it to a taco shell – Sure, the casserole is made to be a meal on its own but why not add the casserole to a taco shell for an even crunchier punch of a meal?
Serve over rice – Get creative and serve the casserole over rice. After all, Mexican dishes and rice go hand in hand.
Ingredient Substitutions
Rotisserie Chicken – You can make your own shredded chicken by baking or boiling chicken breast. I like to pick up a Costco chicken when I shop and freeze the meat for meals like this.
Canned Tomatoes with Chilies – Replace the canned tomatoes with chilies for a plain can of tomatoes for less heat.
Why Does My Chicken Taste Rubbery?
Most likely chicken will have a rubbery texture when it has been overcooked. To avoid this, use a meat thermometer to check the internal temperature of the chicken for doneness, which should be 165°F (74°C) at the thickest part of the meat.
How Do I Store Chicken Taco Casserole?
Storing chicken taco casserole is easy. Simply put it in an airtight container and store it for up to 3-4 days in the refrigerator. It's even better when reheated for lunch tomorrow!
Can I Freeze Chicken Taco Casserole?
If you'd like to make meals in advance and freeze them, you can do that as well. You'll want to store this casserole in an airtight container or freezer bag. It will last in the freezer for 3-4 months. Thaw in the fridge before reheating.
How to Reheat Chicken Taco Casserole
To reheat the recipe, put it in the oven at 350°F for about 15 minutes, serve, and enjoy! If you'd prefer, you can microwave 1-2 servings at a time for roughly 2-3 minutes.
More Yummy Chicken Recipes You'll Enjoy
If this ooey gooey and utterly delicious chicken taco casserole recipe left you craving more chicken recipes, try any of these popular dinner options!
Chicken Flatbread
Crockpot Sweet Chili Chicken
Air Fryer Sesame Chicken
Yield: 6 Servings
Chicken Taco Casserole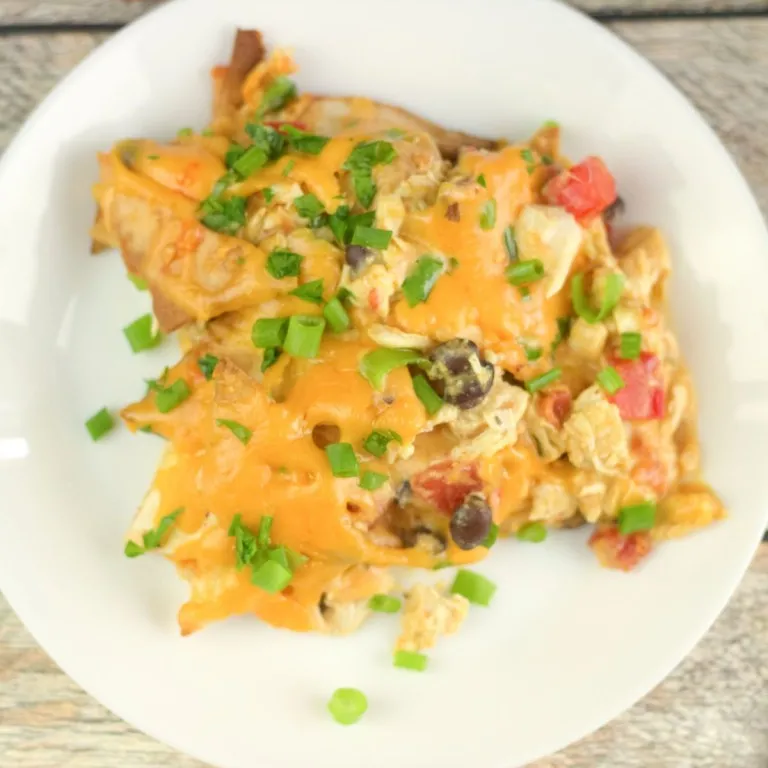 This chicken taco casserole is ooey gooey goodness wrapped up in a convenient casserole that your whole family is sure to love! Blend juicy chicken, fresh veggies, and lots of gooey cheese, then bake it all together for an easy casserole that's ready in just 30 minutes!
Additional Time
5 minutes
Ingredients
4 cups or 1 large rotisserie chicken, shredded and deboned
2 cans (10 1/2 ounces) Campbell's® Condensed Cream of Chicken
1 cup light sour cream
1 can (10 ounces) diced tomatoes with green chilies, undrained
1 can (about 15 ounces) black beans, rinsed and drained
1 envelope (about 1 ounce) reduced sodium taco seasoning mix
15 ounces tortilla chips, crushed (about 5 cups crushed)
2 cups shredded Cheddar cheese (about 8 ounces)
1 small tomato, chopped
1 green onion, sliced (about 2 tablespoons)
1 tablespoon chopped cilantro (optional)
Instructions
Set the oven to 350°F. Lightly grease a 13x9x2-inch baking dish. Stir the chicken, soup, sour cream, tomatoes and green chiles, beans and seasoning mix in a large bowl.
Layer half the chicken mixture, 3 cups tortilla chips and half the cheese in the baking dish. Layer with the remaining chicken mixture and tortilla chips. Cover the baking dish.
Bake for 30 minutes. Uncover the baking dish. Sprinkle with the remaining cheese.
Bake, uncovered, for 10 minutes or until hot and bubbling and the cheese is melted. Sprinkle with the chopped tomato, green onion and cilantro before serving, if desired.