While I never need an excuse to make this Cherry Fluff Salad, the approaching warmer days of summer definitely give me more opportunity to enjoy this decadent and fruity dessert salad as a midweek family treat or to serve during weekend barbecues and other social gatherings.
Cherry Fluff Salad is rich and creamy with a mixture of fruity flavors. It consists of vanilla pudding mix, crushed pineapple, pineapple juice, Cool Whip, cherry pie filling, mini marshmallows, and shredded coconut. Just mix the ingredients together and chill – it's as easy as that!
WHAT YOU NEED TO KNOW ABOUT CHERRY FLUFF SALAD
If you've never tried cherry fluff salad, you're in for a serious treat! Cherry fluff salad takes the concept of a fruit salad and levels up the decadence by including ingredients such as pudding mix, pie filling, and Cool Whip.
As if that wasn't enough, this creamy fruit salad includes mini marshmallows, crushed canned pineapple, and shredded coconut!
HOW SHOULD I STORE THIS CHERRY FLUFF SALAD?
Leftover cherry fluff salad should be stored in an airtight container or the serving bowl, covered with plastic wrap, in the fridge for 3-4 days. It's best to give the fluff salad a little mix before serving again, as some of the juices from the dessert could have separated in storage.
CAN I FREEZE ANY TYPE OF FRUIT FLUFF SALAD?
I don't recommend freezing this dessert as the ingredients will definitely start to separate, and the texture of the dessert will be ruined.
If you're looking for a way to make this fluffy fruit salad in advance, simply assemble the dessert 1-2 days ahead of serving, storing it in the fridge and only adding fresh garnish like chopped nuts just before serving.
HOW CAN I ADAPT THIS CHERRY FLUFF SALAD?
Use light or low-fat Cool Whip or make your own whipped topping for this dessert if you want to control the fat content better.
Sugar-free or fat-free instant pudding mix can be used.
Create a different fruity twist to this dessert by using a fruit-flavored instant pudding mix and a different pie filling.
Cheesecake pudding mix would be a delicious alternative to the vanilla pudding mix.
Add more texture and fruit to this salad by including halved fresh cherries (or even maraschino cherries for extra sweetness!). A can of pineapple tidbits can be used instead of crushed pineapple.
TIPS FOR MAKING THIS CHERRY FLUFF SALAD RECIPE
It's important to chill this dessert salad before serving it as this allows all of the flavors to blend together and for the fluffy salad to set. It's normal and desired for the marshmallows to become softer and the cream to become thicker and creamier while chilling.
Don't discard the pineapple juice. This is needed for mixing with the pudding mix and adds delicious flavor to the fruit salad.
Top this cherry fruit salad with chopped nuts, extra shredded coconut, chocolate shavings, and cherries.
Use a clear serving bowl when assembling this dessert salad for maximum visual effect!
This fluff salad can be enjoyed in a bowl as is or you can serve it with some sweet crackers or wafers to dip into.
More Desserts to Enjoy!
Easy Orange Fluff Salad
Blueberry Lemon Cake
Lemon Cheesecake Bars
Instant Pot Flourless Chocolate Cake
Strawberry Crunch Cake Balls
Strawberry Cheesecake Cookies
Yield: 8 Servings
Cherry Fluff Salad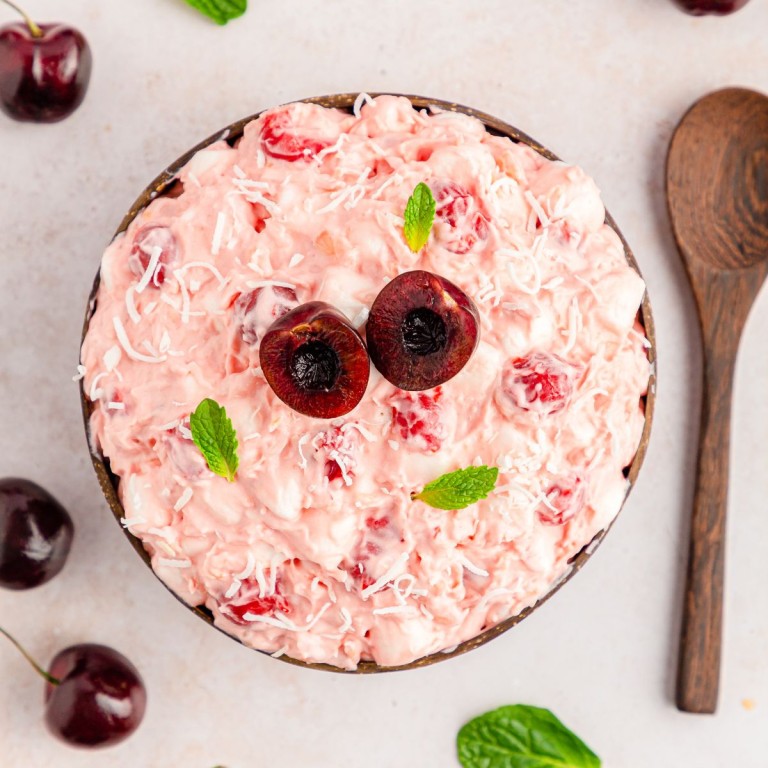 This Cherry Fluff Salad is a vintage classic that is perfect to enjoy all summer long. It's easy to make and full of flavor
Total Time
2 hours
10 minutes
Ingredients
3.4 ounce box instant vanilla pudding mix
20 ounce can crushed pineapple, do not drain
8 ounce tub Cool Whip
21 ounce can cherry pie filling
4 cups mini marshmallows
1 ½ cups shredded coconut
Instructions
In a large mixing bowl, combine together the instant vanilla pudding powder and crushed pineapple with the juice. Mix it together until fully incorporated and the mixture has thickened.
Add the Cool Whip and fold it together with a rubber spatula.
Add the cherry pie filling, shredded coconut, and mini marshmallows to the bowl and fold together until evenly mixed.
Place the bowl in the refrigerator for 2-4 hours to chill and the cream to thicken.
When ready to serve, top with additional nuts and cherries if desired. Enjoy!
Notes
Chilling the salad before serving gives it time to incorporate all of the flavors into each bite. The marshmallows will soften and the cream will become thicker and creamier.
Make sure to keep the pineapple juice and mix it in with the pudding mix. There is no need to drain it and will result in a much more flavorful salad.
You can opt for a light/low fat Cool Whip or make your own whipped topping if desired. It will still work in this recipe.
You can also use a sugar free and fat free version instant pudding mix. Try another flavor like cheesecake pudding to make a cherry cheesecake fluff!
Want a more loaded salad and added texture? You can add some fresh fruit slices like cherries or even try using a can of pineapple tidbits instead.