California Spaghetti Salad
California Spaghetti Salad is light and refreshing, made with fresh and nutritious vegetables, tender broken spaghetti noodles, and an Italian dressing made from scratch with minimal ingredients!
This salad is all about the chill factor! Allowing the assembled spaghetti salad to chill in the fridge for a few hours or overnight intensifies the flavors for a mouth-watering experience.
Enjoy this cold pasta salad alongside grilled meats, roast chicken, and other delicious main meals.
WHAT YOU SHOULD KNOW ABOUT CALIFORNIA SPAGHETTI SALAD
California spaghetti salad comes out of…you got it…California! While spaghetti lends itself to warm dishes, this spaghetti salad is a light and refreshing cold salad – perfect as a tasty side dish to your backyard BBQs, picnics, potlucks, and other social gatherings, especially when the weather is warm.
HOW SHOULD I STORE LEFTOVER CALIFORNIA SPAGHETTI SALAD?
Like most chilled pasta salads, this California spaghetti salad tastes even better the next day since the extra chilling time allows all those flavors to meld together.
Store leftover spaghetti salad in an airtight container in the fridge for 3-5 days. Since pasta absorbs dressing as it sits, it's best to mix in more salad dressing just before serving leftover spaghetti salad.
SHOULD I RINSE MY PASTA FOR THIS SALAD?
It's a good idea to rinse cooked pasta for cold salads like this California spaghetti salad. Rinsing the pasta helps to stop the pasta from cooking further and also removes excess starch so that the pasta doesn't stick together.
CAN I COOK MY PASTA THE DAY BEFORE?
Yes. Rinse the cooked spaghetti noodles and toss them with a teaspoon of olive oil to prevent them from sticking together. Store the pasta in an airtight container in the fridge, ready to be added to the remaining ingredients when making this California spaghetti salad the next day.
WHAT VARIATIONS CAN I MAKE TO THIS CALIFORNIA SPAGHETTI SALAD?
Get creative by using different veggies in this pasta salad. Broccoli or green and orange bell peppers can be used.
Change this pasta salad using Fusilli, Rotini, or Farfalle pasta instead of spaghetti noodles.
I've used a combination of red and yellow bell peppers in this dish, but you could use green and orange instead or stick to one color.
If you're not a fan of raw onion, marinate it in the salad dressing before assembling the rest of the salad. This will soften that intense onion taste.
Make this California spaghetti salad gluten-free by using gluten-free pasta.
For a vegan-friendly California spaghetti salad, omit the parmesan cheese from the Italian dressing.
For convenience, use store-bought Italian dressing instead of making your own from scratch.
TIPS FOR MAKING CALIFORNIA SPAGHETTI SALAD
This is a great dish to make ahead of time since the ingredients need to be chilled for the flavors to meld together. You could also make elements of this pasta salad ahead of time, such as the salad dressing, cutting the veggies, and cooking the pasta.
Keep this pasta salad chilled in the fridge until ready to serve. Your pasta salad shouldn't sit out at room temperature for longer than 20 minutes.
Shock your spaghetti noodles by placing them in a bowl of equal parts ice and water. This helps prevent the cooked spaghetti noodles from soaking up too much salad dressing.
Serve this California spaghetti pasta salad with crusty bread, grilled meats, kabobs, roast chicken, and other tasty side dishes.
Stored pasta salad will absorb the dressing. Mix extra Italian dressing into the spaghetti pasta salad before serving again.
Breaking the spaghetti noodles into shorter pieces is optional but makes it easier to serve.
More Fresh Salads You'll Love!
Yield: 8 Servings
California Spaghetti Salad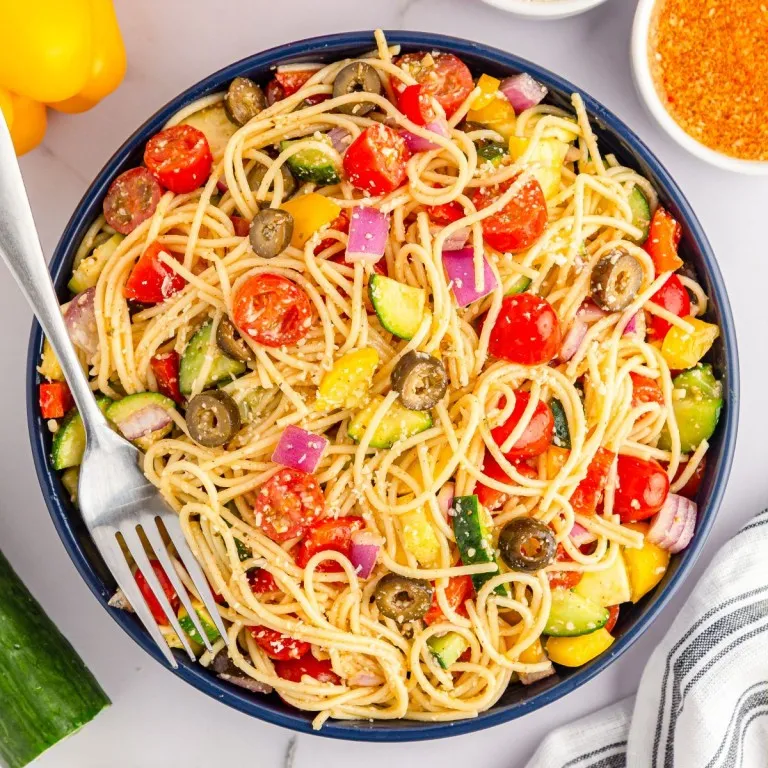 I love a great cold pasta salad full of flavors, like my California spaghetti salad!
Total Time
3 hours
15 minutes
Ingredients
1 pound thin spaghetti, broken into halves or thirds
1 pint cherry or grape tomatoes, halved
1 English cucumber, diced
1 red bell pepper, diced
1 yellow bell pepper, diced
1 red onion, diced
1 can black olives, sliced
1 yellow squash, diced
1 zucchini, diced
Dressing
16 ounce Italian dressing
½ cup grated parmesan cheese
2 teaspoons sesame seeds
1 teaspoon paprika
½ teaspoon garlic powder
¼ teaspoon celery seeds
Instructions
In a mixing bowl or large pyrex measuring cup, combine the dressing ingredients and whisk together. Cover and place in the refrigerator.
In a large pot over high heat, bring water to a boil and prepare pasta according to package instructions. Drain pasta in a colander and rinse under cold water to bring the temperature down and keep it from overcooking.
In a large mixing bowl, combine the cooled pasta with the diced fresh vegetables and drizzle with the prepared salad dressing. Mix until all is coated with the dressing
Place in the refrigerator and chill for 3 hours, or overnight, prior to serving and serve cold. This will allow the flavors to meld together. Enjoy!
Notes
Breaking up the thin spaghetti before cooking is completely optional and only makes for easier eating.

Easily swap out and add in your favorite fresh veggies. This pasta salad is easily customizable.

You can also use a different pasta if you'd like. Fusilli, Rotini, and Farfalle are all great options.

Allow the pasta salad time to chill and marinate. The flavors get better with time and even tastes better the next day!