Have you ever tried warm, creamy, filling, and savory Butternut Squash Alfredo sauce? Around here, we love alfredo sauce. I like it anyway I can get it, and this version, with a creamy butternut squash puree, is a classic we whip up on cold days.
This is the easiest from-scratch recipe made from squash pureed with cream, butter, parmesan, and spices. It's cooked on the stovetop and takes less than 40 minutes total, perfect for busy (or lazy) nights when you don't want to be in the kitchen for long.
You can serve this Butternut Squash Alfredo sauce over fettuccine, and you'll have a simple new recipe to add to your family dinner repertoire! (Plus, you'll sneak in some veggies, and the kids won't even mind!)
What is Butternut Squash Alfredo?
Butternut Squash Alfredo is a simple, cream-based alfredo sauce that incorporates cooked butternut squash. It has a reddish-orange color and a silky texture. The bold yet pleasant flavor of the butternut squash allows you to cut back on the cream and cheese, so it's a bit less heavy than a traditional alfredo sauce.
How Do I Store Butternut Squash Alfredo Sauce?
This recipe is best served fresh, but can keep in the fridge in an airtight container for up to 3 days. Reheat in a sauté pan on the stovetop for a few minutes. You may need to add a touch of cream when reheating to return the sauce to its original consistency.
Can I Freeze Butternut Squash Alfredo?
Yes, you can freeze this recipe! In fact, you can make a few batches of this sauce and freeze them for quick weeknight meals all season long. It can be stored in freezer-grade Ziploc bags or airtight containers. Allow the sauce to completely thaw in the fridge before heating and serving.
How Do I Choose a Butternut Squash?
Look for a butternut squash that is uniform in color. It should be light beige with few cuts and scratches. Avoid squash with deep cuts or gouges. Pick a heavy squash that feels full inside. That's how you'll know it's ripe.
Tips for Making Butternut Squash Alfredo
If you're serving this over fettuccine, don't overcook your pasta. The sauce will pair really well with an al dente pasta.
You can use an immersion blender so you don't have to transfer your sauce to a food processor or blender.
You can also eat this as a soup! Serve with some toasted garlic bread and sprinkle some parmesan and parsley on top. You might have to add some chicken broth to thin it out a little.
Recommended
French Onion Soup
Instant Pot Butternut Squash Soup
Detox Vegetable Cleanse Soup
Notes
Squash is ready pretty quick when you simmer it – usually within 5-10 minutes, depending on the size of your chunks. It's ready as soon as it easily breaks with a fork.
If you accidentally forget to keep some of your starchy squash water, you can use water from your pasta instead. Or, you can make starch water by mixing ¾ cup boiling water with 1 ½ tbsp of cornstarch. Add the cornstarch to a bit of cold water, stir well, then quickly mix it into the boiling water.
Substitutions
Cream – you can use half & half or a mix of cream and chicken broth in this recipe, but your sauce will be thinner.
Butter – substitute margarine or another butter substitute, but your recipe will lose a bit of its richness and classic alfredo flavor.
Fettuccine – any pasta will work fine for this recipe, including gluten-free or vegetable-based pasta.
More Yummy Dinner Recipes You'll Enjoy
Love this butternut easy pasta recipe? You'll want to try some of our other warm pasta recipes, too! Try any from the list below.
Spicy Sausage Alfredo
Penne Pasta with Sausage
TikTok Instant Pot Feta Pasta
Instant Pot Cheesy Chicken and Pasta
Vegetarian Lasagna
Homemade 3-Cheese Ravioli
Yield: 4
Butternut Squash Alfredo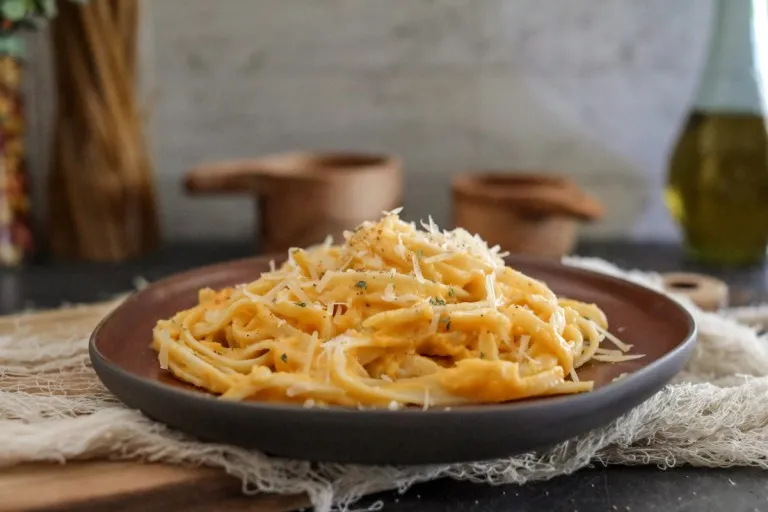 This creamy fettuccine butternut squash alfredo recipe is the perfect recipe to get for the fall, or to have a bowl of yummy comfort pasta!
Ingredients
1 pound butternut squash, cubed (approximately 4 cups)
1 pound fettuccine
¾ cup heavy cream
3 tbsp unsalted butter
¾ c freshly grated parmesan
1 tsp ground nutmeg or ½ tsp freshly grated nutmeg
Kosher salt and pepper to taste
Instructions
Add the squash into a medium-sized pot and cover with water. Cook until fork tender. Drain and retain 3/4 cup of the water. Return butternut squash to pot.
Add heavy cream, butter and the reserved ¾ cup of water to the pot and bring to a boil. Reduce to simmer and let cook for approximately 5 minutes.
Add to blender or use an immersion blender to puree until creamy and smooth. Add the nutmeg, kosher salt, and black pepper.
Prepare the fettuccine according to the package directions. Before straining, reserve about ¾ cup of the pasta water. Add the strained pasta and parmesan to the pureed squash mixture and stir until well coated. If you need to thin the sauce, add the reserved pasta water 1 tablespoon at a time.
Sprinkle nutmeg and parmesan on pasta before serving if desired.