Blueberry Coffee Cake? Um.. yes, please! This easy blueberry coffee cake recipe will quickly become a favorite in your house. With fresh blueberries, a moist, from-scratch cake, and a wonderfully sweet glaze, it's the perfect end to a delicious meal.
Did you know that at one time, Blueberry Coffee Cake was called, Boy Bait? Yeah, that's how good it is! You can literally catch a man with a recipe this delicious! I think it's the cinnamon crumble. It gets me every time.
How I feel about coffee cake is… It can be a dessert, and a yummy one, for sure! But it doubles as an afternoon snack, and might even triple as a breakfast every now and then. Who can resist that crumbly topping and glaze mixed with the fresh flavor of blueberries?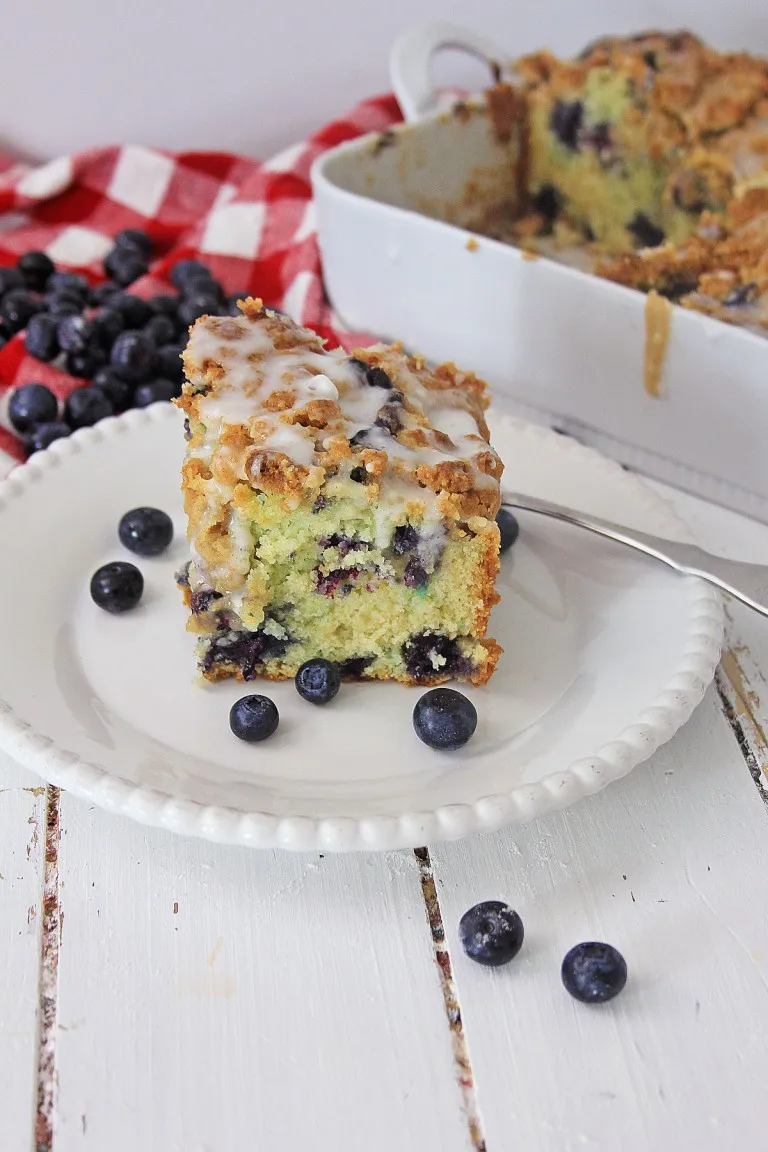 What is Coffee Cake?
Coffee Cake isn't really one specific kind of cake. It's any cake that's meant to be especially good when paired with a cup of coffee. Coffee cakes are usually simple in nature and contain cinnamon, brown sugar, or fresh berries.
My recipe for blueberry coffee cake is a simple yet impressive cake that will wow everyone who eats it. It's moist and flavorful. It's topped with a wonderfully sweet glaze and a crunchy crumble topping. That's my favorite part!
Tips for Making Blueberry Coffee Cake
Use room-temperature milk and eggs in this recipe for the best results.
Ensure the cake is fully cooled before drizzling the glaze on top.
Each oven is different, so adjust the cooking time as needed and check our cake for doneness earlier in the cooking time.
A hallmark of a good coffee cake is moisture. You really want your cake to be moist, so be careful not to overbake!
When you fold in the blueberries, mix just until they're distributed throughout the mixture, If you stir too much, your batter will turn blue!
Recommended
Blueberry Lemon Cake
Blueberry Pound Cake Recipe
Starbucks Copycat Blueberry Muffins
Substitutions and Variations
Lemon: Lemon and blueberries go so well together! Try adding a few teaspoons of lemon juice or some lemon rind for a citrusy twist.
Blueberries: You can substitute the blueberries for raspberries or blackberries in this recipe.
Flour: Substitute gluten-free all-purpose flour to make this a gluten-free cake. Verify the rest of your ingredients are gluten-free as well.
How to Serve Blueberry Coffee Cake
No doubt, this cake is yummy on its own, but if you want to bump up the presentation value, here's how:
Serve it with coffee, of course! Tea works just as well.
Add fresh whipped cream.
Serve with ice cream.
Drizzle blueberry syrup on top.
Serve warm with a dollop of fresh glaze on top.
Pour yourself a glass of cold milk.
Serve with a sweet red wine.
How Do I Store Blueberry Coffee Cake?
Store this cake in an airtight container or covered in plastic wrap on the counter for 2-3 days. I don't recommend storing it in the fridge as the cold air can dry it out.
Can I Freeze Blueberry Coffee Cake?
To freeze this cake, wrap it in plastic or foil, then place it in a freezer bag. Store it in the freezer for up to 3 months.
Does Blueberry Coffee Cake Need to Be Refrigerated?
This Blueberry Coffee Cake doesn't need to be refrigerated. It will remain fresh when kept at room temperature on the counter for up to 3 days, wrapped in plastic or in an airtight container.
How to Reheat Coffee Cake
Of course, coffee cake fresh out of the oven is best! But what about those leftovers? Can they be revived to be eaten again?
Well, first, know this coffee cake recipe is also delicious at room temperature. But if you want to reheat it, you can place a slice in the microwave and reheat in 15 second bursts until it's warmed up.
You can also place it in the oven at 350 for 8 to 10 minutes, or until hot. Keep it wrapped in foil while you reheat it.
More Delectable Recipes You'll Enjoy
If you like this delightful Blueberry Coffee Cake recipe, try some of these other wonderful recipes below:

Coconut Pound Cake Recipe
Banana Chocolate Chip Pound Cake
Easy-to-Make Instant Pot Blueberry Compote
Gluten-Free Lime Meringue Cookies
Blueberry Yogurt Stuffed Strawberries
Yield: 1
Blueberry Coffee Cake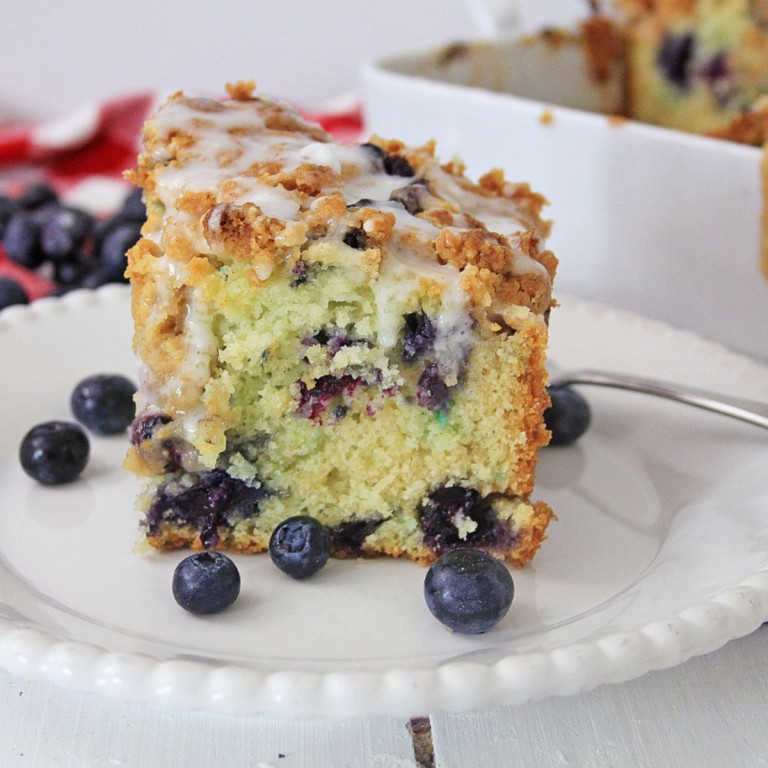 This delightfully sweet Blueberry Coffee Cake is flavorful, moist, and oh-so-impressive!
Ingredients
2 cups of flour
1 cup of sugar
1/4 cup of butter - softened
3/4 cup of milk
1 egg
2 1/2 teaspoons of baking powder
1/2 teaspoon of salt
2 1/2 cups of fresh blueberries (more if you want to serve the cake with a few blueberries on the side) washed and drained on paper towels
CRUMBLE TOPPING:
1 cup of butter - melted
1 cup of brown sugar
2 Tablespoons of flour
1 Tablespoon of cinnamon
SWEET GLAZE:
2 cups of powdered sugar
1 teaspoon of vanilla
2 teaspoons of milk
Instructions
Preheat oven to 350°F.
In the mixing bowl of a stand mixer, add the softened butter, milk, egg, and sugar, and blend with the whisk attachment until smooth and creamy.
In a separate bowl, blend the flour, baking powder and salt, until well mixed. Add to the mixer, and blend until smooth and creamy. Remove the mixing bowl from the mixer. Sprinkle a little flour over the blueberries, and toss to coat (this keeps the blueberries from sinking to the bottom of the cake while baking).
Line a 9 X 9 inch dish with parchment paper, and pour the cake batter into the dish. Mix the Crumble Topping - melted butter, sugar, flour and cinnamon in a bowl, and sprinkle on top of the cake batter.
Bake for 35 to 40 minutes, or until a toothpick inserted in the center comes out clean. When the cake is done baking, remove from the oven to a wire rack to cool.
When cake has completely cooled, make the glaze; in a medium size bowl add the powdered sugar, vanilla, and milk, and blend until smooth and creamy. Generously drizzle glaze over the cake, while cake is still in the dish, using all the glaze.
When ready to serve, cut the cake in 2 X 3 inch squares, sprinkle a few blueberries on the side, and serve. Enjoy!
Notes
Use room-temperature milk and eggs in this recipe for the best results. 
Ensure the cake is fully cooled before drizzling the glaze on top.
Each oven is different, so adjust the cooking time as needed and check our cake for doneness earlier in the cooking time.