The Best Turkey Chili Recipe You Need In Your Life
This quick turkey chili recipe is going to be one of the best turkey chilis you'll make! Angela and my nephews love it, and I know they'll lick the pot clean every time I make this.
We don't always have as much as we would like to have in a day to make a nice healthy dinner. My quick turkey chili will help change that! PLUS I love the fact that you can add in all of the extra veggies and stuff in it to pack in more nutrients.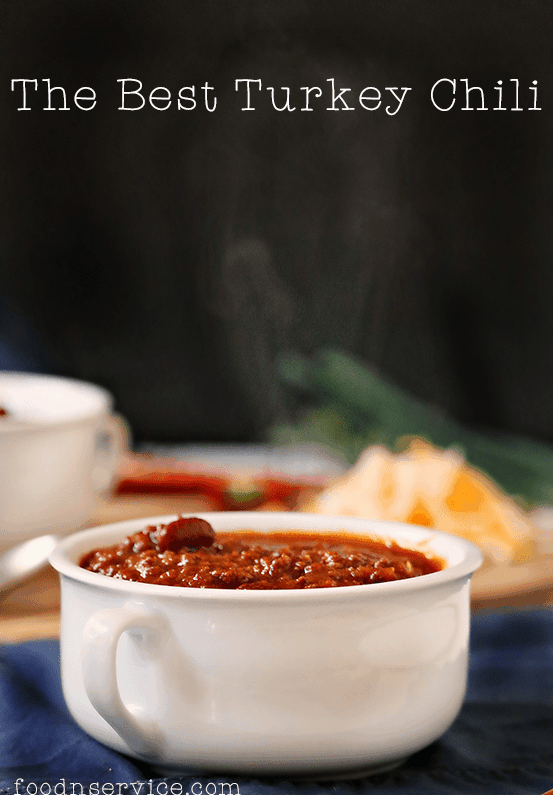 My Quick Turkey Chili is Going to be Your New "Go To" Meal!
Not to brag, but I've always thought that I made the most amazing chili. That is until I made the decision to substitute out red meat for ground turkey. I know that you're probably yelling at me through the computer screen in thinking that it might be a little something different and sacrilegious. However, hear me out…it's amazing!
Chili is my "go to" meal for when I'm need of that special bowl of comfort food, and now I made it a little healthier and packed with more protein by simply using ground turkey breast into my recipe. The ground turkey breast actually absorbs every single ounce of flavor that it's cooked with. One bite of this chili, and you'll see what I mean.
My Quick Turkey Chili Recipe has ZERO WW SmartPoints!
Yes. I love a great WW Zero SmartPoints meal, and especially one that's so filling. WW has given us so many new Zero Point SmartPoints Foods, and I'm loving it! I love having a delicious healthy turkey recipe on hand that I can portion out and put in the freezer. I'm so horrible at meal planning, and this is one of those fabulous recipes that you can easily make freezer meals from!
Guess What YOU can totally make this an Instant Pot Turkey Chili, too!!
Here's how to make this a quick and easy Instant Pot Turkey Chili Recipe.
Press the sauté. Place in ground turkey breast meat. Allow to brown.
The recipe calls for 1/2 cup fo water. We are going to double that amount and use 1 cup of water instead. Once your ground turkey is done cooking, add in water, and then all remaining ingredients.
PLEASE DO NOT STIR INGREDIENTS! This is very important, or you will get a burn notification.
Press the Pressure Cook Button (High Manual Pressure) and set the time for 5 minutes.
Once done you can QPR any pressure. Remove lid. Stir well.
That's how easy it is to make Instant Pot Turkey Chili! This recipe is so versatile, so you can add in your own flavors, seasonings, and levels of spice.
More Healthy Recipes and WW Articles