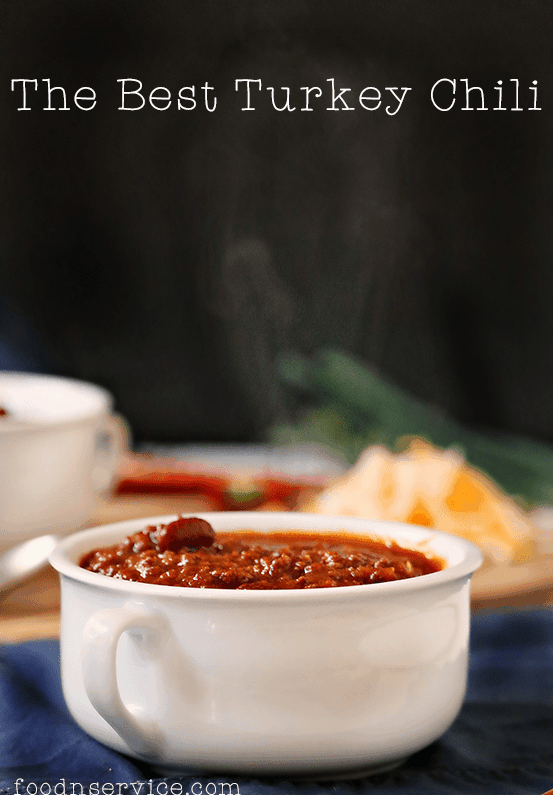 Thank you to the National Turkey Federation for sponsoring this post and inspiring this recipe!
Not to brag, but I've always thought that I made the most amazing chili. That is until I made the decision to substitute out red meat for ground turkey. I know that you're probably yelling at me through the computer screen in thinking that it might be a little something different and sacrilegious. However, hear me out…it's amazing! Chili is my "go to" meal for when I'm need of that special bowl of comfort food, and now I made it a little healthier and packed with more protein by simply using ground turkey breast into my recipe. The ground turkey breast actually absorbs every single ounce of flavor that it's cooked with. One bit of this chili, and you'll see what I mean.
Whether you're making a casserole in the oven, and or a great bolognese on the stove top…you should totally try using turkey to replace a conventional meat. Veal Scallopini? How about Turkey Scallopini! Chicken Kabobs? How about Turkey Kabobs! The sky is the limit of how you can use turkey for just about anything at all: bacon, sausages, and so much more.
In case you didn't know, the National Turkey Foundation's role is to promote the turkey industry, while supporting farmers to raise well-treated turkeys in a comfortable setting that is environmentally safe…which in turn creates a much tastier turkey.
I've added a small surprise ingredient in my chili! Cumin. I love that flavor that cumin helps to bring to my chili – a light nutty, spicy-sweet flavor. It's just so perfect. I hope you enjoy the recipe!
Yield:

6
The Best Turkey Chili Recipe You Need In Your Life
Cook Time:
1 hour
10 minutes
Total Time:
1 hour
20 minutes
Ingredients
1 pound ground turkey
2 cloves garlic, chopped
1/2 onion, chopped
One 8-ounce can tomato sauce
1/2 cup water
2 tablespoons chili powder
1 teaspoon ground cumin
1 teaspoon salt
1/4 teaspoon cayenne pepper
One 15-ounce can kidney beans, drained and rinsed
Shredded Cheddar, for serving
Instructions
Place the ground turkey in a large pot and throw in the garlic and onion. Cook over medium heat until lightly browned.
Drain off the excess fat and then pour in the tomato sauce, water, chili powder, cumin, salt and cayenne. Stir together well, cover, and then reduce the heat to low.
Simmer for 1 hour, stirring occasionally. If the mixture becomes overly dry, add 1/2 cup water at a time as needed.
Add the beans and simmer for 10 minutes. Serve with shredded Cheddar. (I used white and yellow)
Be sure to visit the Serve Turkey's Facebook page and Twitter Page!