The Best Turkey Chili Recipe You Need In Your Life
This quick turkey chili recipe is going to be one of the best turkey chilis you'll make! Angela and my nephews love it, and I know they'll lick the pot clean every time I make this.
We don't always have as much as we would like to have in a day to make a nice healthy dinner. My quick turkey chili will help change that! PLUS I love the fact that you can add in all of the extra veggies and stuff in it to pack in more nutrients.
[su_button url="http://eepurl.com/dpyDIv" target="blank" style="flat" background="#6bb3bf" size="6″]Click To Join WW Email List[/su_button]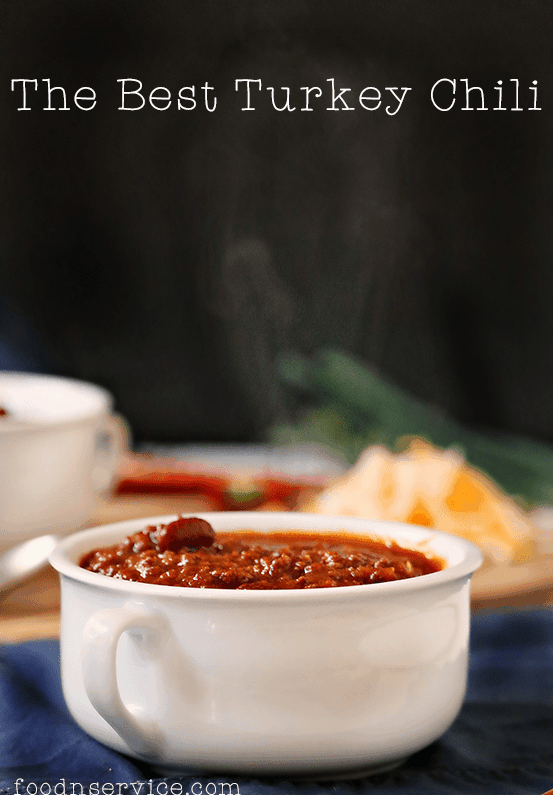 My Quick Turkey Chili is Going to be Your New "Go To" Meal!
Not to brag, but I've always thought that I made the most amazing chili. That is until I made the decision to substitute out red meat for ground turkey. I know that you're probably yelling at me through the computer screen in thinking that it might be a little something different and sacrilegious. However, hear me out…it's amazing!
[su_box title="RELATED NEWS:" box_color="#26a7d2″][su_permalink id="9656″]Going to TGI Fridays? Here's a fabulous WW Printable to use! There's some great stuff to enjoy.[/su_permalink][/su_box]
Chili is my "go to" meal for when I'm need of that special bowl of comfort food, and now I made it a little healthier and packed with more protein by simply using ground turkey breast into my recipe. The ground turkey breast actually absorbs every single ounce of flavor that it's cooked with. One bite of this chili, and you'll see what I mean.
My Quick Turkey Chili Recipe has ZERO WW SmartPoints!
Yes. I love a great WW Zero SmartPoints meal, and especially one that's so filling. WW has given us so many new Zero Point Freestyle SmartPoints Foods, and I'm loving it! I love having a delicious healthy turkey recipe on hand that I can portion out and put in the freezer. I'm so horrible at meal planning, and this is one of those fabulous recipes that you can easily make freezer meals from!
[su_box title="RELATED NEWS:" box_color="#26a7d2″][su_permalink id="9754″]Don't know what to snack on without killing all of your points? Check out these amazing snack ideas![/su_permalink][/su_box]
To Keep the points down and away, be sure to use Fat Free cheese to garnish, or you can not worry about the cheese being fat free and simply use whatever cheese you want. They're your points, so use them if you've got them!
Yield:

6
The Best Turkey Chili Recipe You Need In Your Life
The best turkey chili you can make any time of the year!
Ingredients
1 pound ground turkey
2 cloves garlic, chopped
1/2 onion, chopped
One 8-ounce can tomato sauce
1/2 cup water
2 tablespoons chili powder
1 teaspoon ground cumin
1 teaspoon salt
1/4 teaspoon cayenne pepper
One 15-ounce can kidney beans, drained and rinsed
Shredded Cheddar, for serving
Instructions
Place the ground turkey in a large pot and throw in the garlic and onion. Cook over medium heat until lightly browned.
Drain off the excess fat and then pour in the tomato sauce, water, chili powder, cumin, salt and cayenne. Stir together well, cover, and then reduce the heat to low.
Simmer for 20 minutes, stirring occasionally. If the mixture becomes overly dry, add 1/2 cup water at a time as needed.
Add the beans and simmer for 10 minutes. Serve with shredded Cheddar. (I used white and yellow)
Recommended Products
As an Amazon Associate and member of other affiliate programs, I earn from qualifying purchases.
Nutrition Information
Yield
5
Serving Size
1 cup
Amount Per Serving
Calories

393
Total Fat

19g
Saturated Fat

5g
Trans Fat

0g
Unsaturated Fat

11g
Cholesterol

102mg
Sodium

1083mg
Carbohydrates

25g
Fiber

7g
Sugar

3g
Protein

33g
Guess What YOU can totally make this an Instant Pot Turkey Chili, too!!
Here's how to make this a quick and easy Instant Pot Turkey Chili Recipe.
Press the sauté. Place in ground turkey breast meat. Allow to brown.
The recipe calls for 1/2 cup fo water. We are going to double that amount and use 1 cup of water instead. Once your ground turkey is done cooking, add in water, and then all remaining ingredients.
PLEASE DO NOT STIR INGREDIENTS! This is very important, or you will get a burn notification.
Press the Pressure Cook Button (High Manual Pressure) and set the time for 5 minutes.
Once done you can QPR any pressure. Remove lid. Stir well.
That's how easy it is to make Instant Pot Turkey Chili! This recipe is so versatile, so you can add in your own flavors, seasonings, and levels of spice.
More Healthy Recipes and WW Articles