Best Caramel Apple Recipe
If you're looking for the Best Caramel Apple Recipe, you've come to the right place! These caramel apples are as easy as 1-2-3, making them ideal for a quick and delicious treat for parties or to enjoy with the family this Fall!
Once the apples have been spiked, simply dip them in the melted caramel and add your favorite toppings. I love the combination of toffee bits and a generous drizzle of melted white and dark chocolate – YUM!
Get creative with your caramel apples and try countless other topping ideas that the kids and family will love!
Why We Love This Best Caramel Apple Recipe?
Who doesn't love a caramel apple, right?! The caramel coating is the perfect balance between sweet and salty and coats the apples beautifully. It's not rock hard but rather deliciously chewy, providing a sticky base to add your favorite chopped candy, nuts, and whatever else your heart desires!
This caramel apple recipe is incredibly easy. You only need a handful of basic ingredients and minimal prep time. These caramel apples are great for making ahead of time as they need at least 30 minutes to chill.
Easily customize the toppings to suit your taste preferences. Chopped nuts, sprinkles, crushed cookies, and all types of candy can be added.
Ingredients for Caramel Apple Recipe
Here's a list of everything you need to make the best caramel apples:
Apples: I've used Granny Smith apples, but you can use your favorite apples instead.
Krafts Caramel Bits
Vanilla and dark chocolate melting wafers – Ghirardelli melting wafers are of good quality and don't require the addition of oil.
English Toffee Bits
Wooden apple sticks
Frequently Asked Questions
Here are some common queries to help you with the recipe:
Q. What type of apple is best for this recipe?
I love using Granny Smith apples as they provide a lovely contrast to the sweet caramel. Feel free to use your favorite apples instead such as Red Delicious Apple, Honeycrisp, Fuji, or Gala.
Q. How do I stop the caramel from sliding off?
Always clean the apples first. The wax coating on the apples must be removed by dipping the apples into hot water. You'll then need to ensure that the apples are dried thoroughly.
Q. What's the best way to store caramel apples?
These caramel apples are best enjoyed fresh, but you can store them in the refrigerator for 2-3 days. Wrap them individually in wax paper and store them in an airtight container to prevent them from sticking to each other.
Q. What variations can I make to these caramel apples?
These caramel apples can easily be adapted by using different toppings such as chopped nuts, sprinkles, crushed cookies, or different candy. You can also use different types of apples and drizzle the apples with colored melted chocolate.
Q. Do I have to chill these apples once assembled?
Yes, the chilling time will help the drizzled chocolate to set as well as the caramel to harden enough so that it's not a complete mess!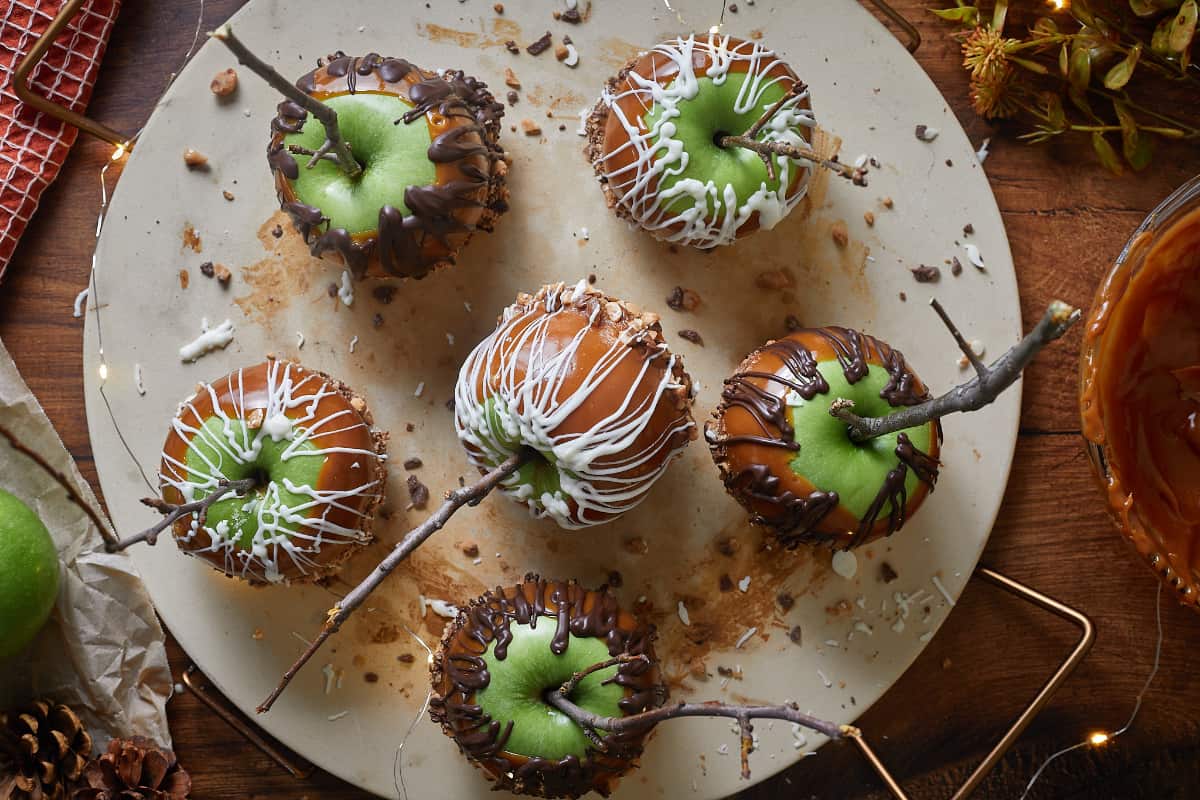 Tips and Tricks
Use a candy thermometer to ensure the right caramel consistency. It should register 235-240F.
Line the baking sheet with parchment paper or silicone mats to prevent the caramel from sticking. It also helps with cleanup.
You can easily double this recipe if preparing for a party or event.
More Apple-Based Treats To Enjoy
Caramel apples are delightful treats that are enjoyed year after year, especially during the fall season and the build-up to Halloween! The naturally sweet and slightly tart flavor of the Granny Smith apples is perfect with the sweet and salty caramel, toffee bits, and melted chocolate. What are you waiting for?